This morning, I was enjoying what must have been my third coffee of the day when I heard the sounds of something being unceremoniously shoved through our letterbox and landing upon the doormat. I went to investigate, and my heart leapt when I saw the Sunyshore stamp upon the package. My first ever Sunyshore order had arrived. Thank you so much, Gin. :)
So, which pokemon did I get, and why is this post entitled "A Chilling Vision of Things To Come"? Well, click away to find the answer, and for a photostory (of sorts).



It all started when Holly the Curious Carnivine was going for his daily constitutional, and happened upon a foreign object he had never seen before. Being the curious sort, and unaware that his youthful innocence was about to cast a dark and ominous shadow over all existence, he decided to investigate.


BWAAAAHAHAHA!!! I'M FREE!!!
Now, dear reader, I know exactly what you're thinking. A Minezumi? What's so special about a normal type I'll no doubt catch early on in Black or White, dump straight into my PC storage, and only consider removing to use as a HM Slave if I can't find a more exciting one? Oh contraire, readers, it's never good to judge by outer appearance. Often, the things which might strike you as the most ordinary and banal can turn out to be the most extraordinary. Besides which, I happen to love Minezumi, along with his evolved form, Miruhoggu, who I can only hope will receive a plush of his own one day. They're awesome, as were Bidoof and Bibarel before them. :D
This particular Minezumi is named Milo. And he has his sights set upon global conquest.
Milo: BWAAAHAHAHA!! Now that I am free from my plastic prison I shall begin work upon constructing my evil lair, from which I intend to formulate and execute my master plan for world domination! Of course, I require an army of minions by which to do my bidding...



YOU! You look like a total doormat. You can be my dopey sidekick.
Holly: Okay.....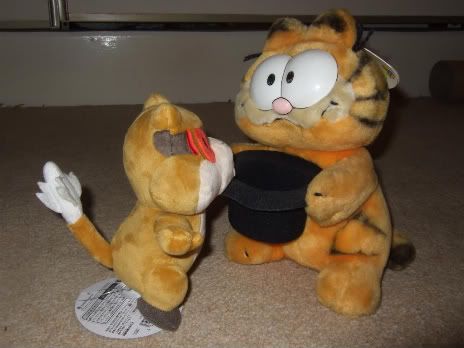 Milo: And you! Hideous mutant Munchlax-Growlithe hybrid! You can be my personal goon.
Garfield: You couldn't spare a starving cat some lasagne, could you?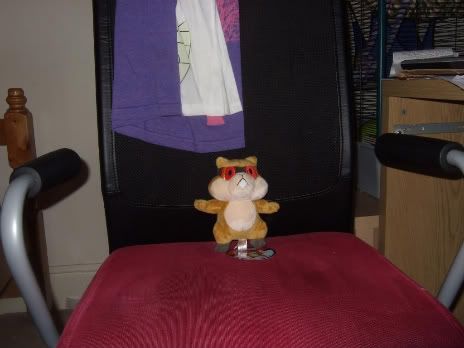 Milo: Ah-ha! The perfect chair upon which to sit, contemplate my own brilliance and dictate to all of my puny minions from!
Tomorrow, we shall begin work upon my diabolical plan for global domination. But first...


...I have to sleep off my jetlag. I did come all the way from Japan, you know.

Will Milo the Megalomanical Minezumi succeed in his diabolical plan for global domination? Only time will tell.



To Be Continued....
Oh, and while we're at it, I have an additional question. It's about this guy: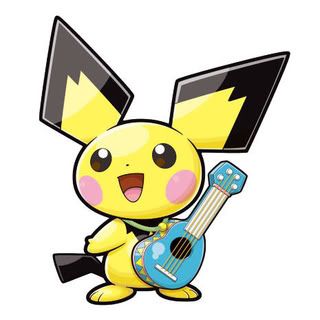 Did Ukulele Pichu ever get anything in the way of merchandise? I ask because I myself have just started learning how to play the very instrument he wields and, as a result, I have a whole new level of respect for this "plucky" (the crowd groaned) little guy. Normally, they wouldn't resist the opportunity to whore out something as adorable as this, but here I've seen absolutely nothing. Any information would be appreciated. :)