Hi guys, it's been a while since I posted here :) Since then I've boosted my collection quite a bit, through buying from here, eBay and my local boot sale!

Under a cut is a picture of all the stuff I've received so far (I have lots which haven't arrived yet!).




First up is my pendulum clock! I won it off eBay very cheaply. The description told me that the top pendulum had broken off but been repaired. Unfortunately going through the post un-glued it, so I'll have to fix it soon :) see the little Jigglypuff? ♥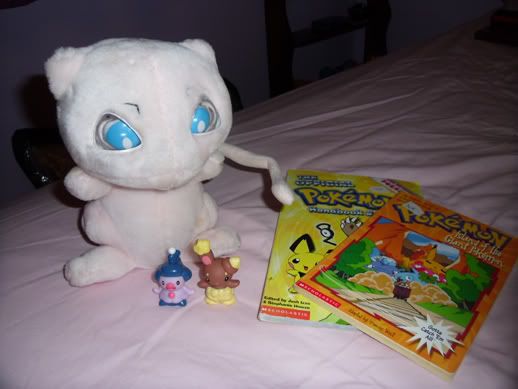 Here's the goodies I got from the boot sale :)




The pokedex was also from the boot sale! The piplup day calendar and Pikachu Pokemon pedometer was from a seller on
thriftstoreuk :D got a great deal for those two!




Battle Playset plushies! I got them off eBay, because I love Dratini and I wanted to get my Slowpoke some Battleset friends :D




SLOWS! They are what I'm collecting the most of right now :D Lots have yet to arrive from GAs/sellers but I'm being patient :3

The custom plush and glittery 'Bro were bought from
caffwin when she was weeding her collection :D
The Slowpoke diorama I won in an auction held by
aleyina! It arrived this morning and is omgsocute.
Squishy Slowpoke is from
denkimouse's Sunyshore Pokemart ♥ still partially in his wrapping so that he doesn't stick to random stuff when not being played with!
The Slowpoke Boundball and Slowking kid are also from sellers here, but I suck and can't remember their usernames :( sorry guys! But they are love :D the bound ball is so derpy hehe ♥

'Pokes slowing their way to me :) :

Slowking Tomy from
poprock_grey's Waldo/Furret GA!
One eyed and bell-less Slowbro Bellplush from
meuniere's GA (not sure what's happening with this at the mo though!)
Banpresto Slowking from
roxyryoko's GA.
Slowpoke BK launcher from
hitosyura's sales.
Slowpoke in dome from
fizzycat's sales.




These are the Slows I had already (check out my bootlegged tomys -_-;;).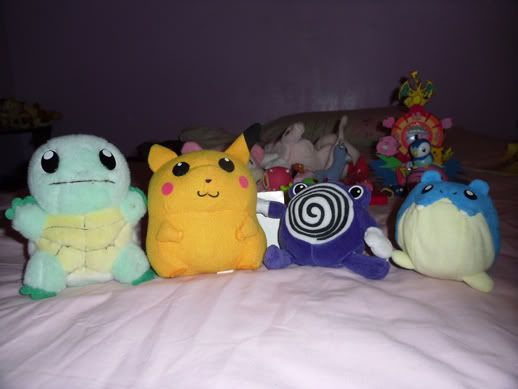 Tomy Squirtle from a GA; Derpchu and reversible Spheal bought by my lovely boyfriend from
entirelycliched & Hasbro Poliwhirl from the boot sale :D




Along with the Slows I also collect Chikorita and Jigglypuff.
Chikorita Pokedoll which my mum got me for my birthday a couple weeks ago ♥
Jigglypuff pouch/strap thingy. It's very cute! I saw a member post about theirs and loved it instantly. Later that week I found it on eBay! Got her cheap :D
Tiny Jigglypuff is from
ewokie's sales and is so, so cute.

Jigglys and Chikas due to arrive:

Chikorita plush from
poprock_grey's Waldo/Furret GA!
Banpresto Chikorita and Small Jigglypuff from
roxyryoko's GA.
Small Chikorita UFO Catcher from a GA - I need to find that again when I have more time, forgot who's running it! :X
Jakks Jigglypuff from
meuniere's GA (not sure what's happening with this at the mo though!)

I'm also going to start a small Mijumaru collection. For Christmas my boyfriend's getting my the large plush which
nanoplasm's going to do pick-ups for! So excited! :D I've bought a Miju kid from
hitosyura and I'll be getting a pokedoll from Gin after pay day next week!

Earlier today I lost an auction with Leather Slowpoke T_T I was so sad! It ended whilst I was at work and the person who outbid me did so in the last minute! If anyone comes across this elusive 'poke (and is not after it themselves!) I would be super grateful if you could let me know? :3 This goes for any other Slowpoke plush I don't have (i.e. ALL except Battle Playset plush!).

I've finally got myself a feedback thread after making lots of transactions on here D: I hope sellers I've bought from in the past don't mind if I request feedback from them in their sales posts :) I'll of course leave feedback in exchange too! :D

Finally, I spotted this auction on Yahoo Japan: Christmas themed plushes! I thought it would make a good GA for those interested in them? :) (Let me know if you'd like me to remove the link!).

Thanks for reading!