Although I'll hopefully be doing a collection update/reintroduction in the next month or so, I got something in the mail today that I couldn't wait to share. =3

Seattle Snorlax Pokedoll! (thank you
blackfruitbat!)

See the cut for my current Snorlax Pokedoll collection with a little bit of commentary on some of the differences I noticed between the Pokedolls.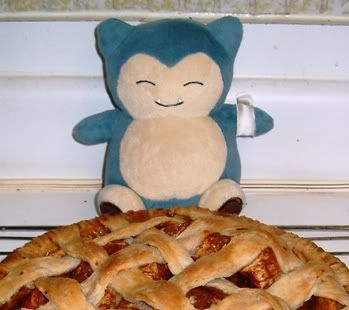 The Snorlax you saw above the cut is Ambrose. He's a Japanese minky release I got to love and cuddle. He is the one who travels with me and so had his tag cut off.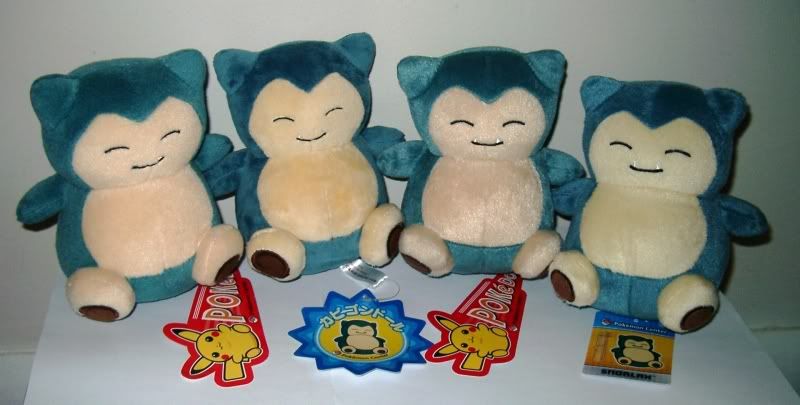 From left to right we have a Japanese 2005 release, a Japanese 2009 (minky) release, a North American (from New York I believe?) 2009 release, and a North American (Seattle) 2010 release.

The most obvious difference between the four is of course the tags.

Seattle's Snorlax looks much more squished (perhaps from living in a vending machine?). In some ways I think he looks the closest to the pokedoll artwork. His neck appears wider and not as pulled in as the others'. In general he seems less defined in his form. There is some puckering in his belly and the stuffing doesn't seem as well placed as the others' (again, perhaps due to his recent vending machine residence?).

The minky Snorlax has thinner black embroidery for the eyes and mouth. The colour for its stomach is also slightly different from its Japanese and 2009 North American velboa counterparts. The Japanese and 2009 NA velboa stomachs appear peach-ish to me while the minky stomach appears yellow-ish. The rest of the body for the minky and both of the North American pokedolls appears perhaps a bit bluer than the 2005 Japanese release's body.

Interestingly, although the Seattle Snorlax is also a velboa release the colour of stomach fabric used appears to have changed. It matches the colour of the minky much more than the original velboa and has a yellow look to it.


Time for some.... butt shots!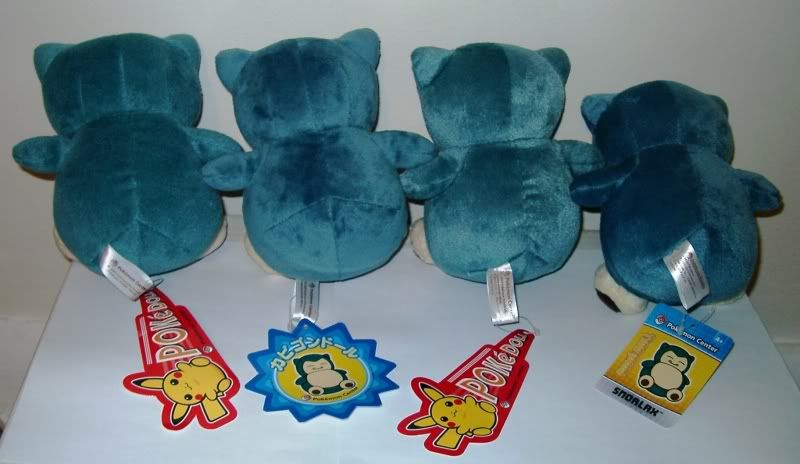 You can see that the minky release had a change in pattern as well as fabric. The seams helping to form the butt are higher up, which I feel gives Snorlax a rounder posterior. The tush tag was moved as a result. The minky release also sports beans in his butt.


And now by request... side view!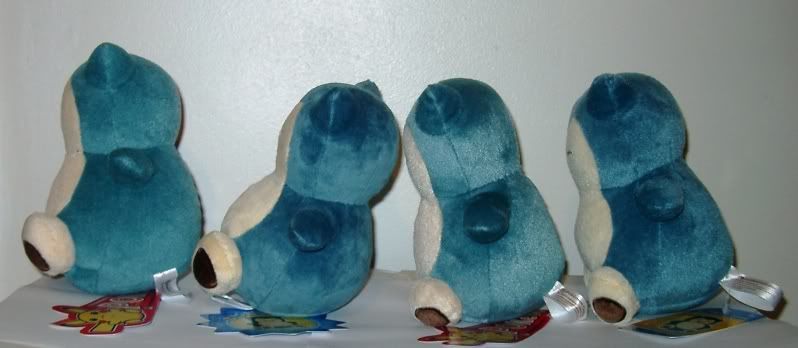 My Japanese pokedolls appear to be rounder than the North American pokedolls - especially in the stomach area. The side shot also helps to give a better idea of some of the awkward stuffing in the Seattle pokedoll.


In essence:
-Japanese 2005 (velboa) - peachy stomach, greeny blue body (more emphasis on the green), thick black embroidery, lower butt seams
-Japanese 2009 (minky) - yellowy stomach, greeny blue body (more emphasis on the blue), thin black embroidery, higher butt seams (tush tag moved as a result), bean butt
-North American (NYC?) 2009 (velboa) - peachy stomach, greeny blue body (more emphasis on the blue), thick black embroidery, lower butt seams
-North American (Seattle) 2010 (velboa) - yellowy stomach, greeny blue body (more emphasis on the blue), thick black embroidery, lower butt seams, generally less defined form



Any other Snorlax collectors have something to add? Perhaps something I missed or got wrong? Or maybe even differences between some of the North American releases that I don't have (as far as I know I have the two Japanese ones). I'm kind of iffy on the changes in colour of the fabric (especially since it's really dark at the moment and our lighting isn't great), so if you have thoughts on whether there was a change or not, please let me know. =3