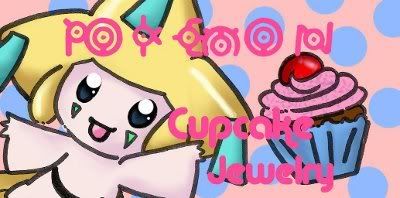 Okay,
nightmare_chan2
has been bothering me to make her something new other then my desserts I make her all the time and one day she said...Something different like jewelry. It took me awhile to think about it and then suddenly I got this adorable idea! I was so excited I had to make some to auction off to all you guys and I'm even offering a custom slot! I hope you guys all enjoy! <3
Under the cut you will find for auction jewelry sets of these lines:
Tabunne, Shiny Zorua Line, and the Rankurusu Line
so please help me give them a good home! :3
Rules/Info
I received sales permission on 7/7/10.
This jewelry is handcrafted by me with glass beads, wire, and clasps. The charms are made with Sculpey and small details are painted on with acrylic paints.
All communtiy auction rules apply. Any deleted bids or backing out of payment will result in negative feedback and please bid in increments of at least $1 in the specified threads.
Ending bids do not include shipping payment. Shipping to any where in the US is $4 and shipping any where internationally is $6.
I will only take Paypal payments.
I have the right to refuse to sell to anybody, especially if you have negative feedback or I have had trouble with you in the past.
I'm sorry, but I won't be taking any trades so please don't ask. :3
These sets are being made exclusive. I will not repeat the same Pokemon line again. So get them now because these Pokemon sets are one of a kind! :D
This auction will end on Friday Nov 26th at 6:00 PM PST.
Auction is over, thank you to everyone that participated! <3
Please wait to comment or bid until I have all threads up. Thank you! <3All threads are up! Go ahead! <3
Tabunne Jewelry Set
This Tabunne set starts at $22.
This set includes Tabunne head earrings, a chibi style Tabunne bracelet, and a Tabunne necklace. <3
It was all made with pink glass beads and the bracelet and necklace should fit all sizes. :3
Shiny Zoroark Jewelry Set
This Shiny Zoroark jewelry set will start at $25.
This set includes shiny Zorua head earrings, a shiny Zorua bracelet, and a shiny Zoroark necklace.
It was all made with black, blue, and purple glass beads. The bracelet and necklace should fit all sizes. :3
Rankurusu Jewelry Set
This Rankurusu jewelry set will start at $20.
This set includes Yuniran earrings, a Daburan bracelet, and a Rankurusu necklace.
It was made with white and green glass beads. The bracelet and necklace should fit all sizes. <3
Custom Jewelry Set Slot
My custom slot will start at $26.
If you win you tell me what Pokemon line you would like and I will make you earrings, a bracelet and a necklace. If you want a line that's more then 3 stages will talk. (Ex. Shikijika line, Eeveelutions.)
Since I am making these excusive there are some sets I will not make because I am already in process of making them. Here is the list:
I won't make any lines that are on that list, but I will make any shinys that are not on that list. (Ex. Latias, Eruufun line.)
I will also not repeat any sets that are already done that you can see here:
bunny-chan6.deviantart.com/gallery/

So good luck to everyone and I hope you like my work! <3

Auction is over! Thank you to everyone that participated! <3