Oh my goodness guys!! you really want the bulby's I sold two already and I am thinking it'd just be fair to auction the last off. I will be posting my sales thread with bulby soon :)

Had a little LJ posting problem that lead to me having to delete the post i posted 10 mins ago but heres my post again~


If you ordered something or inquired about something from my store run, I have a huge update so please read :)

if you don't know what I'm talking about you can check out my store run thread here: TO THE STORE

now for the updates:

I'm really sorry for big pictures, it's a lot of work to shrink them and I wanted everyone to see the quality (because last time I got complaints saying the pics were blurry)

Firstly If you ordered something all the stuff I bought is here --->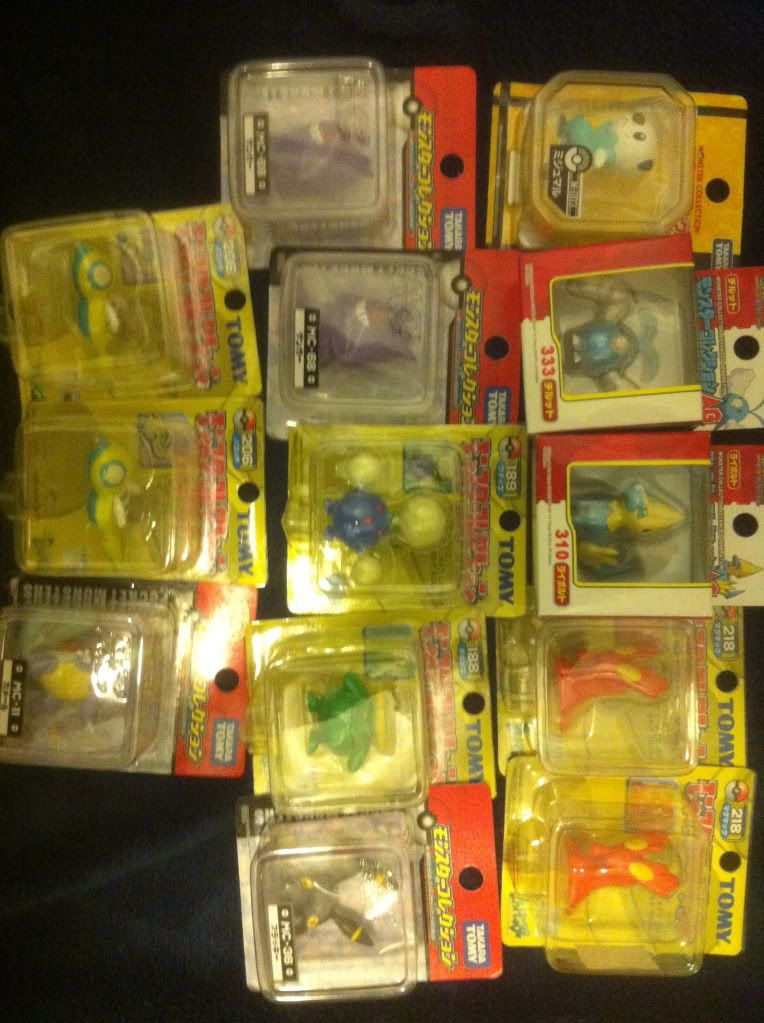 I'd like for you to claim your items using this form:

What I ordered:
Zip Code:

If you do not see the items in the picture it means they were out of stock, I couldn't find them, I have not gone to the right store yet (the pictures are more than one store) or the price changed/I thought they were different than what I told you previously.

If you have more questions please reply to the question box below.

STUFF THAT I BOUGHT FOR PEOPLE, IF ITS YOURS, WRITE THE FORM AND TELL ME ZIP CODE

crasherwake: dunsparce, electrivire, manetric tomy umbreon tomy

puyro: gengar tomy ditto clefairy kid ( I bought the gengar but the kid is at a diff store so hold on)

kiiyame: bulbasaur plush

meowllz: swablu tomy

foureyedalien: skiploom jumplush 2 slugma tomy

swtlilangel666: pilplup star plush

neonr0se: raikou keychain ( didnt go to the store yet hold on XD)

mewten: pory 2, spinda, breloom (I really couldn't find any of these O_o)

deadfishie: sticker sheet dunsparce tomy

fizzycat: breloom tomy gengar tomy (the breloom tomy is all sold out :( If you still want gengar I bought it and no gible stuff...)

megami36: oshwat tomy warturtle tomy 2 raichu sticker (the stickers are actually post cards *didn't see) Do you still want them? I bought the tomys

IF YOU INQUIRED ABOUT SOMETHING OR ASKED FOR AN INVESTIGATION PLEASE READ

crasherwake: flotzel is not on the pillow plush but I bought all the tomys

shiningmew: the figure is just a regular tomy

katcheecricket: I found this weird japanese pokemon fishing rod, it has kyogre on the box thats it

mandysaurus_rex: found the lugia do you want it?

warking_chocobo: couldn't find cyndaquil stuff

tomokii: I got my prices all mixed up >.< heres pics. the big one is 60$ and the small one is 40$ the towel is still 25$

southpark: No giratina cup

seiichu: no chillmary but I found these prince of tennis plushies

phantomggirl: No lucario

cerise_lioness: No jigglypuff

joltzapvire: Close up cup pics here

nagaineko: didn't have enough time to catalog stuff >.< if you want a plush you can name the size I'll give you price


SIDE NOTE----> I found 2 more bulby plushies~ (these babys have been asked for already but if they back out I will let you guys know)


also if you participated in my canvas GA I'm currently settling this

more stuff omg~~ AUCTIONS & SALES (Old items & retsudens )This is for the small things I have for sale and a few rare actionable items please offer on these as well thanks.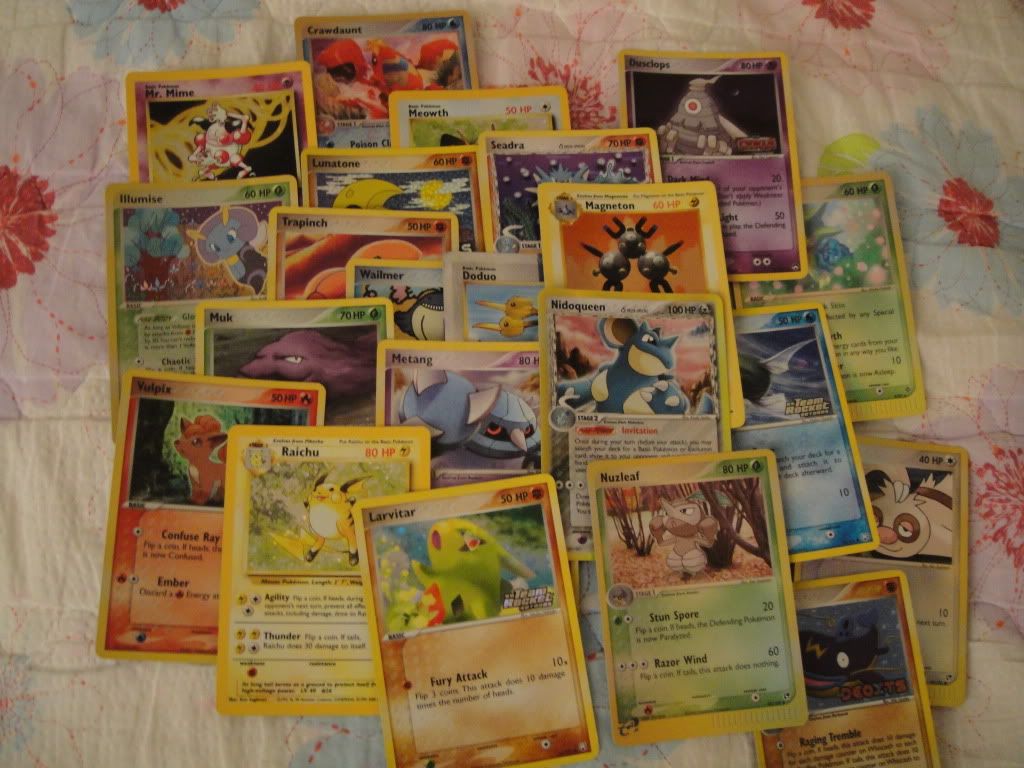 These are random cards I found. They are all holo but you can't really tell from this picture. I'll be taking offers.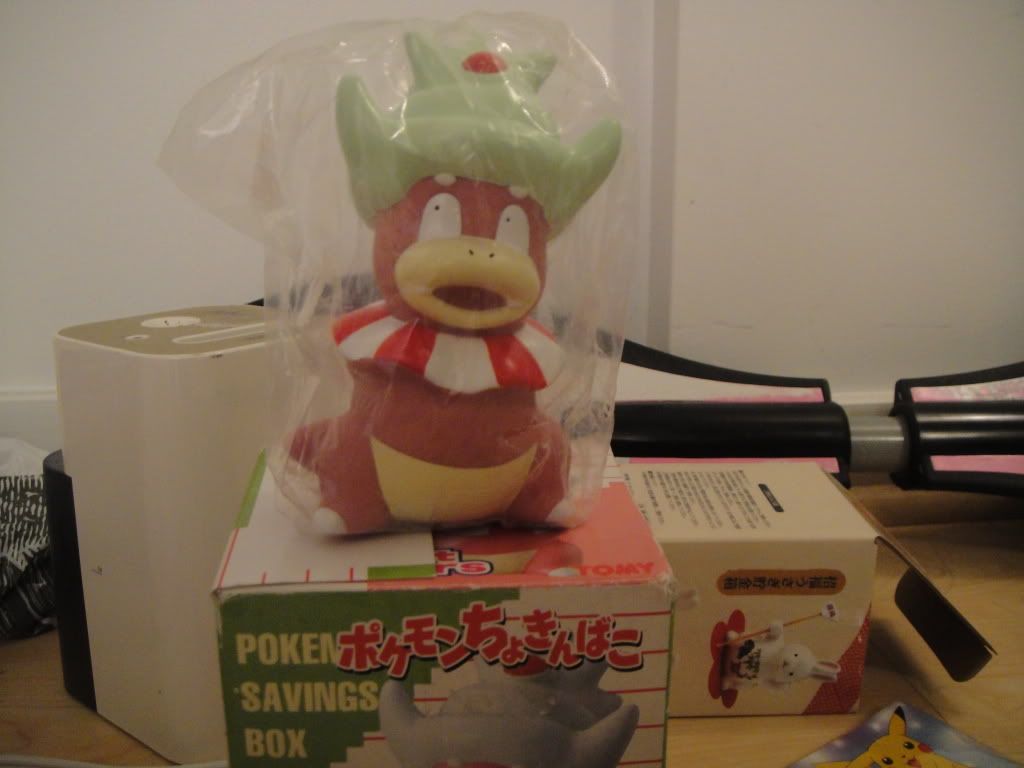 This is a Slowking bank (MIP). I don't know how much it's worth so I'll be auctioning it. Starts at $1. *****ALL AUCTIONS END ON JAN 8TH 9PM (Hawaii time) ******



The plate looking things are really big and they're not buttons (1999 banpresto). They hang like a keychain apparently. They will be auctioned, starting at $1.



The ho-oh figure is MIB $5

Retsuden stamps
$2.50: Ninjask,croagunk, starly,electivire
$5 gible
Taking offers on zoura
Taking offers on deck divider with pokemon walkies on them.