Hello everyone!!! I have been lurking around this comm since October but hesitated to post an introduction post >__<
Now, I think it's time to introduce myself. I have been a fan of Pokemon since the first gen was released but during that time I was more concentrated on games only. But, now when I can earn some money myself, I start to collect some plushes, kids and zukans.
Someone told me before that collecting these guys would cost you a lot. Now, I have realised but I just can't stop collecting them lol
I promise myself every time I buy a new thing TT__TT

Now it's time to show you guys my recent collections : (Image heavy after the cut... be careful >__<)

My most favorite type is water and my favorite pokemons are vaporeon and espeon. However, I tend to collect all eeveelutions - see how crazy I am :D I also love vulpix, ninetales, some flying type pokemons (pidgeot, dragonite, etc)

First thing first, here is my loved eeveelutions collection : CANVAS PLUSHES - They are the very first set I collect for these lines. I bought them from Brian ages ago.




These two are my most favorite ones :)))))





The next one is pokedoll series. I would feel incomplete if I didn't have them even I like them less than canvas plushes lol
Also, I put the eevee 1:1 plush here too just to save some space.




Now it is time for kids - I don't have all of them yet but soon I will hehe...




The last two of eeveelution lines are HALLOWEEN PLUSHES...




Next is my side collections. Tbh, I had never considered to collect pikachu lines ever until I met this guy. He is soooo adorable!!!




After that, my mouse collection has grown a lot...my wallet won't be happy :P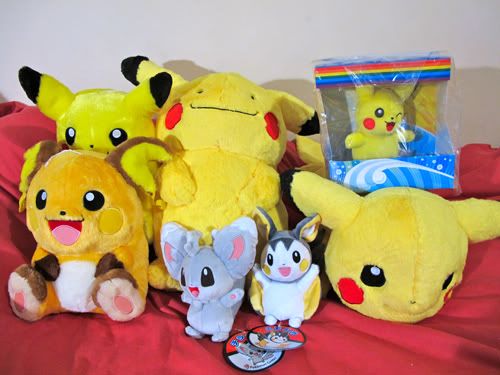 Also, I do have some other canvas plushes. I think they are so well-made so I decided to collect some of them.




The last things I want to show you guys are zukans. I have tons of them but I am still too lazy to show them all. So I just picked some :D

Ninetales zukan...This is my grail!!! I just got it a few days ago. My best friend gave it as a gift but I have no idea where she got it from. I suppose it is quite expensive according to what I have seen in this comm. Don't worry guys... I did give her something nice too >_<




Here are 1st gen eeveelutions and pidgeot zukans. I can't still help keeping them in the original bags. lol
Now, I am looking for espeon/umbreon zukan to complete the set as I have leafeon/glaceon one already.




I promise you this one would be the very last thing...It's wartortle custom plush. He is also so adorable >__<
I am also waiting for vulpix and ninetales custom plushes from a member of this comm. Can't wait until they are done. lol




Thanks a lot guys for bearing with me about my long introduction.
I hope you guys enjoy it :D