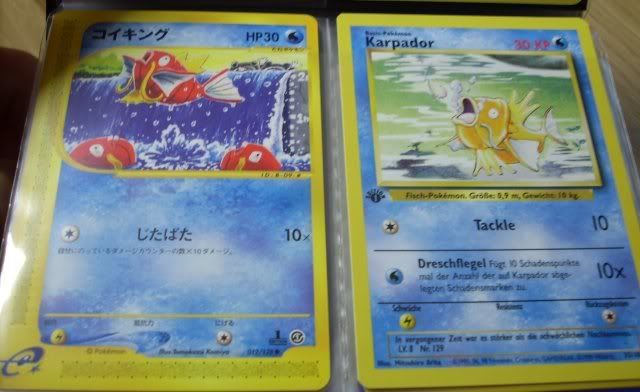 Foreign Magikarps used splash!


regen

I don't know HOW you knew I needed these cards, but you are brilliant, man. brilliant. I'm so glad I didn't buy the japanese one off Y!J now <333 and the german one made me lol. GO, KARPADOR!

AND THE PURIN ONE TOO. HOW DID YOU KNOW.



She's my second favorite from the DP4 series <3333 First being the ADORABLE THAT IS THE PINK FISHING BLOB, and I love it so much I totally don't mind having a double of the card.

I got the Magikarp zukan too <333333 thank you! it's at home with my other zukans, and the first member I've collected of my team!



(Slowpoke included because he is a CAMERA WHORE.)
I wouldn't call these guys "Bound Balls" the same way I wouldn't call the legos "Mega Bloks". The bound balls do not "bound" and the mega bloks are not "mega".
But damn if they aren't adorable.

I don't have much to my Phanpy collection, just the kid, blok, and ball. But isn't he adorableeeee. I need the zukan, next.


SPEAKING OF,
balt_lightning, I think it's a lost cause by now. :'< I'll keep my eyes open, but I'm not expecting it anymore.
ANYONE HAVE A PHANPY ZUKAN FOR SALE?
I will pay with hearts and monies.



pikachuashnat--

Thank you for the card skdjasdhsakjadhsk oh man, you have no idea how happy it makes me to finally complete that eeveelution set. Dark Vaporeon has been sitting in my book for.. I don't even remember how many years. 5? more? When PR grabbagged me the Flareon, I had to have the Jolteon. Who is the coolest-looking eeveelution, in my opinion.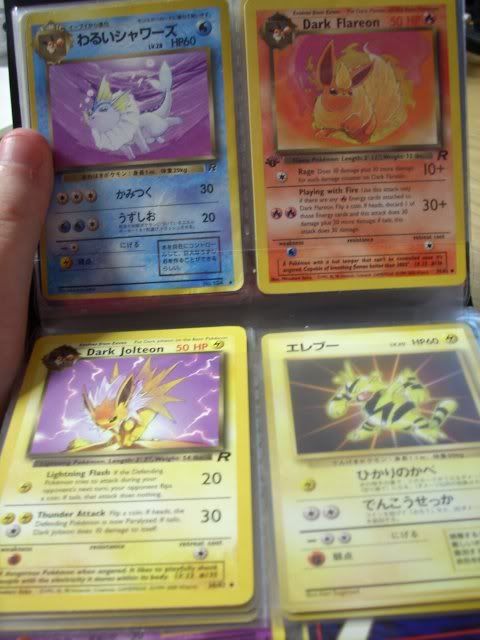 funny enough, I have 3 more slots in this section, So I was wondering what eeveelution set is everyones favorite? I was thinking the Light set to match the Dark, but it's not terribly important. SUGGESTIONS?


Thanks for the extra, too <3333 I wasn't going to add him, but I looked at his attacks, and I had to.




"Screaming Headbutt"? olawd. The visual got me.



One last thing.

My friend was going through his pogeyman stuff, and gave me a bunch of stuff he didn't want anymore. Most will be for sale, so keep your eyes open for the post when I get around to it :D

BUT UHM, I got out of pokemon for a long time at one point, which included the cards, too. (Which is why my cards are so limited and old) I kept the Black Star Mewtwo promo he gave me, but I don't recognize it. Could anyone enlighten me?