Happy 2011, first off - I hope this year is treating everyone well! :3

Second - with the new year, I brought one of my many ideas to life by making the first of my Custom Tins. I made one and fell in love with the project, wanting to create more. I showed my f-list and they seemed to really like the idea, so I'm opening 4 slots for these babies. I'm so excited, never done slot auctions before. :D Lots o' pictures ahead ~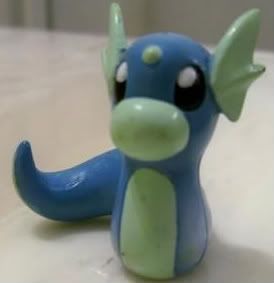 Cloud the Dratini Tomy: "I'll be your handy-dandy size comparison model for today!"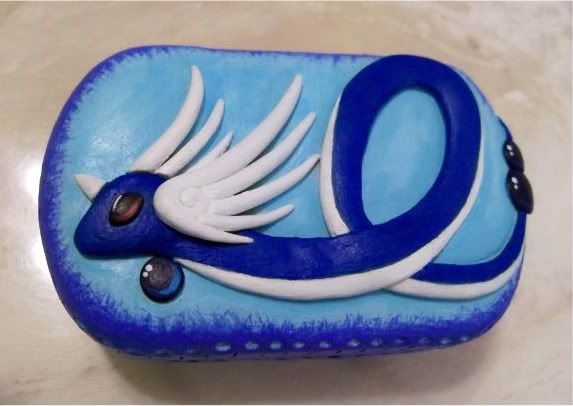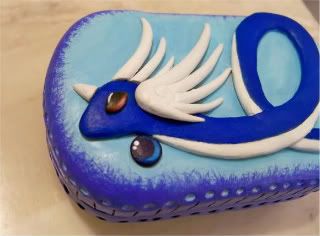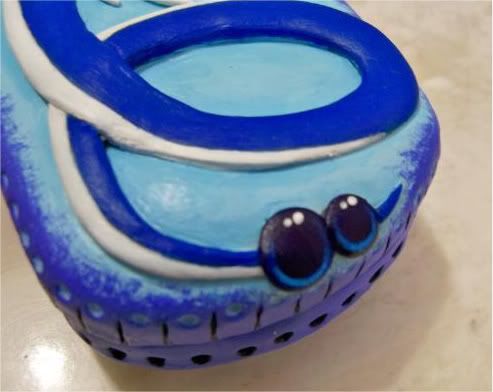 This Dragonair was sculpted on a different kind of container, which is slightly smaller then an Altoid tin. It was a bit harder to sculpt on then an Altoid tin due to shape/indentations on the lid. The lid pops off, unlike an Altoid tin lid which swings open on hinges.
~ Want a Tin? Read these details:~
- Larger tins are Altoid containers, made of aluminum and are 3 1/2 inches long by 2 inches wide. They have small hinges on them and open and close easily. Altoids have been removed and tins are thoroughly sanitized. (I can show comparison pictures of the two sizes of tins together if need be)
- Smaller Altoid tins(called Smalls) are about 2 inches long and 1.5 inches wide.
- The tins are covered with polymer clay, painted with acrylics and sealed with a matte or gloss finish for protection and added shine. The main subject/some details is 3-dimensional while some are engraved into the clay.
- It takes about a week to sculpt a tin if all goes right (if life doesn't pull any fast ones). Note that more detailed tins will probably take longer for me to sculpt. If something comes up and your slot is delayed, I'll notify you.
- I post pictures of my work on my journal, so just add me and you can see them...or I'll pm you and describe its progress.
- Since I am relatively new to this idea and this is probably the biggest clay project I've done so far, I would like to start out with smaller, easy to medium subjects then super detailed ones( like Dialga or Zekrom, etc), but we can work something out. I will eventually be able to take them on though!
- This is an auction just to test the waters - if its popular enough, I'll eventually open up commissions or make it a monthly thing. c:
*!Auction Details!*
- If you win a slot, I will make you a custom tin with any pokemon (but not limited to) on it, color theme and specified details of your choice!
:D
- Community rules apply.
- Don't bid on something you can't pay.
- Payment is expected 24 hours after auction end.
- I have the right to refuse to do business with anyone for negative feedback, skimpiness on auctions, backing out of auctions, etc.
- Minimum bid increments of $1!
- The two larger tin slots start at
$15!

-
The smaller tin slots start at
$5!


- The auction ends on January 18th, 10:00 PM Nashville CST.
Here
you can see a countdown.
- Depending on fragileness, I may ship with boxes instead of bubble mailers.These tins have weight to them after being covered with polymer clay + being shipped in a possible box, so expect that in the shipping costs.
+Slots+
1. (large tin)
nightmare_chan2
2. (large tin)
kassia9
3. (smaller tin)
fandramon
4. (smaller tin)
fandramon

The auction has ended! Thank you to all who participated, and congrats to those who won! <3 <3


Sales permission granted by denkimouse on 1/1/2011.



Offers on my

painted Togekiss bag

are still up, highest offer is

$6

- I'll close it when the thread goes quiet. :)

I'll be putting a few rare plushies up for auction and doing a collection update in the near future, so look out for those!