Sorry to post again so soon everyone! I just finished this after 20hrs of work and couldn't wait to share it. After my Umbreon Amigurumi, and likely due to lack of sleep, I took on the insane task of crocheting a 1:1 Pokemon. Hitomoshi, in all it's adorable candleness, demanded my attention.




Here is the full shot of Hitomoshi, set next to an Eevee Canvas plush and a Cresselia Pokedoll for size comparison. As the title states, this is a 1:1 custom amigurumi. I based the height off of the Pokedex entry that states it is 1ft tall. Now, in my mind, 1ft means it's body, not including the flame, since the flame size changes. Hopefully I understand that correctly xD

Body Height: 1ft
Total Height with Flame: 1ft, 7inches
Weight: 2.5lbs
Total time: 20hrs, roughly

Made with:
Body: Incredibly thick baby yarn. Has minimal piling and is super soft and squishy.
Flame: Medium Weight Yarn. Not quite as soft as the baby yarn, but offered the colors I needed. Holds shape really well.
Stuffed with hypoallergenic, PolyFiberFill

The "Base" is stuffed with the fluff but also has an inner ring that holds beans to keep it weighed down. It can stand on it's own with absolutely no problem and won't tip over easily.




I just couldn't leave it with only one eye, so it has another hidden under the wax. Isn't it's face ADORKABLE? Fff, I am so in love with Candlemon




Back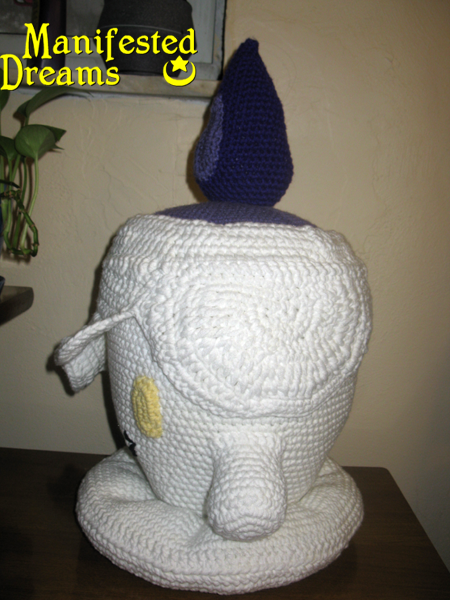 Left Side




Right Side

I hope everyone likes him! He was an amazing challenge and I've perfected certain things, so the next one will be even better.

That said, I am opening up 1 slot at the moment to be purchased.

I received sales permission from Denki in February of 2010

~Your plush will NOT be the one pictured, but it will be similar. There may be a slight difference in the stitch pattern for the falling wax, but the end shape and design will be the same.

~I will supply progress pictures in case you'd like to alter anything.

~I'm not entirely sure what to charge for this piece since I've never made an amigurumi on this scale. Based on what I've seen in the community for custom plush, offers start at $200. I realize this is not a small sum, but it is based on paying for my time alone and does not factor in supplies. Please do not be offended if I decline offers, I swear it's nothing personal.

~Only serious bids please.

PLEASE NOTE: Because of the amount of time this takes, your piece will likely take up to 1 month to complete, possibly a little longer. I can alter the colors if you'd like, or add other custom features such as flowers, capes, etc.


If anyone is interested in a different sort of Pokemon custom, please let me know. I can do all sorts of customs and would be happy to work within your price range <3

Thanks for looking and thank you for any interest this gets!