Hi everyone! Hope all my fellow North Eastern collectors are surviving the snow storms.

In preparation of some hopeful grail buys(and general prep for conventions) I've got a new plush up for adoption.





Mijumaru/Oshawott Egg Amigurumi. It is six inches tall and made of very thick, very soft baby yarn. Stuffed with hypoallergenic, poly fiberfill.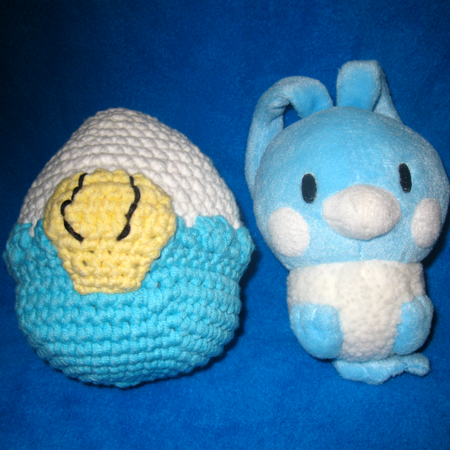 Size comparison with an Altaria Pokedoll

This auction is partially to determine interest in Pokemon Egg Plush and get an idea of what Eggs everyone would like to see next. If there is an Egg you'd like to see, please mention it in the comments <3

In regard to commissions: Because interest has been shown, I will be opening commission slots on Saturday, after the auction has ended.

Auction Info:

Bid starts at $10

Make bids in increments of $1

Standard community rules apply. No last minute sniping. Any bid made within 15 minutes of the auction ending will extend the auction an additional 15 minutes until 15 minutes have passed with no bids.

Auction will go until Saturday the 5th at Midnight EST (Friday going into Saturday)

Respond to the previous bid.

And if you have any questions or comments, please feel free to ask/share!

And that's it, happy bidding everyone :3