All previous sales have been shipped and I have begun shipping out packages from the Plush GA and Kitbug Kids GA :) However I am still owed many, many payments - which is to be expected with how quickly this community moves, but I would really appreciate everyone getting these in. Please check the list below to make sure you're not on here by accident!

Link to original payment post (Kitbug and Plush)
Link to original payment post (Clear Kids Rush!GA)

artikgato - $2.16
captainangel - $6.21
celebiii - $2.74
cherileemeow - $3.28
chronidu - $4.20 US/4.24 Non-US
chuchuvee - $2.16
daughterjudy - $1.28 US/1.29 Non-US
dooman58 - $4.13
gl4x - $3.29
habslove - $2.16
jensoxen - $5.91
kattotang - $2.78
kazmalop - $2.34
kylie_fanatic - $2.50
mandyseley - $2.17
megami36 - $7.93
mommymoose - $2.34
nagaineko - $10.00
neonr0se - $3.39
poizenkat - $3.74
shortcakemiddy - $2.34
tiieme - $3.29
ubersaur - $2.34
volbeatwaltz - $2.16
xxcutesnakeyxx - $3.29

Please send all payments over to allinia.xi@gmail.com with your username somewhere in the title/note, thank you :)


kylie_fanatic
and
kattotang - Your payments are for the Kids GA I ran back in December (post here), please pay so I can finally ship these out to you, it's been a while!

And for something not GA related: A couple of my big wants have popped up but 1:1 Minccino has drained my funds. Since I need money badly, I'm going to be taking offers on individual items from my Glaceon collection. Many of these items I've obtained through the help of good friends. Please understand I'm hesitant to let a lot of these go.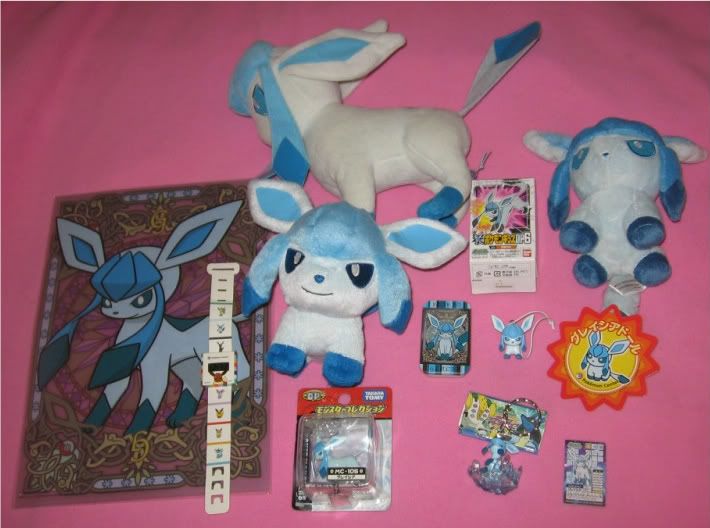 Sold: Banpresto Plush, Watch, Chibi Strap, Attack Kid
Available for Straight Sale:
Glaceon TOMY NIP - $7
Glaceon Candy Tin - $15
Glaceon Pokedoll - $50
Very likely will not part with TOMY Glaceon plush <3
Since this is my personal collection, I will be looking for relatively high offers - please don't be offended if I flat out reject an offer. I have a rough idea of what I'm looking for on each item and I'm unlikely to stray from that amount.
And as always, anything can be combined with my regular sales. Prices have been lowered to make room for a new stock of Y!J items coming in this weekend :D