Hello! Its me again! Posting yet ANOTHER wants post!
I need some help find 3 legendary dog items so just wondered if anyone can give me a shout if they have any of these things up for sale :D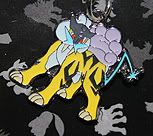 The Pokemon Center 2009 Raikou charm, Id really appreciate if it was still sealed!
And Im also after the Raikou and Entei Chou Get figures
so please, get in touch! :D