Hai thar, community!
MEETUPS.
Yes, I recently attended the Grapevine Mills B&W tour, and although I didn't get to hang out with the collectors for too long (OR SEE THE MOVIE BAWWW), I still had a blast! Let's start this photostorydump off with the figures I bought illustrating the opinion of over 400 people who answered the wi-fi survey question of "What version do you have?"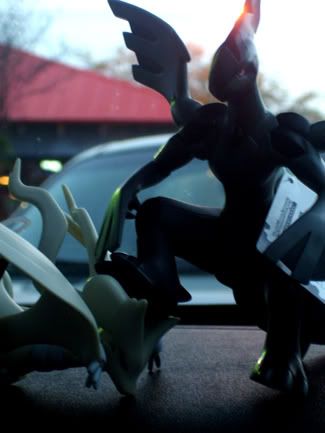 99% OF PEOPLE AT THE DALLAS TOUR THAT HAD THIER C-GEAR ENABLED HAD WHITE VERSION.

My journey began early. Like, painfully early. I hadn't slept at all for two days straight!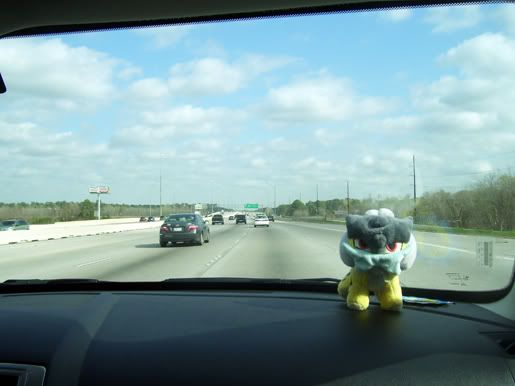 Meet Thor. He was my travel buddy for the day. He poked out of my fire-type backpack and made everyone jealous of his splendor. I was set to go - had my DS charged, my camera ready, and my pokefan gear all in order-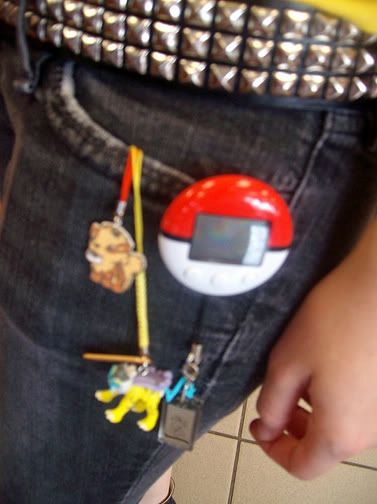 My friend snapped this glorious photo of my crotch on a gas station supply checkpoint. :U
The enitre car ride there, I was working vigorously on my Raikou hat. Procrastination means needles through flesh with every bump in the road.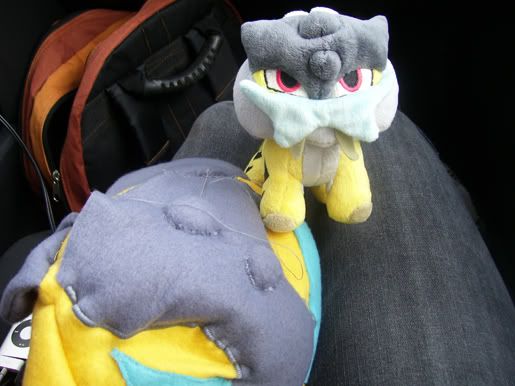 Ohai, Thor. Why are you giving me that face? Get back on the dash and look pretty. D<
Thor: IS THIS SUPPOSED TO BE ME?! UGH. Give me that needle!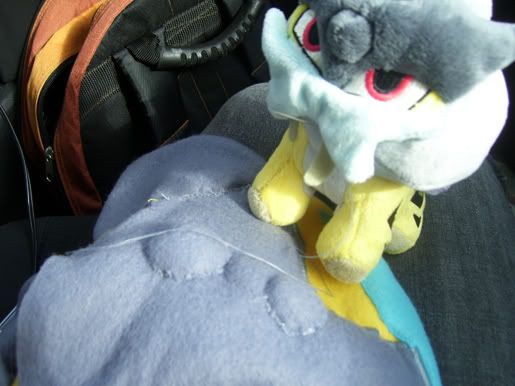 YOU DON'T EVEN HAVE THUMBS THOR. ...OR FINGERS AT ALL.

I came all the way from The Woodlands, so even though my group (
tijuzu and some other friends of our's) left around 6 in the morning, we didn't it to the mall until 1 o'clock. WHICH MEANT THE MOVIE WAS SOLD OUT WHEN WE GOT THERE. Sad day. It was the main reason I wanted to attend the tour. So, it started on a down note. BUT WHAT MAKES EVERYTHING BETTER? BALLOONS.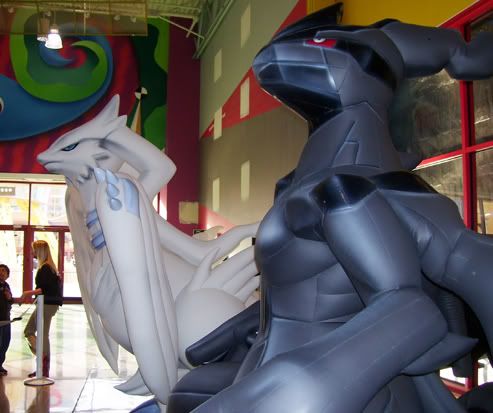 I loved how Zekrom was just laid back and full of electrodragon swagger. SO BEAST.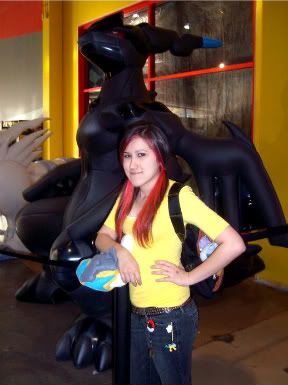 My swagger < Zekrom's swagger.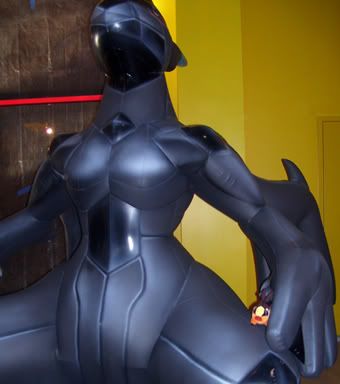 Tepig and Zekrom are bros. I tried to get a picture with Thor in the same place, but SUPER OFFICIAL INFLATABLE GUARDIAN for the day was like "These bitches expensive; your miniscule plush toy is obviously full of KNIVES". So she manhandled Thor and threw him back at me. It didn't quite work out. ; n;

Anyway, after all that, my group just decided to carouse about the area and get an idea of where everything was. The video game demo place was in the food court, where Tijuzu and I spotted a whole table of plushes and cute cosplays. I FOUND YOU GUYS. >D Now, I didnt get any group pictures of y'all, but other Grapevine posts include them. I was only there long enough to greet some people and make Raikou babies with
kiiyame. Among the people I met were
toukoxn and her fiance, who were an illegal amount of adorable, fellow Mewbro
technicolorcage and her superior gijinka, super nice
pachirisu and
seifer_a, and a whole bunch of other people who I AM SO BAD AT NAMEDROPPING YEWGUIZ. I was there long enough to jump into the group shot and flee~
ALSO, HERE IS ME AND
tijuzu. THESE ARE OUR HATS.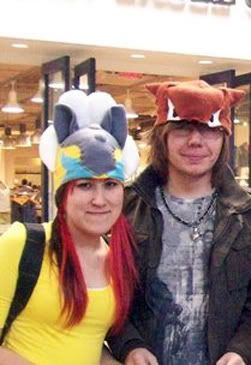 Picture totally ripped from
toukoxn, because I stupidly never took a picture of my hat. DERP. Though it can be seen in other group shots taking up whole walls and such.

Then it was stamp rally time. Mostly spent cutting through Forever 21 and getting really, really odd looks. Haha. The stamp rally was easy - it was mustering up the courage to stand in the 3 HOUR LONG prize wheel line that was difficult. Daunted by the size of the merchbooth line upon first entering the mall, I hadnt stopped by there yet. Seeing everyone with the giant zekrom plush was making me anxious, so I parted with my crew in the wheel line and ran off to buy me some yinyang dragon goods and
tijuzu's zekrom plush that he'd been pining for. Only a ten minute wait in line! ...Followed by another fifteen minutes because I had a credit card! D: I then delivered Tij's zekrom and much rejoicing was had. In the end, all five people in my group got the starters phone charm. NO TRADING POSSIBLE. IT WAS TERRIBLE. I needed that tepig patch to live. One day, patch. One day!!

Next stop...
ADORABLE.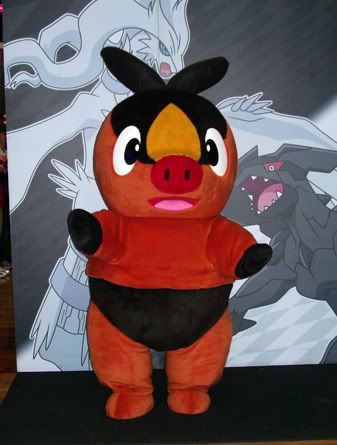 guuuuhhhhhhh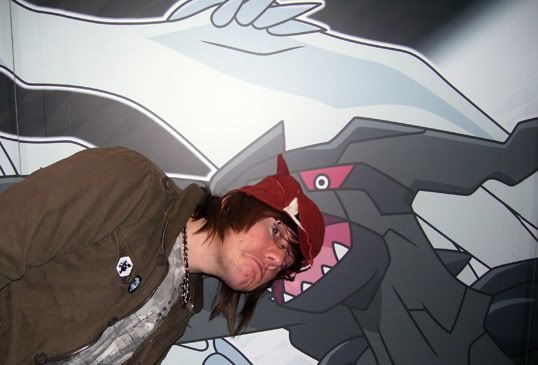 NO TIJ, YOU FOOL, ZEKROM LOVES SHELLFISH.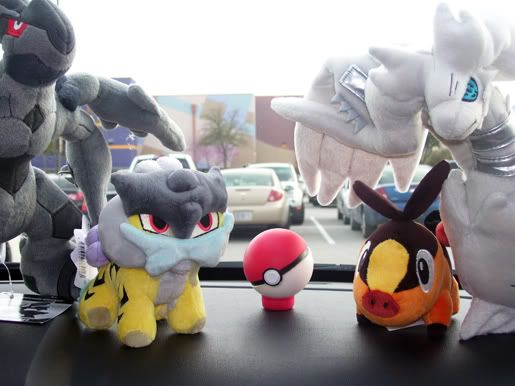 HOORAY, THINGS.
We left pretty soon after nabbing pictures of everything and headed off to eat some great Italian food in Addison (only knowing that it existed because I had just gotten back from Furry Fiesta two weekends ago!).

I will leave you with my super awkward green screen picture.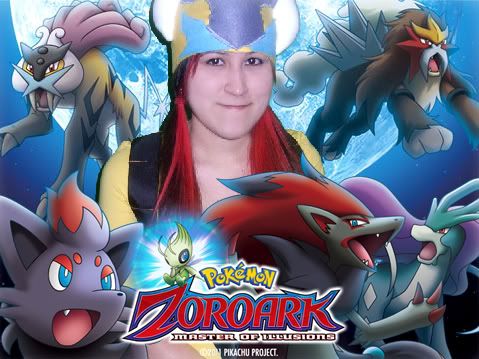 OKAY TEXANS, LETS DO THIS AGAIN.

Anime Matsuri is hitting Houston this weekend, and I thought it'd be dandy to hold a meetup. I know that the panel registry has a special area for meetups, and if we could get enough people to show up, we could even nab a spot in the schedule!

List of people attending!
>
koujakai
>
tijuzu

Times, etc. need to be decided! Let's discuss. o uo