I have been threatening to do a collection update! As a friend can testify, it took me a couple of weeks to get around to taking pictures XD
but lo and behold, pictures <33
I'll do a mini-introduction. My name is Honey, I'm from the UK and I collect both Pikadolls and Pokabus. Intro over :D
As a Pikadoll collector (Pikachu Pokedoll), a Pikachu Plushplush was my grail and I recently won one in auction! He also still has his original tag as well with a cute vintage look for its artwork! I'm so overjoyed I have him especially the last time I saw one for sale was early last summer ;o;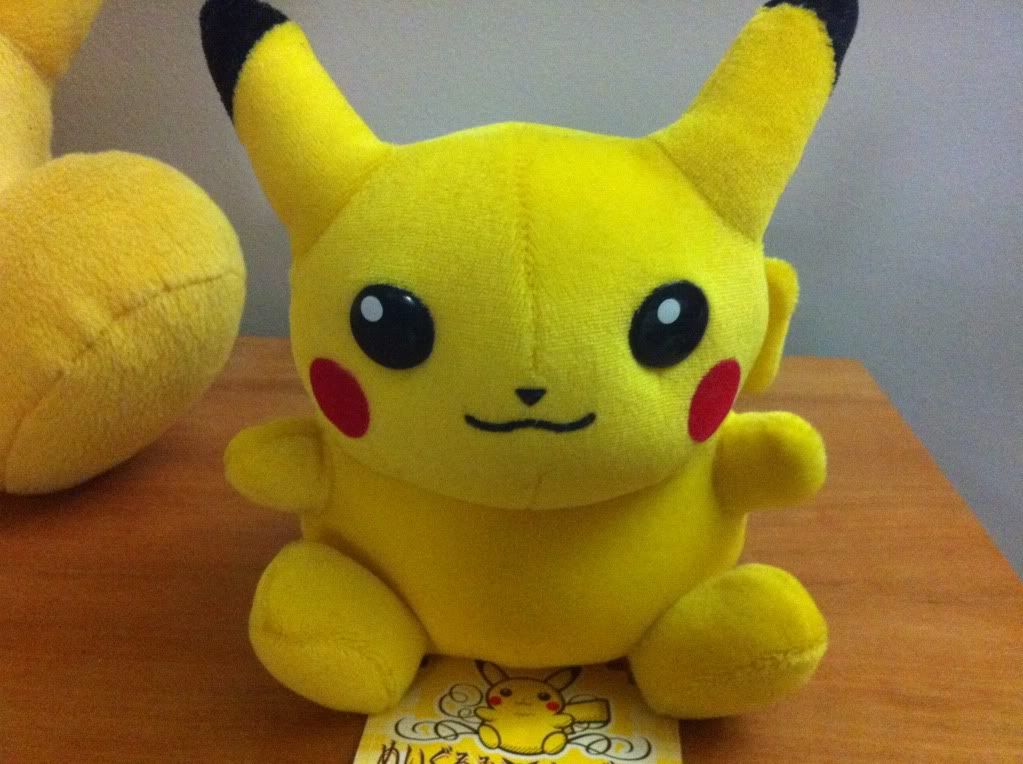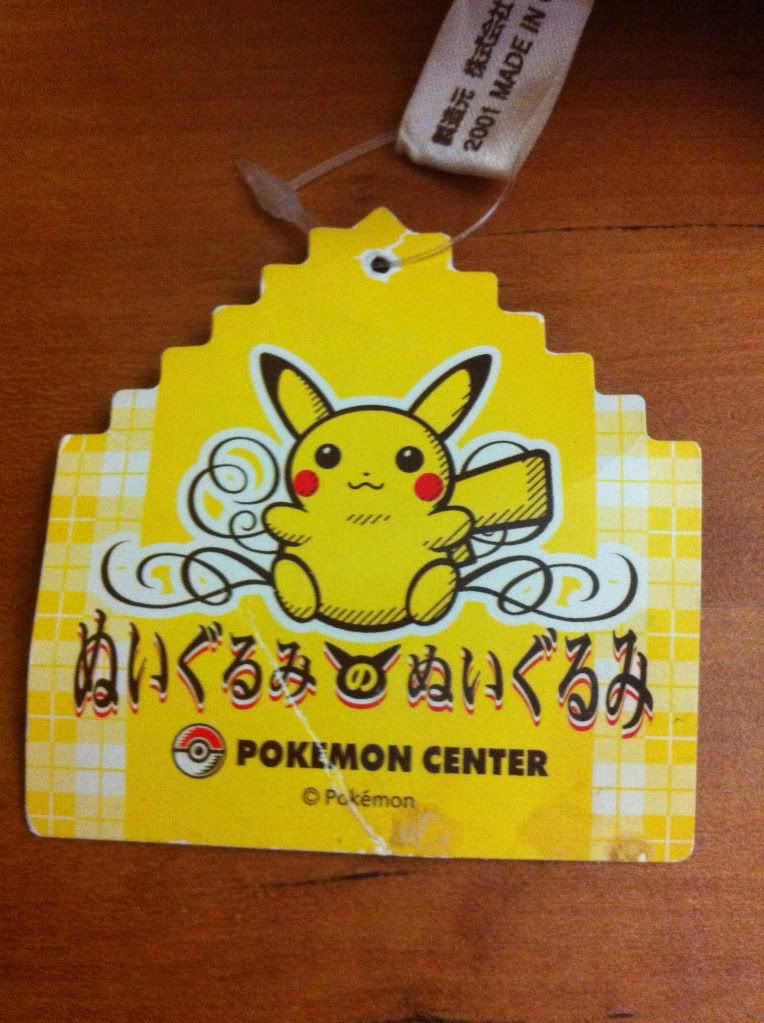 A comparison with the PlushPlush (released in 2001) and Baby (a 2004 release)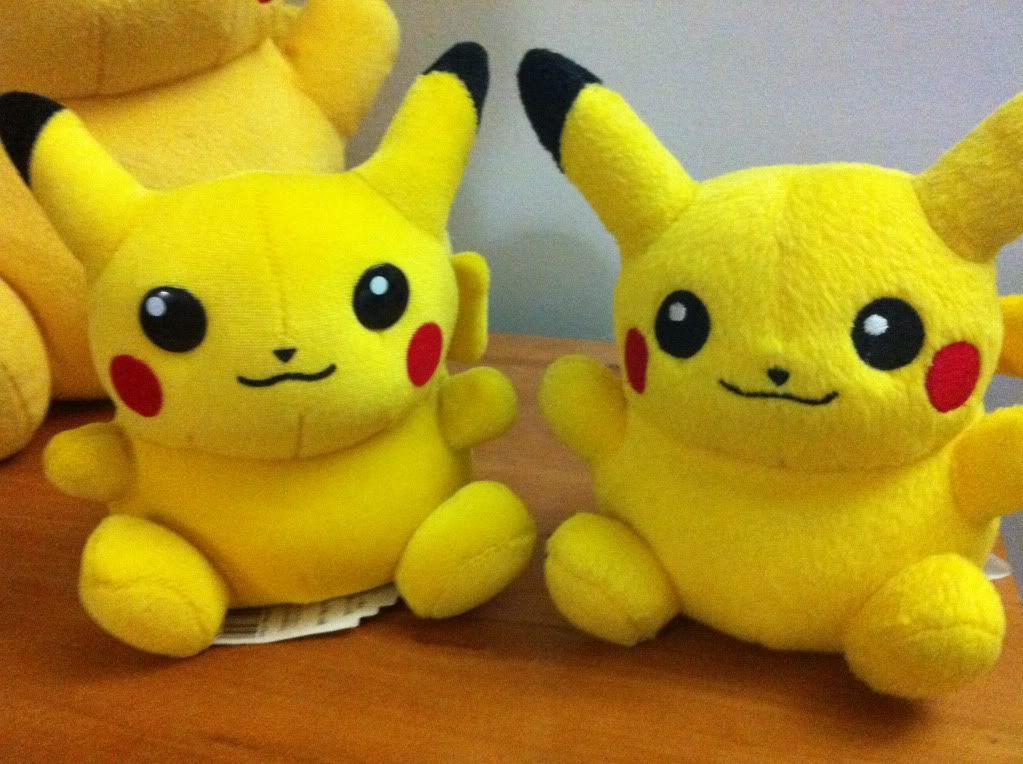 I still think the plushplush is one of the funniest things I've ever seen XD just so strange looking in a cute way!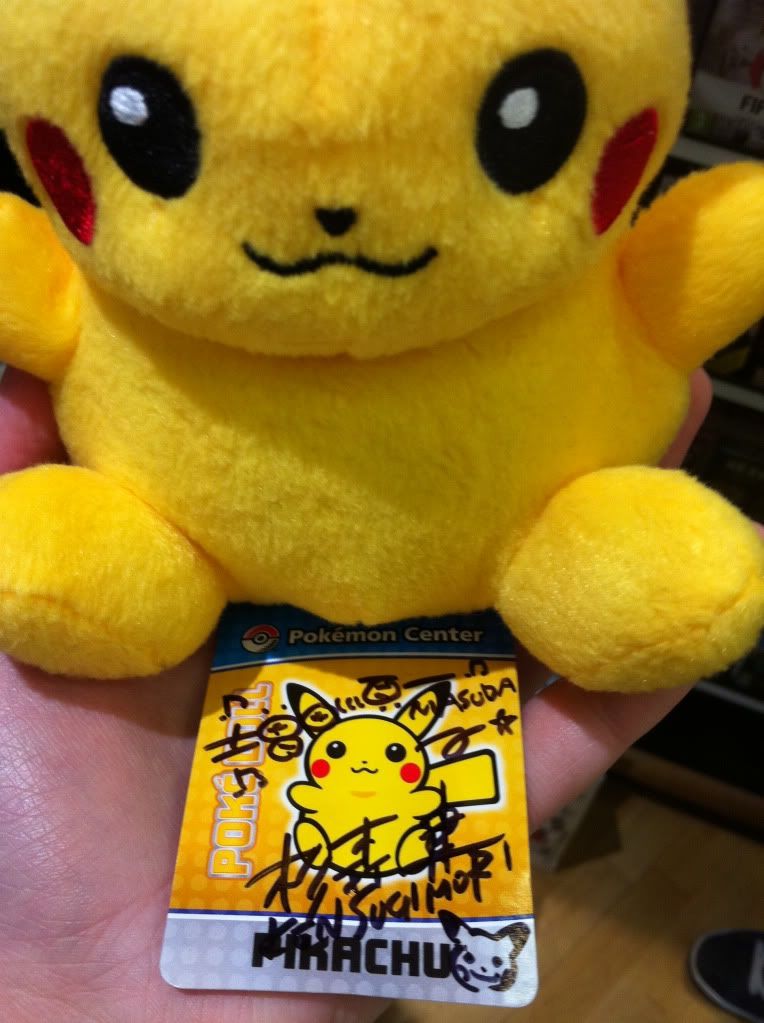 And this is my signed Pikadoll! It has both signatures from Junichi Masuda AND Ken Sugimori! Just another amazing item to add to this collection
Because of this, I decided to relocate my Pikadolls to their own little area - a bedside table that funnily enough isn't next to my bed!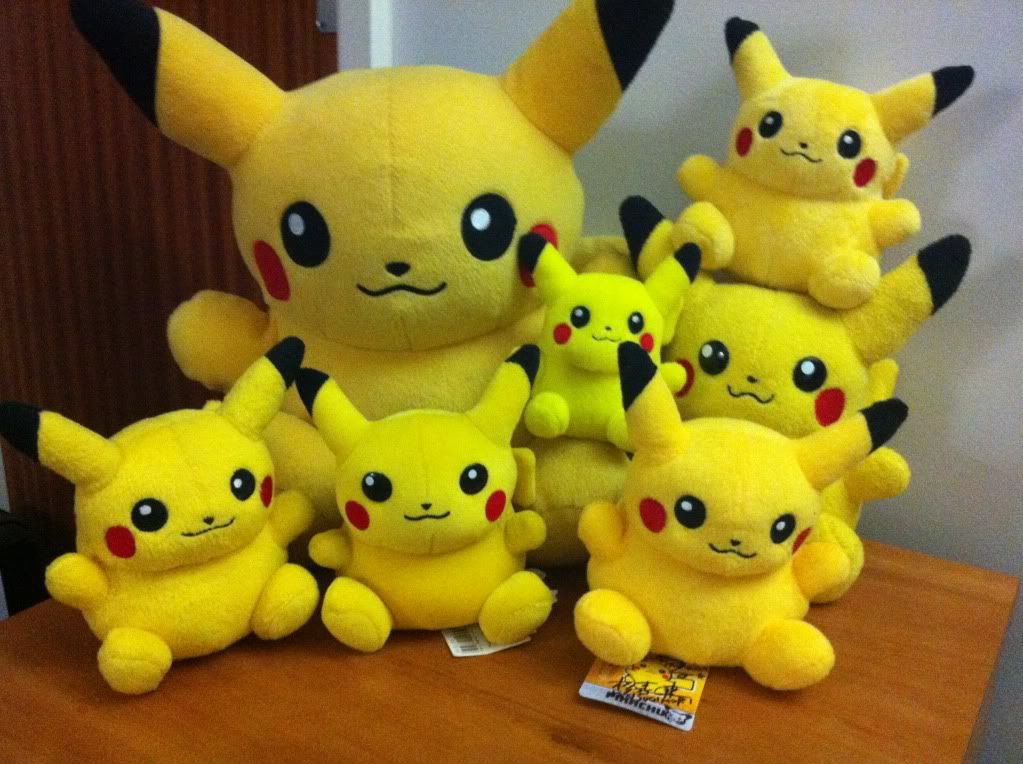 There's the American DX, the mini, the Japanese Minky on top of the Oversized Terrycloth
In the front row is Baby the Japanese Velboa, the PlushPlush and the signed American Velboa.
I am getting the American Minky from a friend :D
Onto my second and much bigger collection; Pokabu/Tepig.
I still call them Pokabus lol just not used to Tepig!
My newest addition is teh Super DX Chibi who was SO much bigger than I'd expected!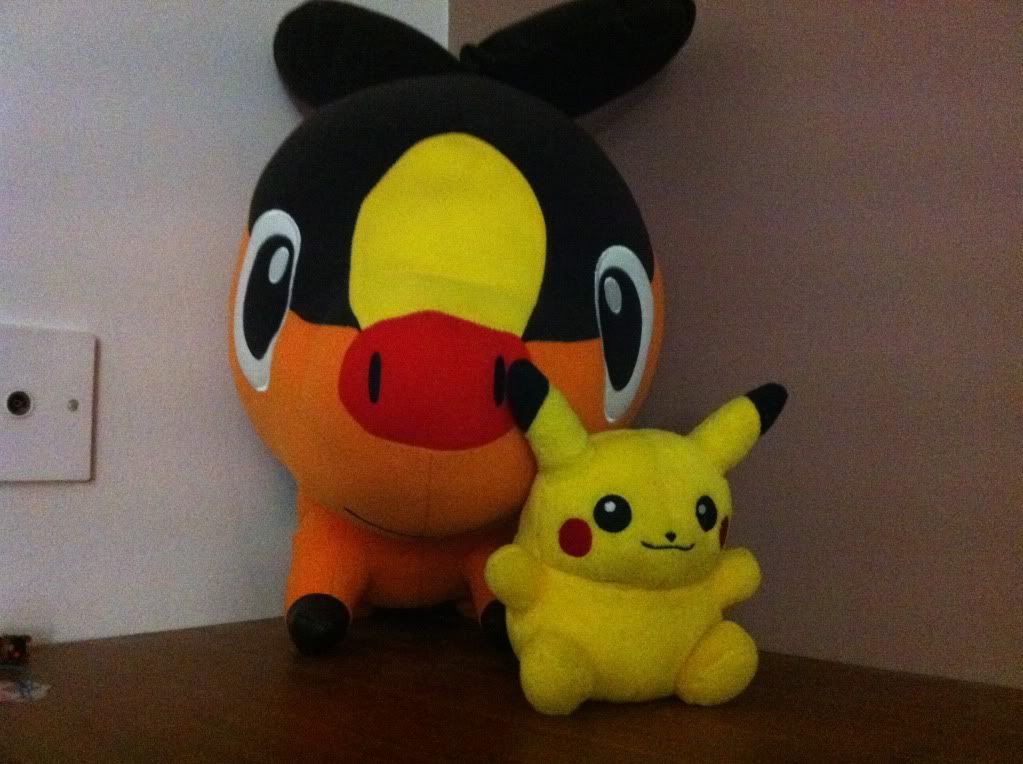 TALKYBU! Who doesn't like to talk when its noisy ¬¬ This is easily my favourite Pokabu plush just because of the talking XD I love it best when he does his little happy squeal <333 Thanks to
nanoplasm
who did the group buy, I absolutely adore him!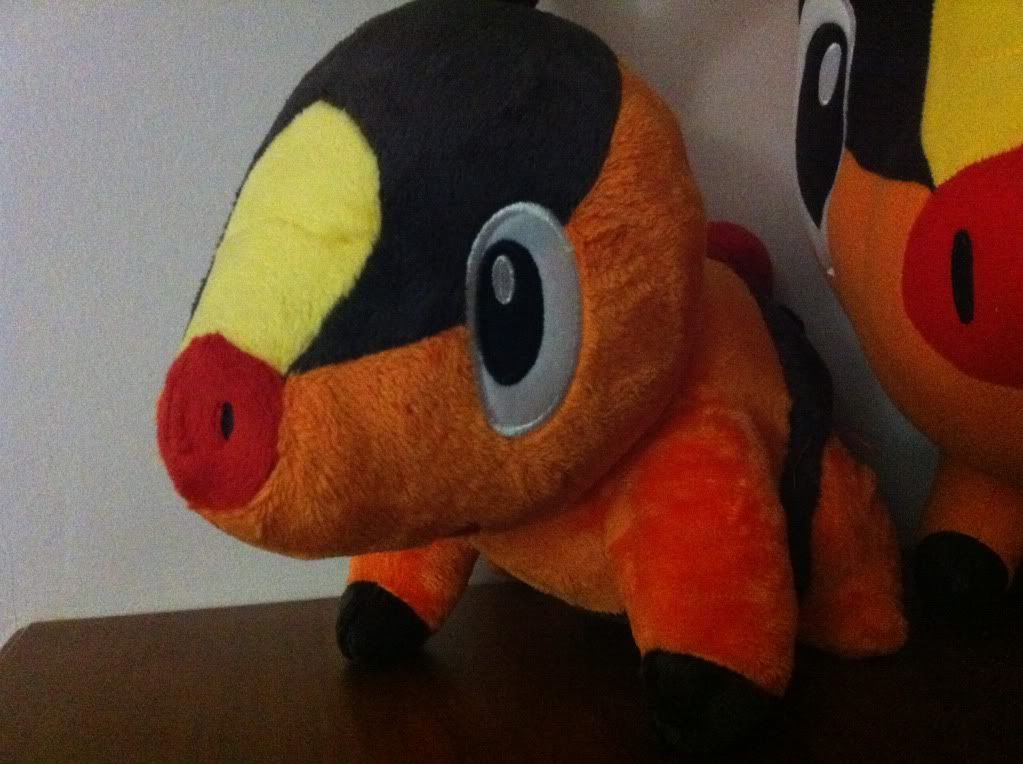 Osakabu, Xmasbu, small banpresto and Dollabu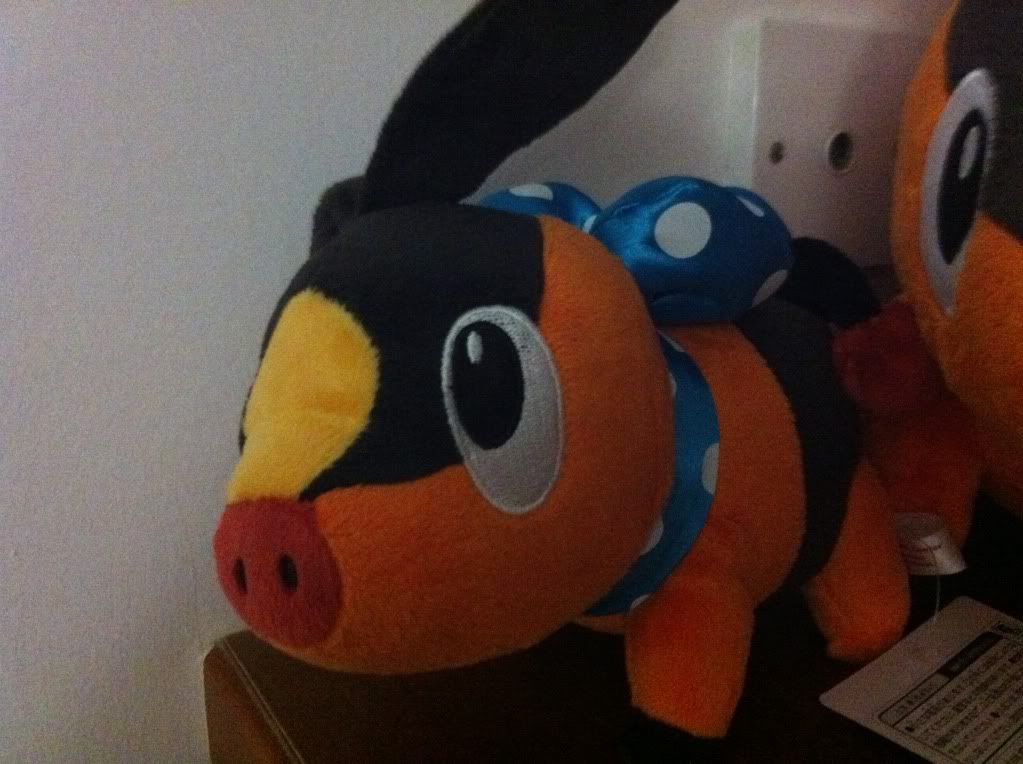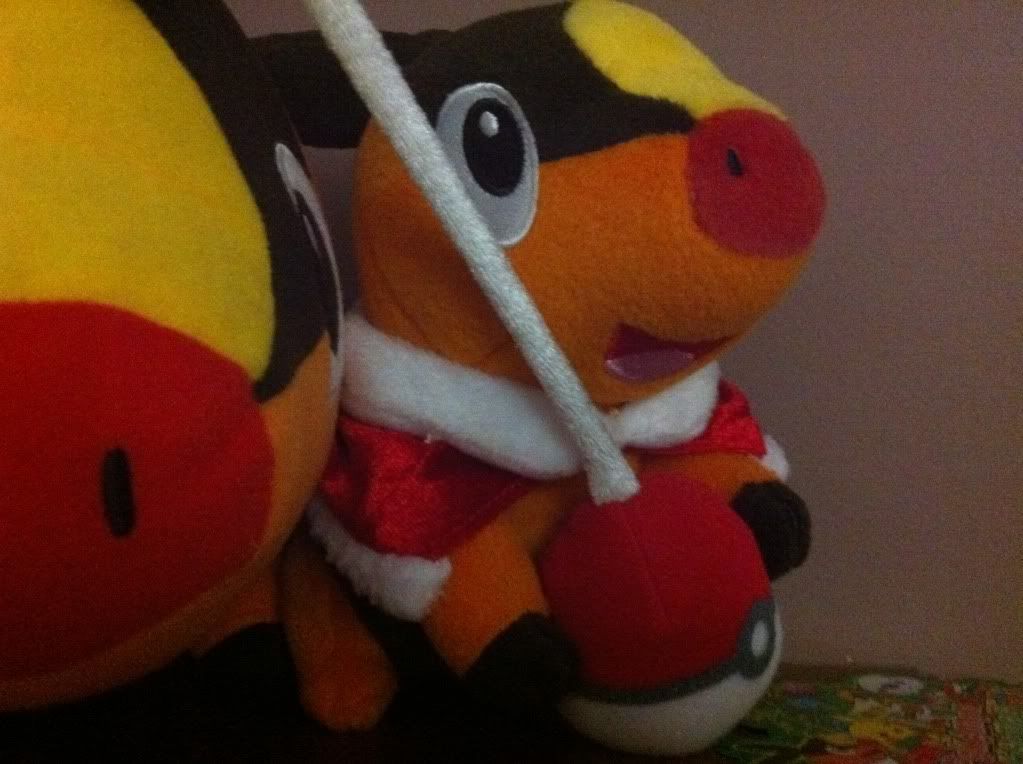 Pokecenbu, mini banpresto and Chibibu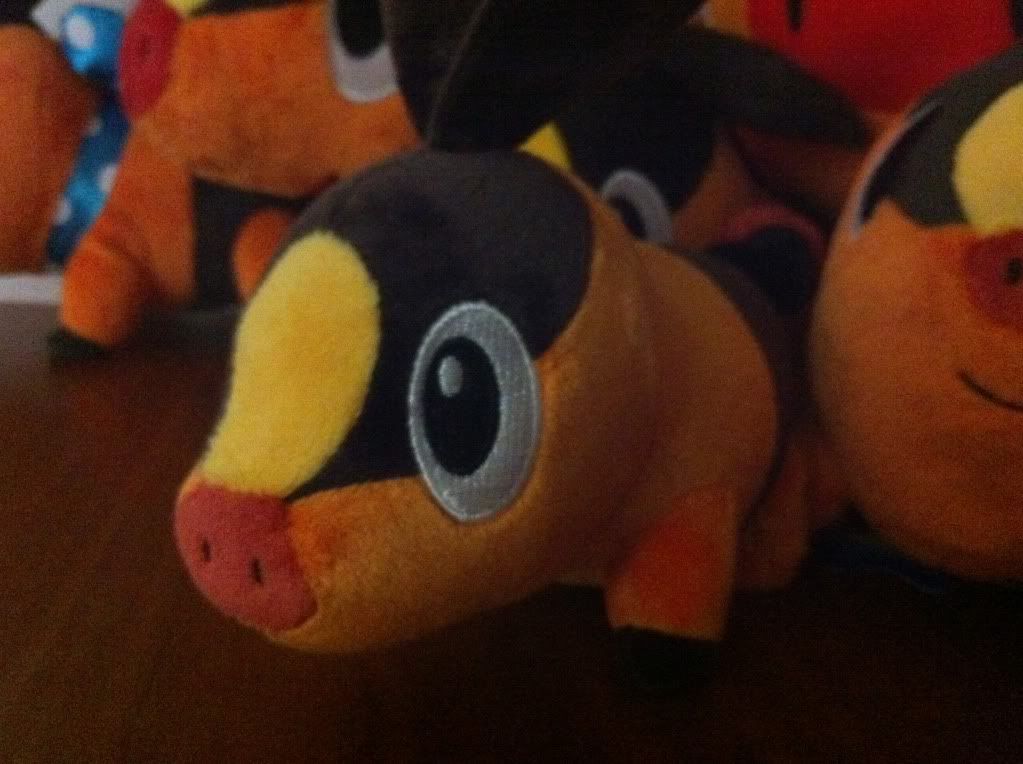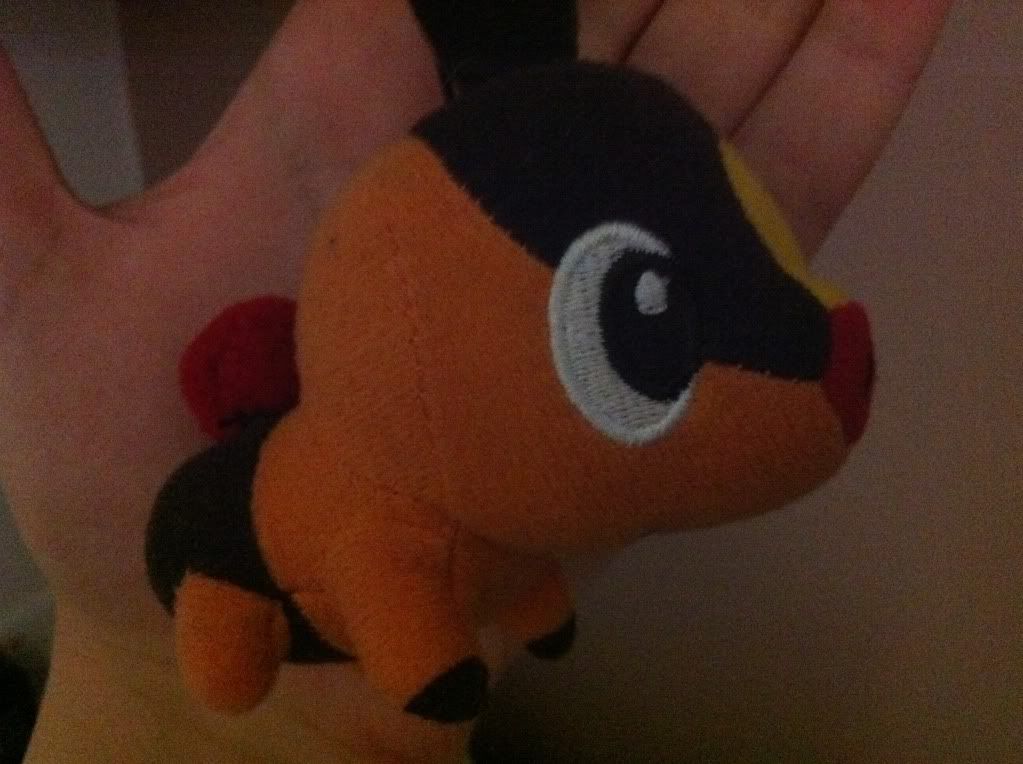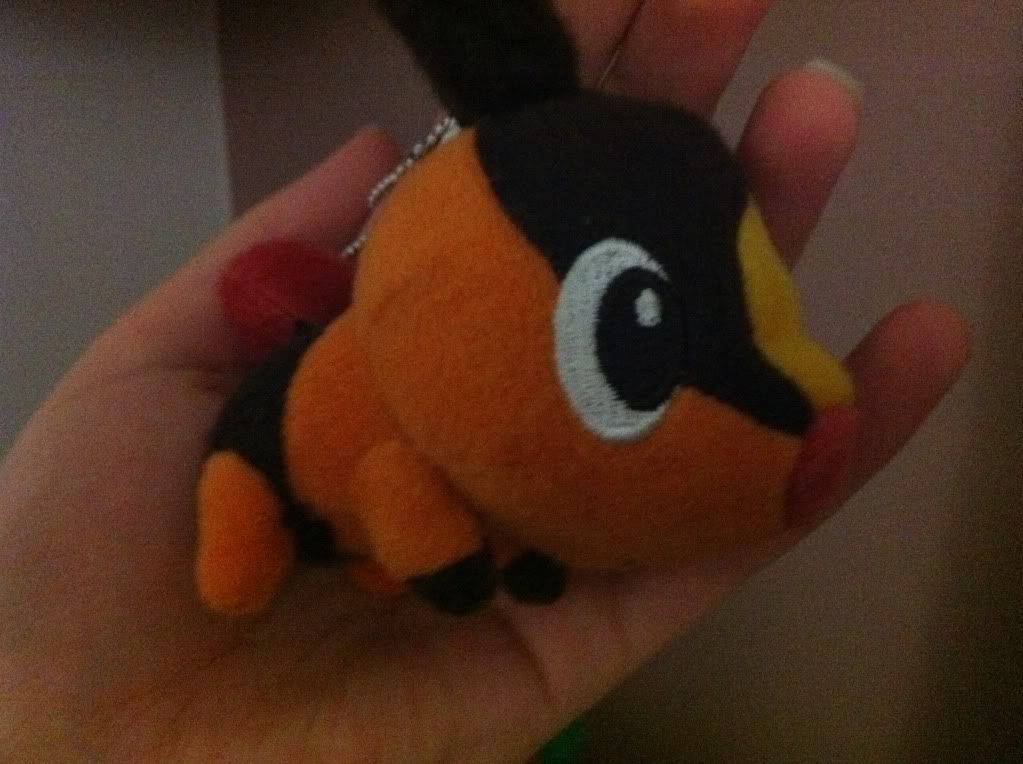 Dollabu Pen and Tepig Tin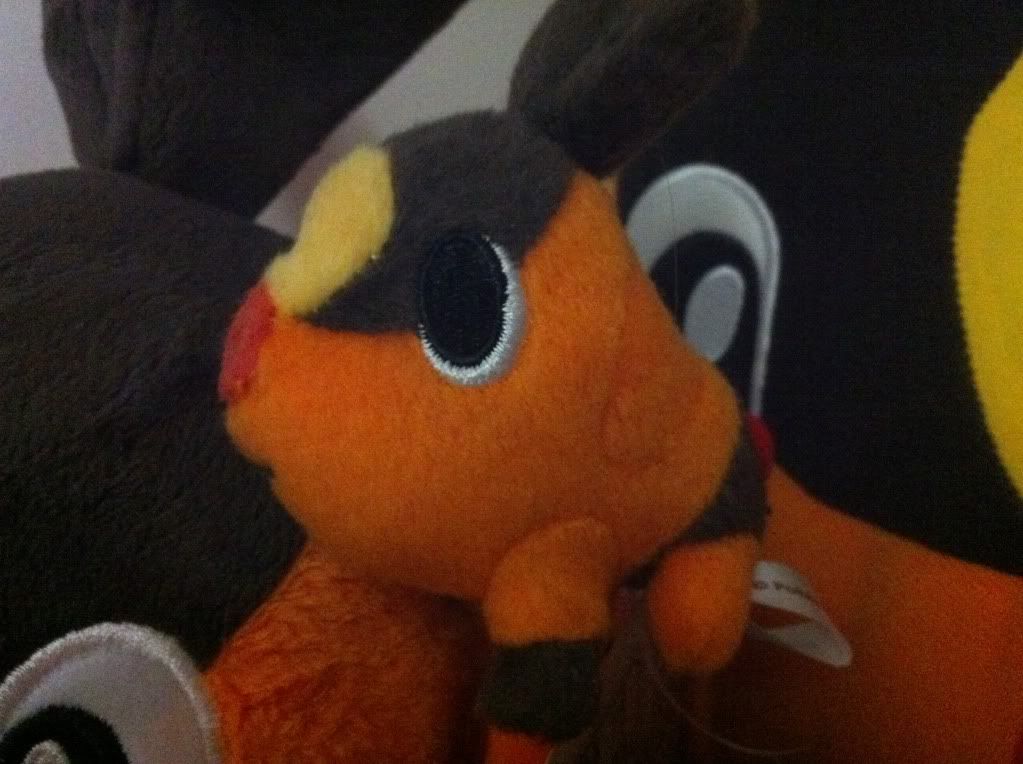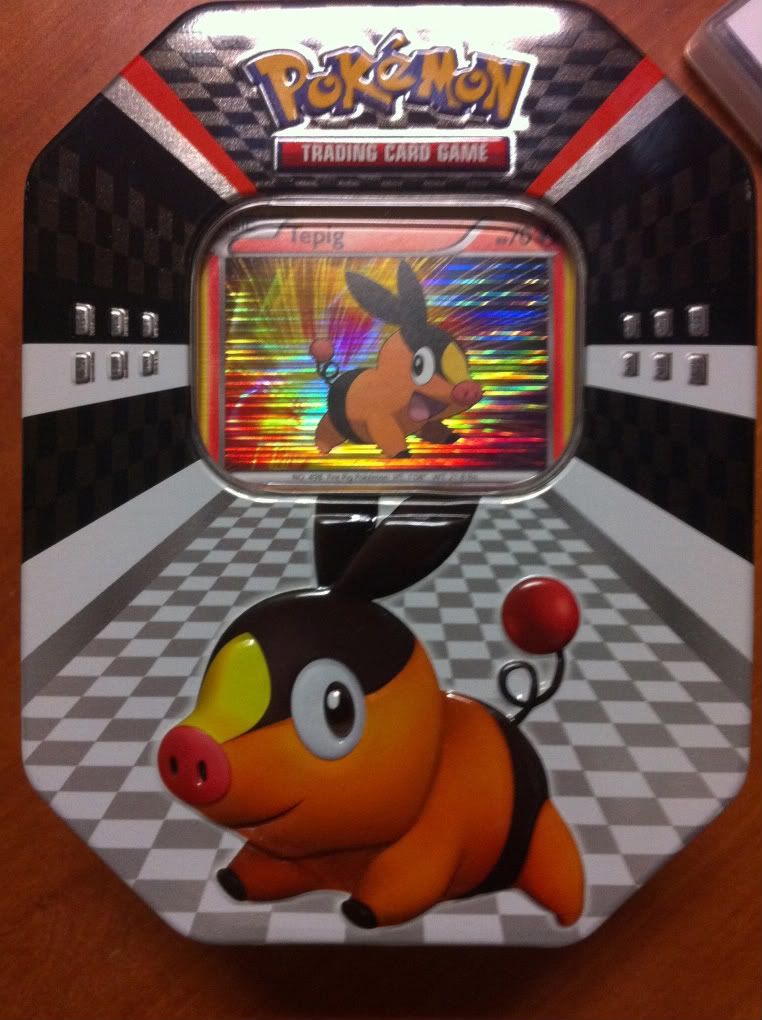 I forgot to take a picture of all my smaller gets
Notable favourites are my two stamps that I use (one accidentally went on my essay which i handed in XD), the adorable clipping figure, a patch from
usakochan
, a pokedoll tag from
moguryuu
who also made my utterly adorable icon that I will use forever
, and a suki doll from
denkimouse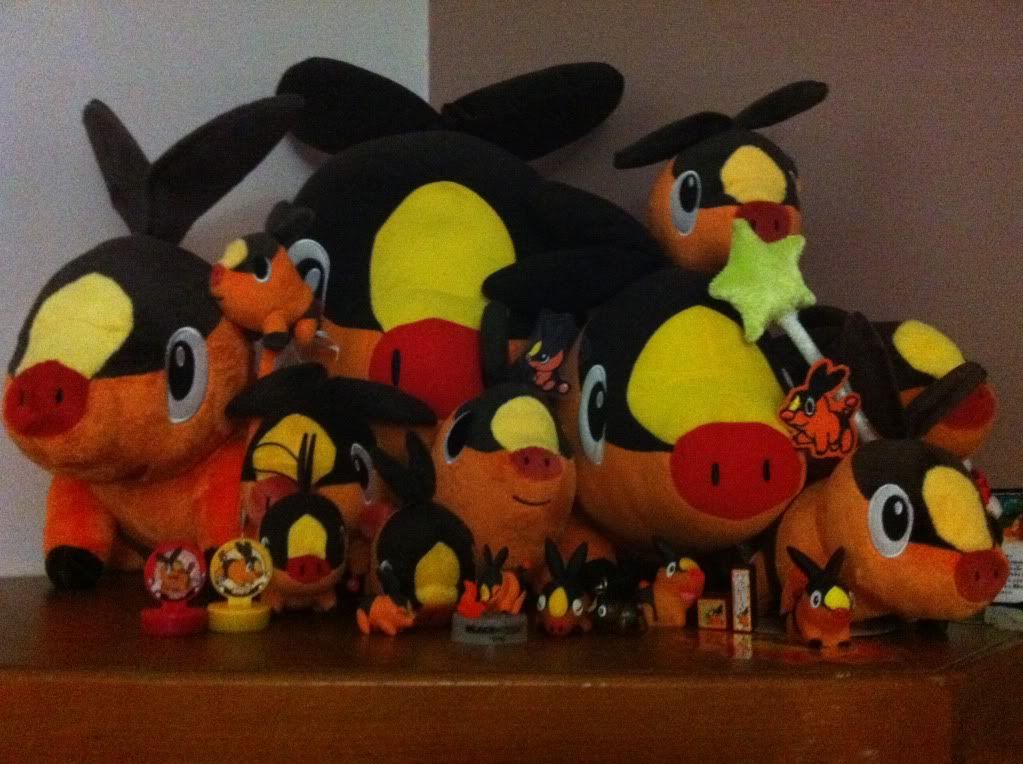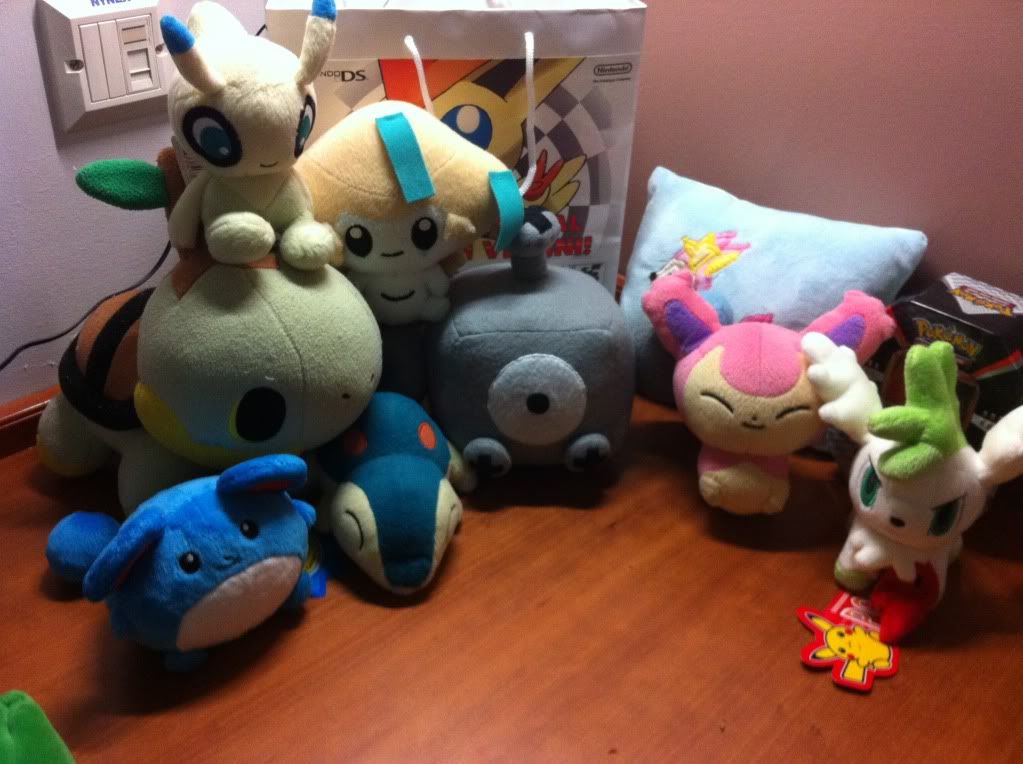 I used to collect pokedolls and you know the saying - 'old habits die hard' - i still can't resist a cute one 8D
My favourite pokedolls - These are ones that are very close to me and I wouldnt part with
Green the Celebi from
blackfruitbat
, Skye the Shaymin Pokedoll from
chariflame
, Tail the Tailless Sitty, Summer the Cyndaquil, Chiisaki Mono the Jirachi (my first ever pokedoll), Blue the Marill, Cuddles the Oversized Turtwig and Cubey, a cube-shaped Magmetite made by
caffwin
.
I'm gonna conclude this post with small sales. I'm studying abroad next year and I'm doing some serious collection weeding as everything will go into storage for a year and I can't hold everything so unforuately a few of these guys have to go ;o;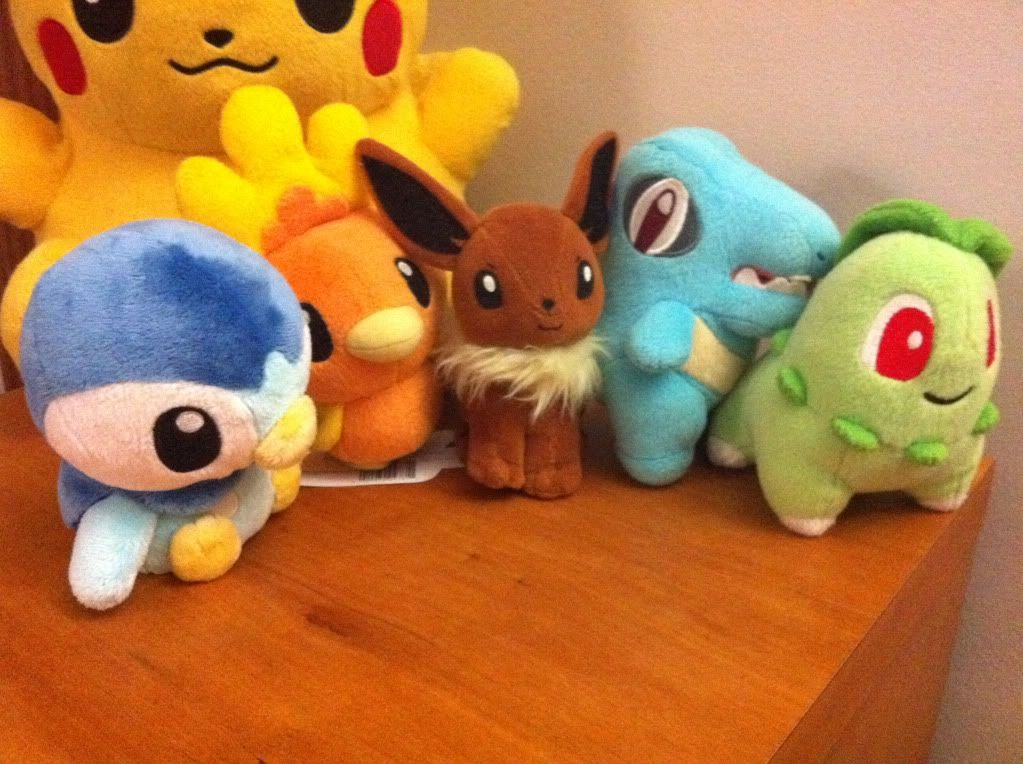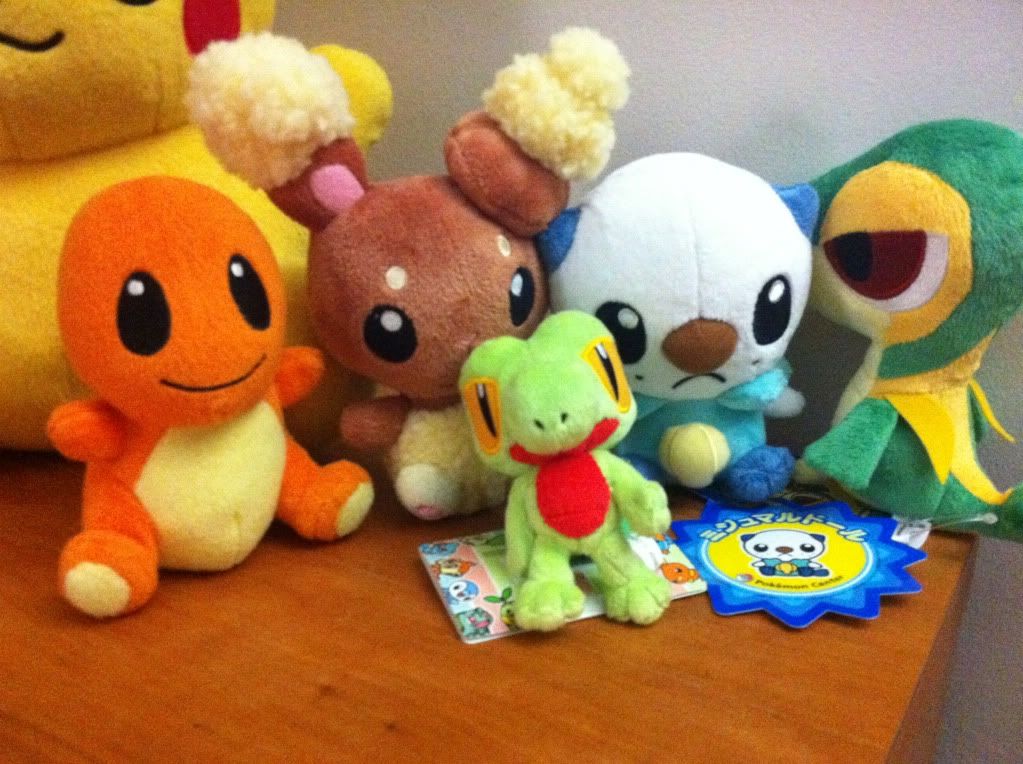 American Minky Release Piplup Pokedoll MWT - $10 OBO
European Release Torchic Pokedoll (tush tag only) - $15 OBOHasbro Eevee (tush tag only but good condition) - $8 OBO
Velboa Release Totodile and Chikorita - Offers?
These are teh older releases, not from the vending machine
Japanese Velboa Release Mini Charmander Pokedoll (tush tag only) - $20 OBO
American Release Buneary (tush tag only) - $15? OBO
Japanese Minky Release Oshawott Pokedoll (MWT) - $25
Japanese Minky Release Snivy Pokedoll (MWT) - $25 OBO
Walky Treecko (MWT and charms) - Up for offer
Thanks for checking out my collection update! I hope you like my pikadolls and pokabus :D
ALSO:
To all those involved in Angela_samshi's GA, all but one have paid up so I've sent payment and hopefully should get the box in next week or so :D
On that note, if anyone wants to take over a $12 bid for a Skymin Pokedoll, please ask here.
I am not tolerating late-payers or people who aren't paying at all