Hello everyone! I've lurked around here and bought a few things, but I've never made a proper introduction for myself and my collection so ... I'm doing that now!

My name is Wundy. I've been a pokemon fan since the games were first released in the US and I love collecting merchandise for my favorite things (Pokemon, comic books, video games, anime, etc). I've only started seriously collecting in the past few years, which made me thankful I kept a few of the Pokemon toys I had as a kid. :D

My favorite pokemon are Gengar, other ghost types, Croagunk, Scraggy, and Oshawott, so that's what my collection focuses on (needs more Croagunk and Scraggy though).




The bulk of my collection. I like big plush and I cannot lie.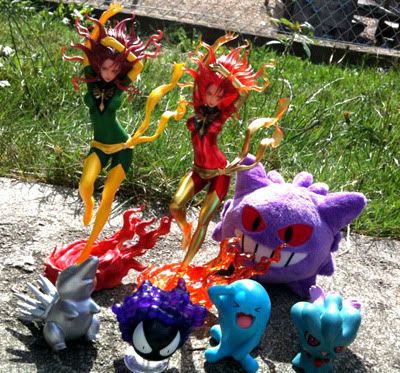 (Just, uh, ignore those non-pokemon-related statues in this picture.)

My most recent purchases:




Oh and--



--also Jessie.

Nice to meet all of you. :>