It's been a really really long time since I've tracked down a Slowpoke plush that I needed, I think at least a year now? However, with the help of
slowpuff , I was able to find one of the last two Slowpoke plush I needed to complete my official Slowpoke plush collection!





But that's not all..


Hasbro zipper poke. :o

I know he doesn't seem like much, but he is the much rarer version of the Slowpoke zipper plush. When I first began collecting, I would purchase many zipper plush of Slowpoke, hoping one of them was the Hasbro version since the zippers would not always be pictured properly in photos, and of course, neither of them ended up being the one I wanted. :(

Lets do a comparison though, shall we?



The one on the left is the Yujin (fairly common) Slowpoke zipper plush, and the one on the right is the Hasbro version. Looks can be quite deceiving, but there are actually quite a few differences. I tend to observe things to every last corner, so here we go:
The Yujin zipperpoke is noticeably smaller, as well as a little darker. The patterns almost look identical, however the Hasbro version has the fabric zipper and the Yujin version has the pink metal zipper.

Here is something else I noticed that separates the two:


Here they are, reversed into their pokeball forms. If you look closely, you'll notice that the buttons on the pokeball are different.



The Yujin zipper poke: layered "button", and it appears to be glued onto the pokeball. Mine is actually peeling from some of the corners but is overall pretty in-tact still.



The Hasbro version: Stitched on button, with the middle ironed or painted on.. it's definitely not fabric.



And of course, the obvious difference: The tags.

Lets move on to another get:



What's this? :o



Super adorable cutlery set with the box! <3



Kyoot box art!



A closeup of the beautiful detailed spoon and fork! They both feature Slowking. :D

The next get is a pokedoll notebook:



Not quite focused on Slowpoke, but I adore what little pokedoll art there is of him. It still makes me sad that there hasn't been an official Slowpoke pokedoll. :(



Cloesup! ;o;

A big thanks goes to
zealey and
omgitslph for helping me with the last two. <3




I came across another one of these rare pins and I also have an ultra rare Slowpoke bag up for grabs; both are in pristine condition and are up for auction behind the cut. :D

The auctions will end this Friday, April 22nd at 10pm PST!
Regular auction rules apply. I can combine shipping with anything from my shop or anything else you've ordered from me. <3



Starts at $10.



Starts at $10 as well! As for dimensions, this bag is about 4.5" wide.

Both of these items are in mint condition, but the two yellow pegs from the bag appear to be glued together. This isn't a huge problem since I keep the pegs on mine closed all the time anyway, but I figured it would be helpful to know (maybe not so smart to try to pull them apart..).

I haven't updated and opened up/advertised my shop for god knows how long now, but come check out some plush, little figures, and bandanas you may be interested in that I have added!
(lol derp old banner, does anyone even remember this?)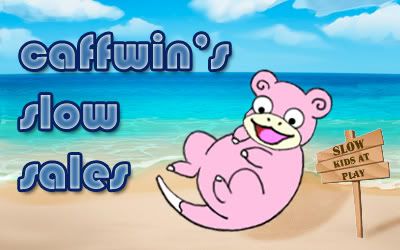 And lastly, I'm fairly confident that my chances are slim to none as far as my search goes for this guy, but here is the last Slowpoke plush I need to complete my collection:



If anyone knows the whereabouts of this plush, I would love to know. Just sayin'