Hello guys,

First, I think it's time for my collecton update XD Just behind the cut and you will see XD Image Heavy though :D

Start off with my main collection...eeveelutions!!!




I love them all :))))

Next ones are just random canvas plushes...




I love the canvas plushes so soft and cuteeeee :D




I just got some of them from the mails and decided to show how many eeveelution kids I have now lol
Now it's time for custom plush...
Here is my favorite one...vulpix pokedoll style





compared to the other vulpix plush...




Next, she is like my graillll XD so cute and soft and well-made :))))




More than one whimsicott wouldn't hurt, right?? :P I am waiting for the big one now...




See that tiny cute pink tail?? XD I custom this one since I don't like legit one much...haha
Last one is the pokemon that starts to grow on me...




That's it for now. Yet, there are more to come.

Also, I would like to take offers for these guys. I am running out of space and I will be moving pretty soon so I want to give them a new good home.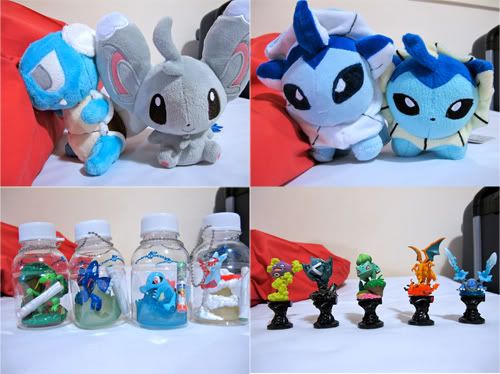 Rules

- Sales permission granted by Dakajojo 01/30/11

- I live in the UK and ship worldwide. Anyone outside of the UK please be patient as shipping may take a while especially now :3

- I don't hold any responsibility after the item leaves my hands. Tracking number can be required but it costs more.

- I aim to ship everyday but sometimes I can't. However, 2 days after clear payment is my max cos I know how it feels to wait for your items lol

- I accept only paypal as a payment method.

- I come from pet-free and smoke-free home.

- Please leave me a feedback once you receive your item(s). Thanks!! Here is my feedback

- The price does NOT include shipping and handling fees.

- No retraction; otherwise, negative feedback will be left.

- Whimsicott pokedoll is not for sale - just a size reference.

- I reserve the option of not selling if I feel the offer is too low or have a question about the reliability of a buyer.

- I will take offers until Fri 22nd April, 8pm EST.

Custom Ninetales Plush - I am really attached to her but I have no space to show her so I'd rather to give someone who will love her.




Pikachu DX Plush - Super soft - I haven't seen this around so I guess he's quite rare??




Charizard UFO Plush




Sleeping Munchlax UFO




Waffle Munchlax UFO




Minun UFO plush




I also update my sales post. I am happy to combine these plushes with my stuff in sales post here.
Thanks for looking guys :3