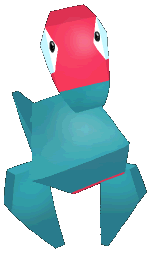 Hey guys. Does anyone have a Jakks Porygon sitting around they'd like to offload on me? I can't find any in the single-card blister packs, I haven't seen any in anyone's sales posts, and I really don't want to buy the three pack and let the other two pokemon go to waste. Anybody have one? I already have Porygon2, I just need the real oldschool homeboy. GOT TWO! Woo! Thanks guys!

I'm also looking for Porygon pokemon kids. Multiples of them. I'm waiting to hear back from a few people on Kids right now, but there can never be too many Porygons in my collection...




And just one other little reminder, since I'm here anyway - my Ninetales and Vulpix zukan auction ends in just five hours, in case anyone was waiting for the last minute (sniper no sniping!!) to grab it. You can check that out here.

Have a beautiful day, everyone!