As a reminder, this Dragonite vs Blastoise figure is ending tonight in two hours! (It was to end at 11PM, but I ended up getting home really late tonight and wasn't around to make a proper post!) So, it will end at 1AM EST! Click the image to go!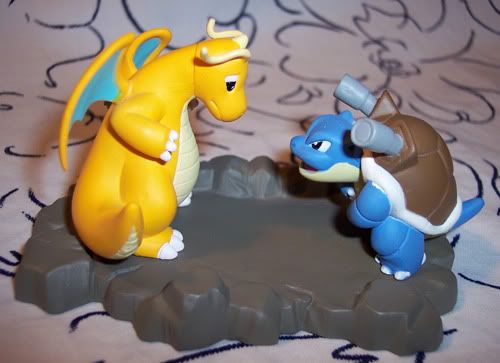 Also, I realized the last time I updated my sales I forgot two pictures! Click them below to get to my sales if you're interested in them! :)




And finally, I'd like to offer my re-paint services. Mainly, for the jakks Vaporeon figure! I've had a few members contact me already asking for a touch-up (since we all know what a good job jakks did!) and I figured I'd let others know I'm willing to do this!



Two vaporeons, repaint on the left and original on the right!



I have also painted one shiny! :) (He was photographed before the gloss was applied, so he was a lot smoother and shinier in the end! :D)

Mostly I aim to fix the fin discoloration, though on my own figure I also changed the eyes a bit! Whatever changes I make would be up to you. (So if you like the eyes the way they are, I won't change them.) I'd charge a $5 commission fee and the buyer would cover shipping to and from me. Basically, send me your vaps and I'll paint 'em for a few bucks! Drop me a comment if you're interested. :) (And hell, if you want me to re-paint something entirely different we can talk about that too!)