Hello again, community! Multipurpose post time! :D

First, a reminder for my watercolor auctions which ends in 11PM GMT+8 TONIGHT--that's about 4 1/2 hours from now! Thank you for all the bids so far! :) Click the banner below to go to the page: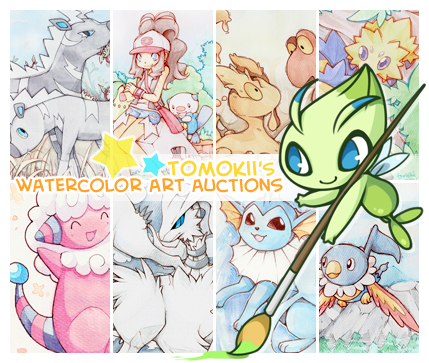 Second, a Mew TFG figure is up for offers again! I sold my only one last time, but I was able to replace it quite some time ago. My brother found ANOTHER one recently, but it's broken. XD I don't collect Mew, so the broken one is fine for me haha. Here's a picture of the one in perfect condition which is currently up for offers!


Please start offers at $15, with bid increments of $1.

Shipping is a flat $4 to anywhere in the world.

Offers will end if there are no more replies after 48 hours!

For your offer to count, please reply to the proper thread, or to the last offer placed.

I reserve the right to not accept offers. :)


And finally, a wants list! I'm still waiting for a lot of snotbears to come before I do a proper collection update (Pokedooolls where are you ;A;), but there are a few things I purposely missed before that I am regretting now. XD These are the Cubchoo things I know I am missing atm, but I am willing to throw munnies at people who can sell me other neat snottybear stuff I currently don't have! Customs are welcome, but I can only do trades for now. :)



Image credits -
nanoplasm,
peka0 and hardrock-pokemon.

Thank you again, everyone! I hope you all had a great weekend. :)