All packages have been mailed that are not internationals - those will be mailed by my husband later this week.

And now... KIDS FOR SALE. :D Please read my terms - they are there, now.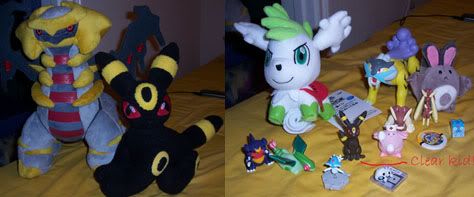 All packages will be mailed within 1 week if they are domestic; 2 weeks for internationals. I accept paypal only, and will not hold items, as I have been burned in the past. Payment is due within 24 hours, unless you work out something with me.

I am not responsible for packages once they leave my care; insurance is optional, and you must tell me you want insurance and pay the additonal fee ($1.50).

I may refuse sales to anyone, whether it be for past experiences or just plain rudeness. I do not accept any returns, so please be sure of what you are buying before you order it from me.





Kids Figures - All in GREAT condition except for Moltres, who has one blue mark across the chest. Large Articuno - $6, Large Moltres - $4, Mew - $10, Eevee - $5, Buizel - $5, Jackie - $5, Shiny Treeko - $5, Clear Aerodactyl Alt - $5, All others - $3




Loved Kids Figure - All have some wear, but nothing too bad: $1.50 Each.




Large Vulpix Tomy - GREAT Condition. Please make offers over $19, if interested.