hey guys! I'm back from expo, and got a whole load of updates for ya!

Firstly, I'm still owed a ton of GA payments...specifically for these two! if you have paid your items are going out today, sorry for the delay!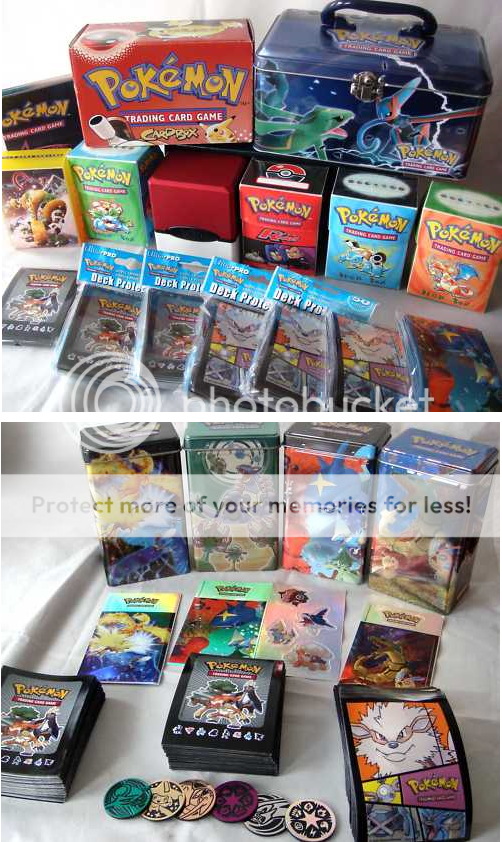 Spreadsheet is HERE for the pokedoll GA: CLICK ME PLS



Spreadsheet is HERE for the TCG tins GA: CLICK ME PLS

please put your username, packaging preferance along with EITHER pokedoll GA 3 or TCG TINS GA 2 in the notes!

And please send to YOUR_MASTER_IS_HERE [AT] BTINTERNET.COM thanks!

and the plush GA and DVD ga...they are HERE!




I'm getting quotes for the plush now, however I need to know if people for the DVD's want them shipped in their boxes or not. Postage will be cheaper for the latter! Same applies for plush! If you do not give me a response in a few days I will be shipping the plush in bags and DVD's MIP, so please let me know asap!

secondly...collection update!




It was EXPO this weekend, and I had a lot of fun meeting everyone. I also had a lot of fun CONSUMING POKEMON GOODS NOM



the chibi banpresto was from expo (THE LAST ONE ANYWHERE AT THAT PLACE I SWEAR) and the big one was from the big plush GA :'D Zekrom is now my most favourite legendary, and I'm looking out for more merch of him! BIG SEXY LIGHTNING DRAGON :B

The gible shelf has, well...




...got very messy :V

LETS SEE WHATS NEW




I now have ALL 5 of the metal figures thanks to
happyjolteon ! thanks you so so much! the stamp was from
rainyan ! SUPER SAYAN GIBLE YES
now I have the metal figures, once the blue retsuden stamp arrives from a GA I took part in I will have EVERY SINGLE GIBLE SPECIFIC NON FLAT EVER MADE.

My mind just blew itself up.

BUT WHATS THIS
The power of the sun...
in the palm of my hand
gib
gib
GIB BUTT
system69
PLEASE HAVE MY BABIES
I LOVE YOU
seriosuly just...one of the best gible plush I've ever seen. THANK YOU<3
now for RAIBUTTS
God damn it why are none of my collections tidy BC
OH WELL WHATS NEW
raichu standee from shiny vulpix, hasbro derpchu from a GA and the same for taffeta chu! The mug came from ebay and I managed to get two :) the other is in
denkimouse
's collection!
badge came from
happyjolteon
and the magnet from
mamoswine
! thanks guys :B
this diorama is nomalicious :A; RAICHU LOOKS SO DEVIOUS.
I thought of parallels to star wars episode 3 (god forbid)

pikachu: GIVE IT UP RAICHU...FOR I HAVE THE HIGH GROUND
raichu : >:C
my burger king chu FINALLY has a tail AND lights up!...thank you,
cardwhale
! The skateboard was from
puyro
!
the badges were from
rainyan
as a surprise (thank you, I need to send stuff your way ;A;) the tag was a gift from MY BRO
captainangel
and the clear rai was from a GA :V
okay so whats fluffier than a kitten in a cotton factory and is so happy his jaw is permanently locked?

oh sup, fluffychu.
EVERY TOUCH IS LIKE FAIRIES MASSAGING YOUR FINGERTIPS

or something idk
ALSO RAICHU BACKPACK. as for the lt surge's raichu kid...
I bought him thinking he would be in better condition than the one I have but hes not so...
I guess hes for trade bros :V OFFER AWAY
also...this...guy...
hagsifhkbswdgwlg
now in poseable flavour!
ilu pls :3
OKAY...CHU TIME OVER.

now its my bf's turn :B
TASTE THE RAINBOW AW YEA

>:>
that face was my gengar impression
did you like it
also darumaka I guess. HE WANTS A HUG
THIS POST IS TOO LONG OH GOD MAKE IT STOP
charizard was from a trade with
mellow_candy
and ho-oh was from my bro
captainangel
BUTT ILU

THANKS GUYS
ok ONE LAST THING
sup guies :V
HURP DURP ENERGY DRINK
also paki is a racist term in the UK so...saying the name of this plush is kinda awkward.
SO HERE IS HIM OPERA SINGING INSTEAD.
He loves to express his views on racial equality through the mediums of song.

OKAY. PHEW. that was WAY too long.
now for a quick want...is anyone doing pickups for the darumaka deck box and TCG sleeves?
my boyfriend desperately wants some for his magic the gathering deck. If anyone could help him out please let me know!
and finally, I managed to do a video of all my ultra rare and foil pokemon cards1 I will be tradingsome of these for stuff on my wants!
I also have a set of these for trade...
more pics of cards in the set uinder the cut!
and promo cards (I'm missing so many you can just show me what you have and I'll pick out what I need :B) and neo era holos and such that I don't have (all the neo era stuff I currently have is in the video)
not everything in the video is for trade but let me know what youre after and we can work something out :) I am also adding reverse holo rares and normal rares very soon!

phew! well, thats all for now! I'm slowly going through messages as I haven't been around very much and I apologise for that. I hope this was fun to read tho :) LOVE YOU GUYS <3 MWAH <3