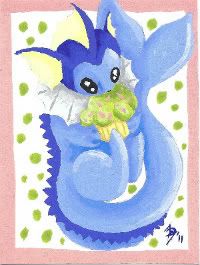 Hey guys I decided to do a few small paintings over this past week and wanted to put them up for auction. Each painting is 3"x4" and done with Gouache paint. I think these little guys are so adorable eating there cupcakes and I plan on doing one of each of the eeveelutions (I already have them all sketched just not painted yet ;D). I am also auctioning off a custom slot for any pokemon nibbling on any treat you would like.
Here is a link to the auction with larger pictures
hottiehulio.livejournal.com/6149.html
Please stop by and check it out XD!!!