Edit: Wonderful news guys: My SMJ just confirmed that I won my lot, I only want the cubone line, and the blue shellos for a friend Sooooo....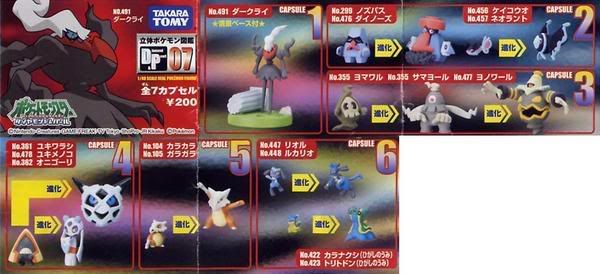 Darkrai: @ 10 dollars: sari_sumdac PAID


Nosepass/Probopass: Starting @ 3 dollars: shesatiger

Lumeon/Finneon: starting @ 3 dollars: crasherwake PAID

Dukskull line: @ 7 dollars: kamikaze_drag0n PAID

Riolu/Lucario: @ 13 dollars: sari_sumdac PAID

Snorunt line: @ 8 dollars: quaizr

Please not I DO NOT have these in hand. I have won the auction, and am in the process of having them shipped. When they arrive here I will update

Shipping is 3 dollars in US, and 4 international. Will be shipped in padded envelope. Shipping can be combined with the cards below!


Auctions end SUNDAY at 10 PM EST






Hi I've got my cardass cards in, and I figure I would give some people a shot to own some of these rare cards. I also have a few "mystery" cards I got awhile back, I have no idea what they are but I've yet to see any like them. There's some nice guys in here, and the Cardass cards feature Ken Sugimori artwork I have never seen before.

For payment I accept paypal only right now. I dont want to hold items longer than a day, so if you need someone to help you with a paypal just let me know and we can work something out!

I will ship internationally I am expected to make a post office run next week, so if you want them and live outside the US that is fine.

Shipping in the US is 1.50 (this covers paypal fee as well ) Outside the US: 2.50 I am happy to combine items.







Diglett Cardass: 3 dollars
Starmie Cardass: 3 dollars
Omastar Cardass (FOIL) 5 dollars
Ryhorn cardass: 3 dollars:
Rydon Cardass: 3 dollars
(Buy Ryhorn/Rydon for 5 dollars together!)

Misc. Cards:

Entei Movie card 5 dollars (beautiful glossy card, on the back as japanese text with a beuatiful pic of entei and images from the movie)

Ash and Charizard glossy card: 5 dollars

Team Rocket Glossy card: 5 dollars

Grass type STICKER/CARD 5 dollars (each one of these pictures are actually stickers, on the back there's images of wheezing and goldeen.) I have no idea what they are but they are neat! SOLD!