Hey everyone! I was in Japan for vacation and of course I visited Pokemon Centers and of course I went over my spending limit! I bring to you a sales and auction post with lots of new items, many from the Pokemon Centers! Items include Sprite Promo Candy Tins, Pokedolls, Sugimori Art Collection, Gen V kid figures, and more! So without further ado, let's get onto the sales!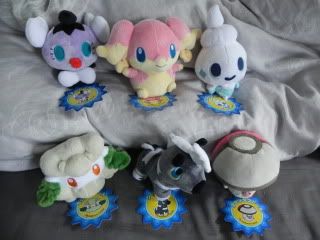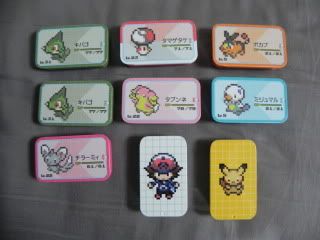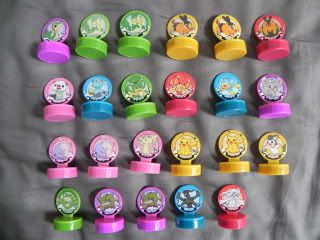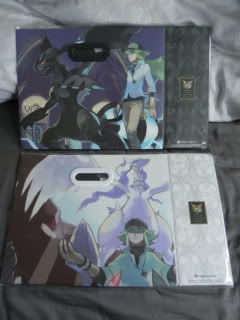 Info:

1. I only accept Paypal as payment
2. All Items are shipped from the US
3. I will hold an item for up to about 3 days as long as you're committed to buy

Shipping (packaging & paypal fee included):
Plush: $3.50 within US; $4.50 international
Figures: $2.50 within US; $3.50 international
Flats: $1.50 within US; $2.50 international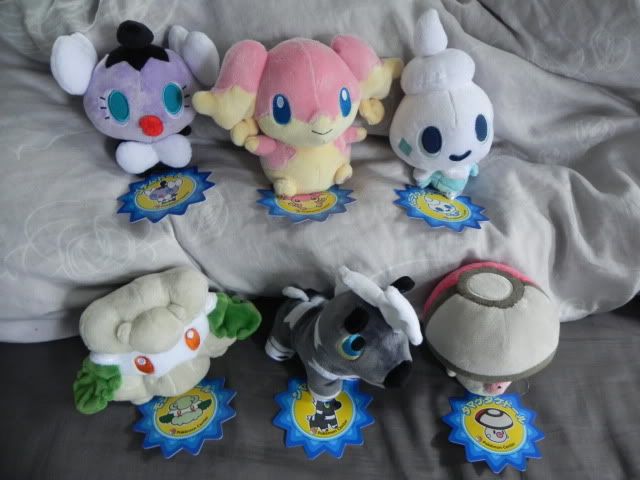 BW Pokedolls! All dolls are in mint condition with hand and tush tag~ $24 each

Gothita
Audino
Vanillite
Cottonee
Blitzle
Foongus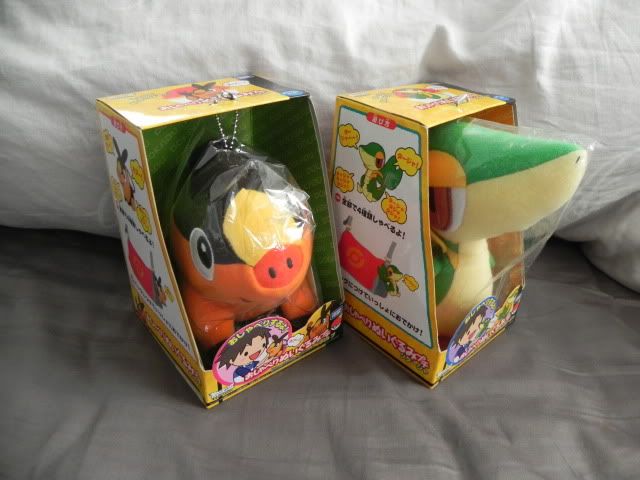 Talking Plush! Keychain versions (requires batteries) - $30 each

Tepig
Snivy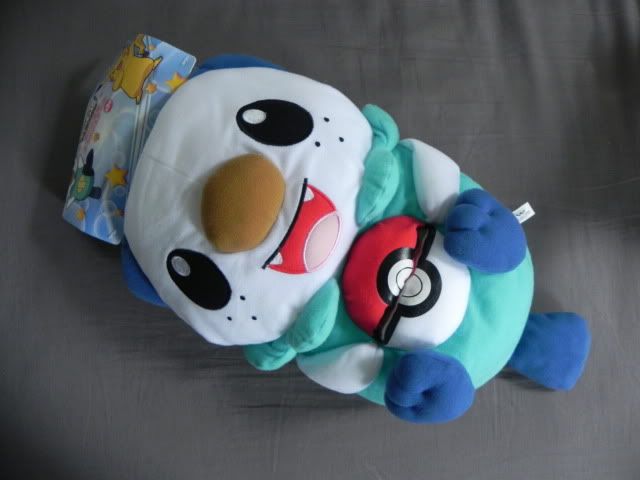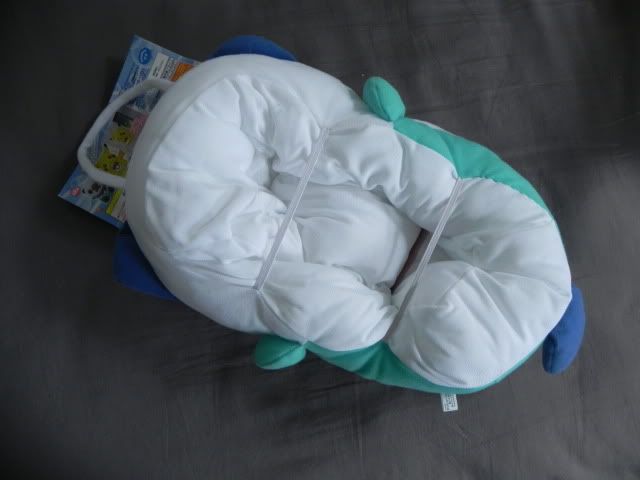 Oshawott Tissue holder plush! - $35 Holds a standard rectangular size tissue box~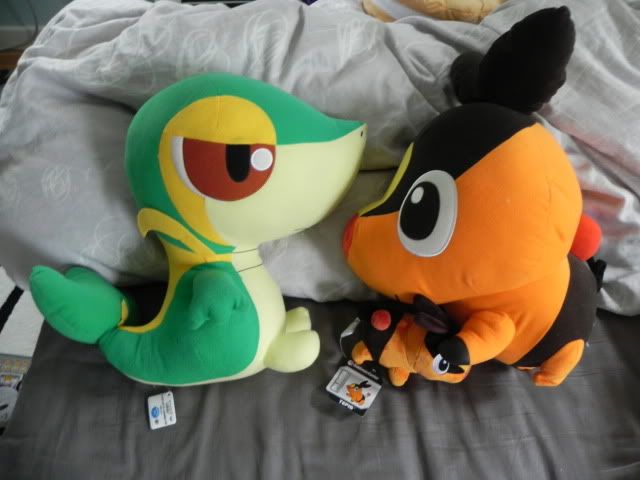 Giant Banpresto 13" plush! Mint condition with hand and tush tags attached! $38 each

Snivy
Tepig




DX Arceus Banpresto Plush - Hand and Tush tag attached in mint condition - $26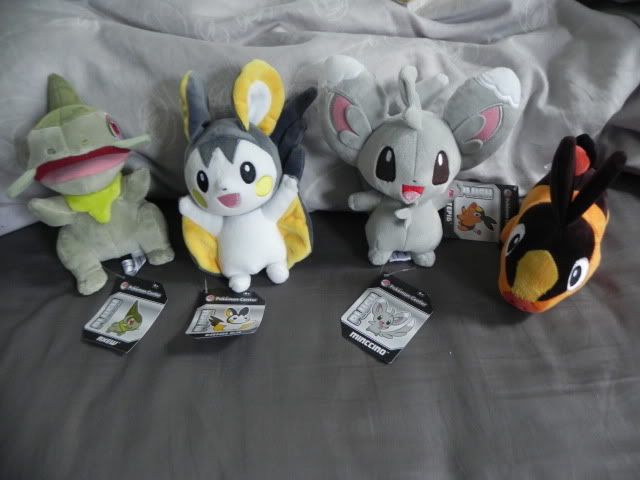 US versions of Pokemon Center plush! All plush are in mint condition with hand and tush tags attached~
Axew - $18
Emolga - $18
Minccino - $17
Tepig - $17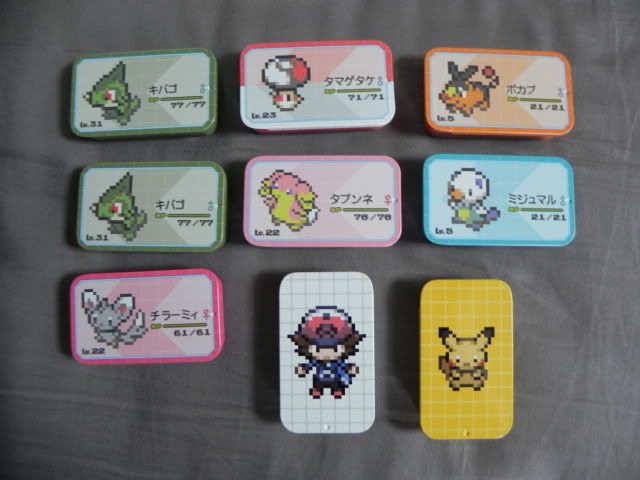 Pokemon Sprite Tins~ They don't come with the candy inside. $8 for regular. $9 for Male Trainer & Pikachu

Axew x2
Foongus
Tepig
Audino
Oshawott
Minccino
Male Trainer
Pikachu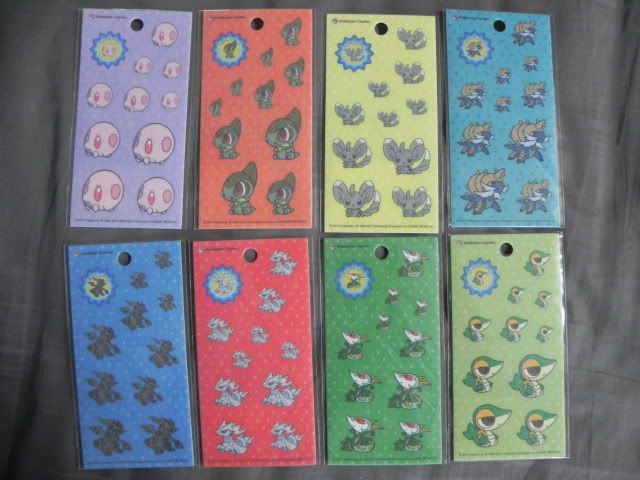 Pokedoll Stickers! $6 each~

Munna
Axew
Minccino
Samurott
Zekrom
Reshiram
Serperior
Snivy




Ken Sugimori clearfiles! Each are $10 each. Reshiram and Zekrom are up for auction.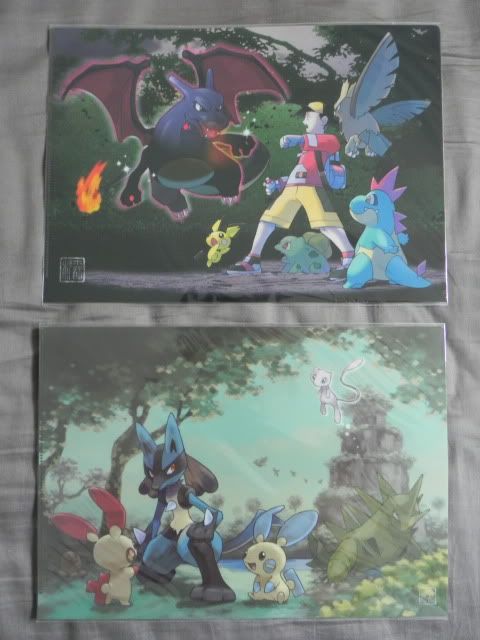 Shiny Charizard ~~~ Lucario $10 each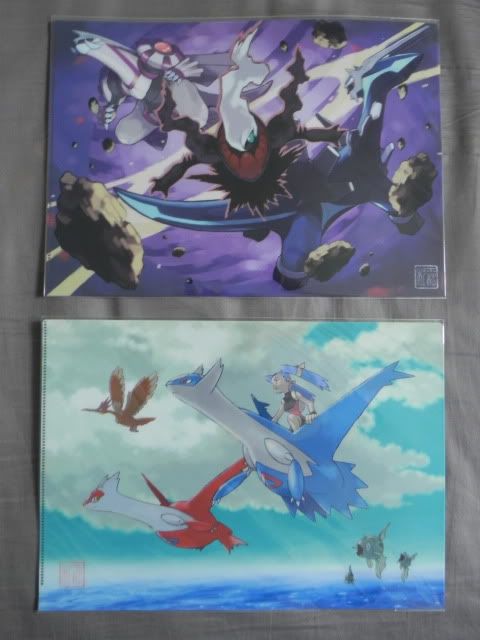 DP legendaries ~~~ Latias & Latios $10 each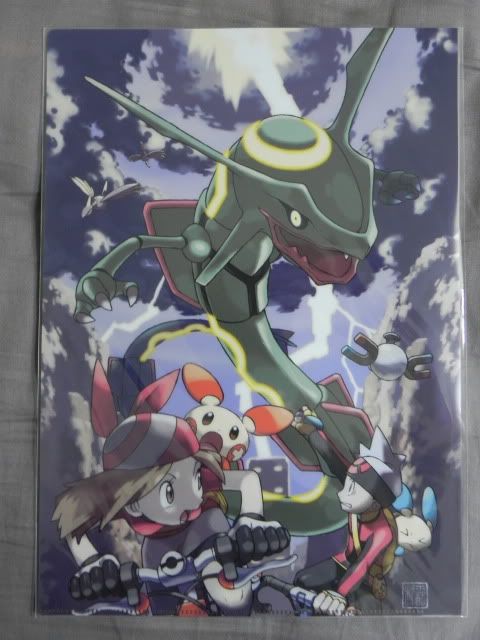 May & Brendan with Rayquaza $10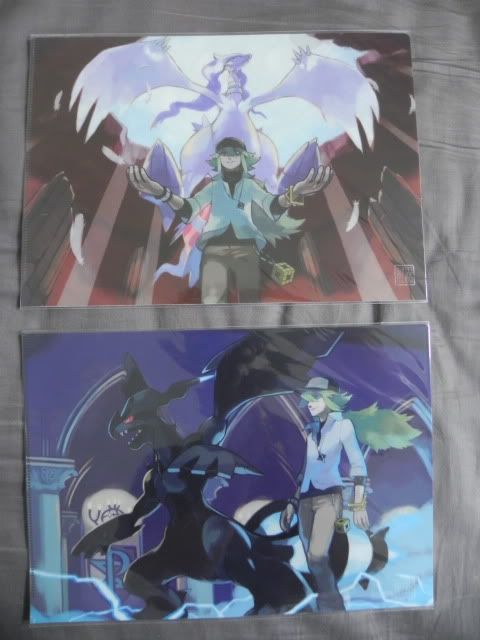 Reshiram with N and Zekrom with N. These 2 clearfiles will be put up for auction. Each starts at $10. Bid by replying to the respective thread in the comments below!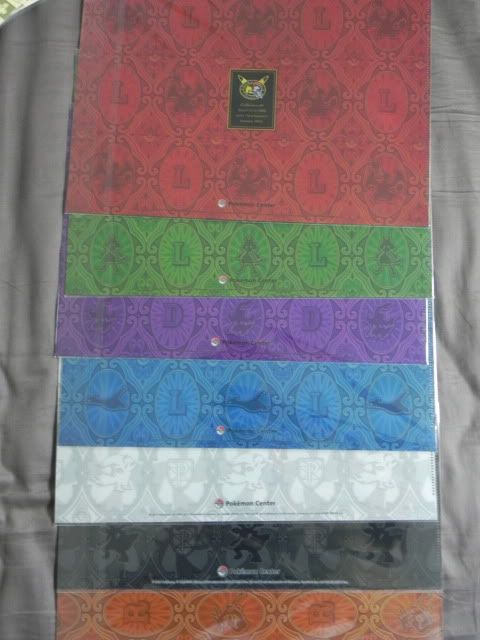 The backs of the clearfiles!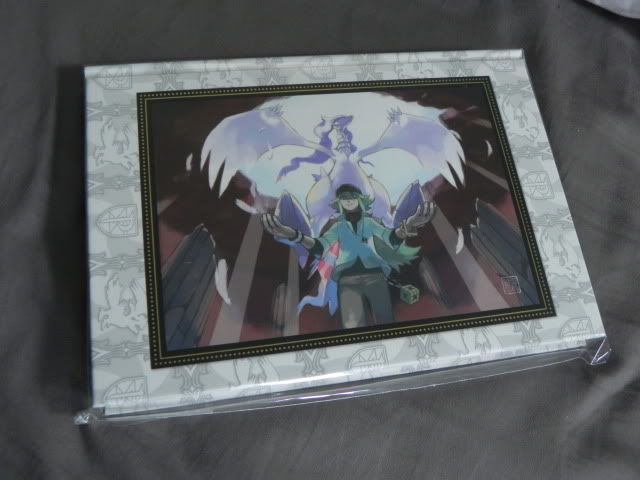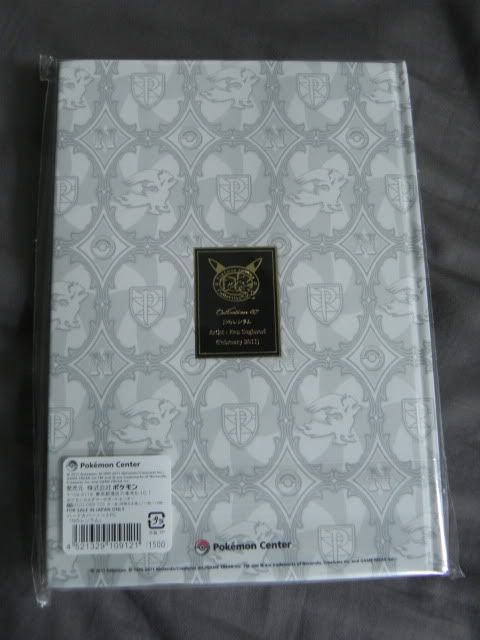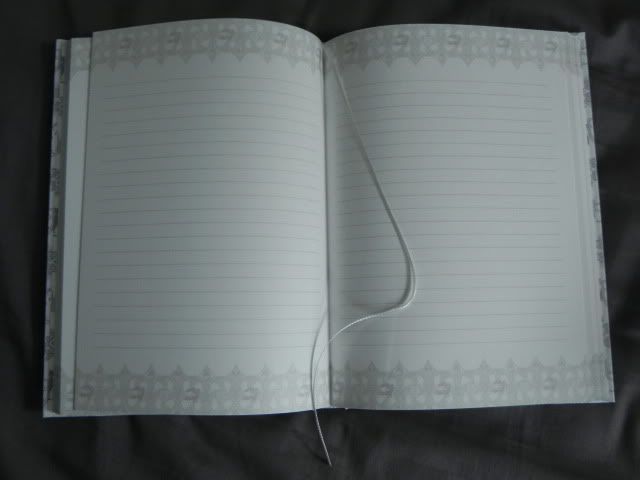 Sugimori Art - Reshiram & N Notebook - Opened for picture purposes only. Make offers on thread below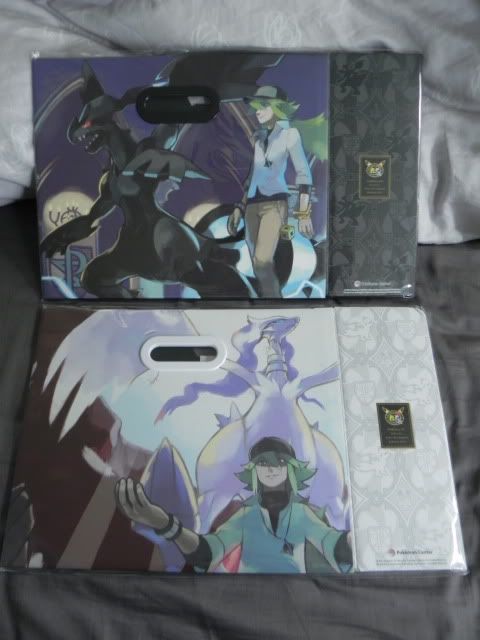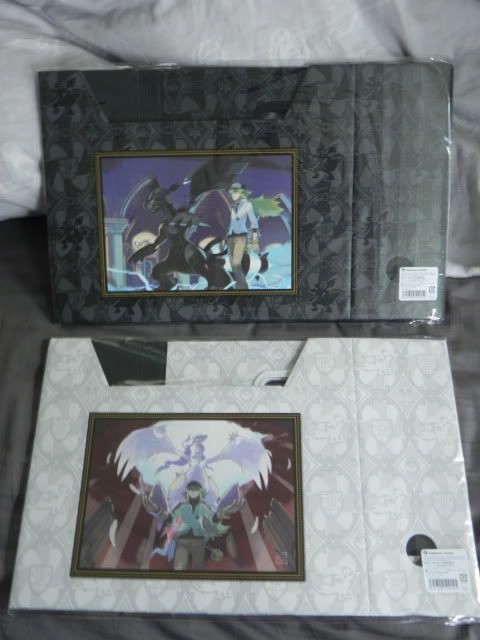 Sugimori Art - Large Reshiram with N & Zekrom with N file holders~ Make offers on thread below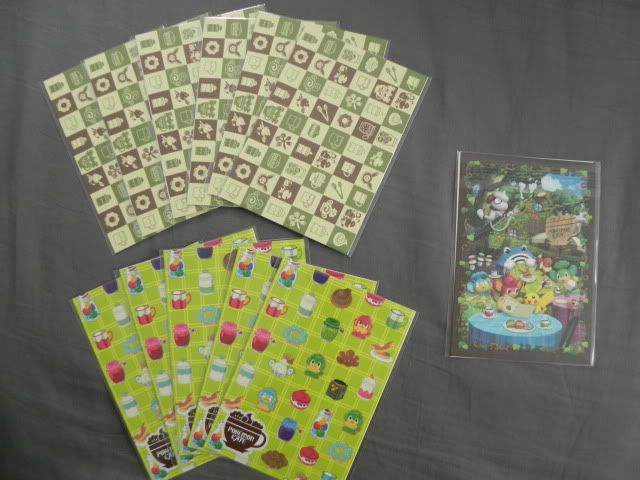 Pokemon Cafe Promo Postcard Sets! - $2 each

Each Postcard set comes with 2 postcards. One is with the art shown on the right. The other is either with the design on the top left or bottom left.

5x 2x Pokemon Cafe Art & Gridded cafe promo drawings (Top Left)
6x 1x Pokemon Cafe Art & Monkey cookies and food (Bottom Left)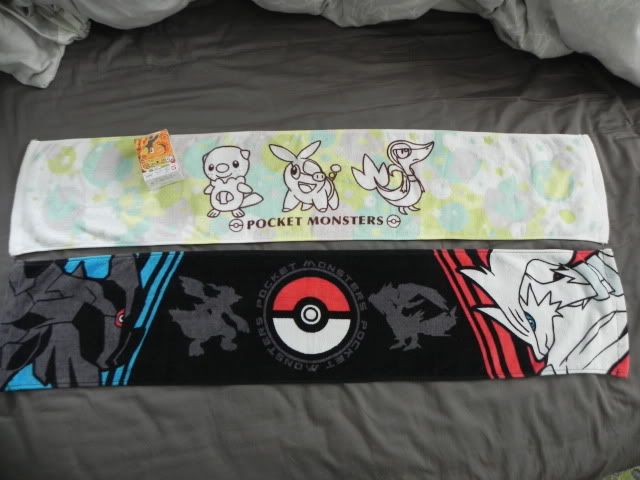 Pokemon Towels (Kid box for size reference) - $10 each

BW Starters
Zekrom & Reshiram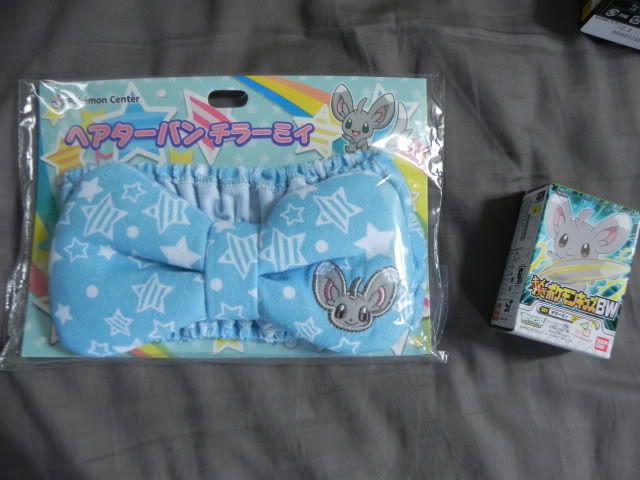 Large Minccino Hair Tie - $30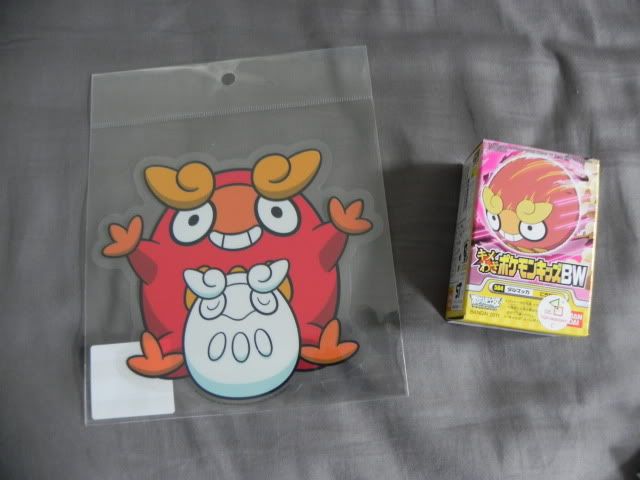 Pokemon Center Large Darumaka Decal Sticker - $6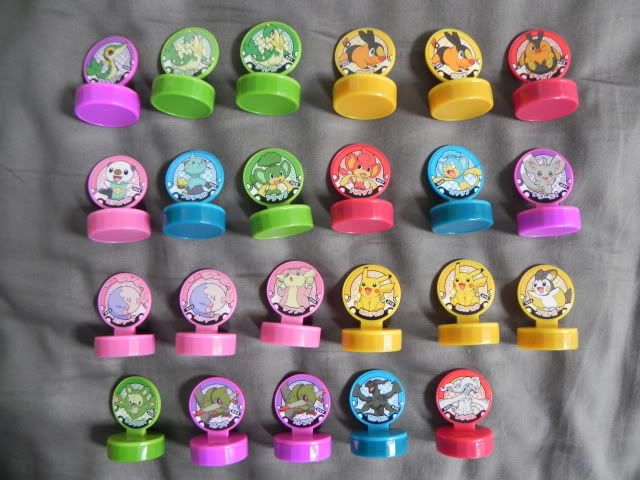 Retsuden stampers - Set 2! $5 each. Oshawott, Snivy, Emolga, Reshiram, & Zekrom are $6 each~

Snivy Servine x2 Tepig x2 Pignite
Oshawott Dewott Pansage Pansear Panpour Minccino
Musharna x2 Audino Pikachu x2 Emolga
Reuniclus Fraxure x2 Zekrom Reshiram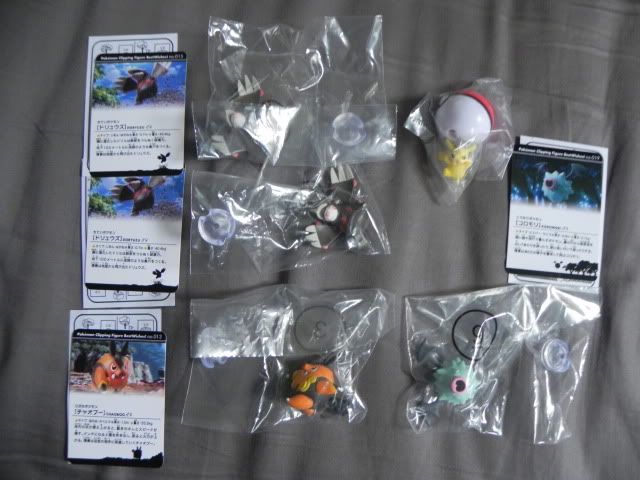 Clipping Figures & Pikachu Gasha

Excadrill x2 - $5 each
Pignite - $5
Woobat - $5
Pikachu Gasha - $3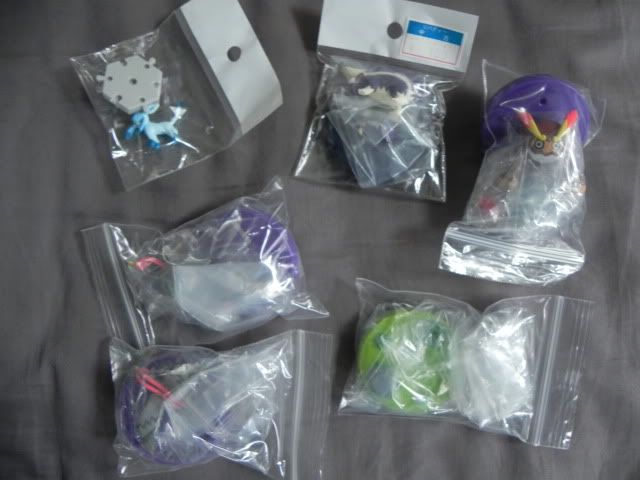 Zukan & Chou GET - $5 each

Glaceon Chou GET
Unfezant line (Male) x2
Skuntank line
Darmanitan line
Cinccino line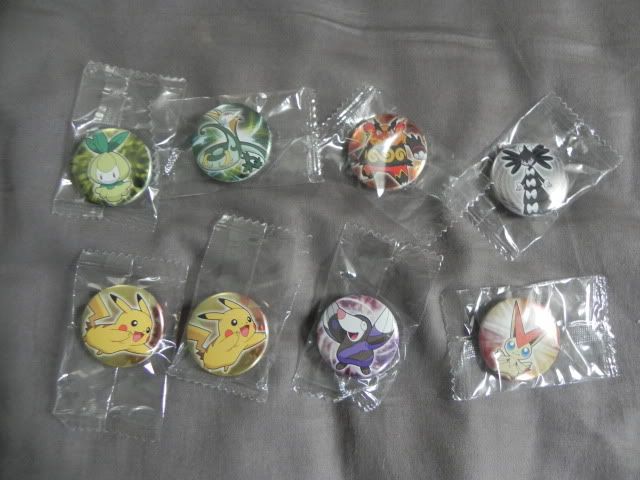 Can Badges~ $4 each

Petilil
Serperior
Emboar
Gothitelle
Pikachu x2
Drilbur
Victini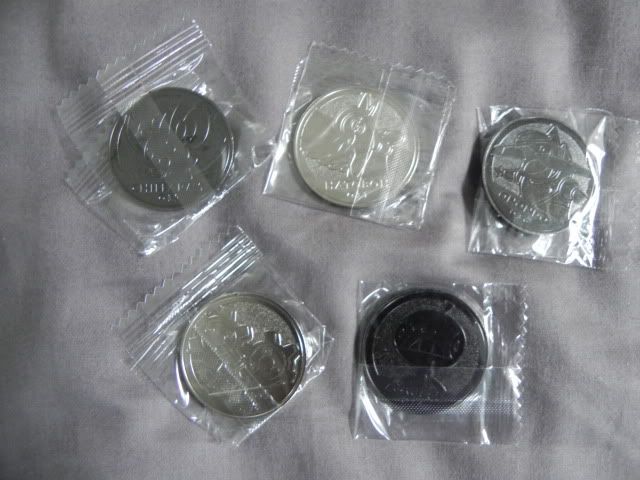 BW Medal Collection metal coins - $6 each

Minccino
Tranquill
Fraxure
Klink
Scraggy - $7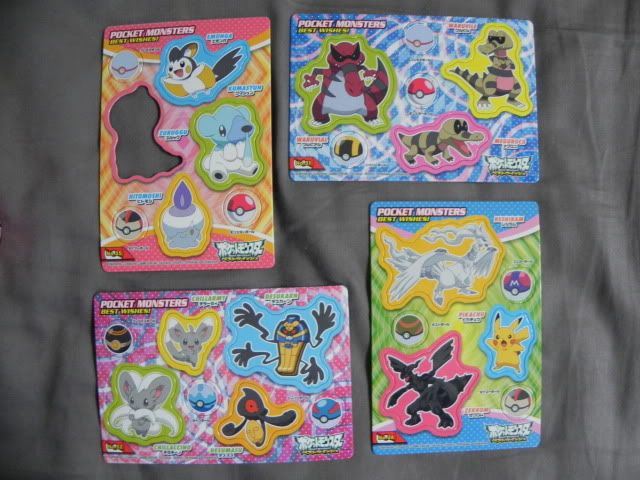 Large Ensky Magnets (about the size of a kid figure) - $4 per pokemon, $1 per Pokeball

Emolga, Cubchoo, Sandile, Krokorok, Krookodile
Minccino, Cinccino, Yamask, Cofagrigus, Reshiram, Zekrom - HOLD, Pikachu ($2)

Pokeball x2, Great Ball, Ultra Ball, Master Ball
Premiere Ball x2, Timer Ball x2, Luxury Ball, Dive Ball, Nest Ball?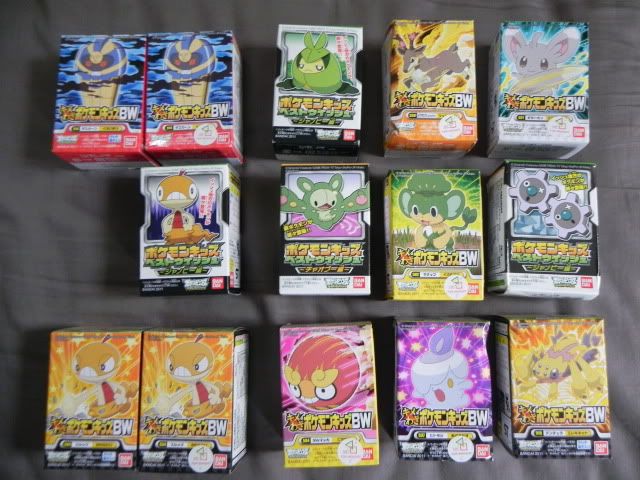 BW Pokemon Kids! $5 each

Cofagrigus (attack) x2
Swadloon
Sawsbuck Spring (attack)
Minccino (attack)
Scraggy
Scraggy (attack) x2
Reuniclus
Pansage (attack)
Klink
Darumaka (attack)
Litwick (attack)
Galvantula (attack)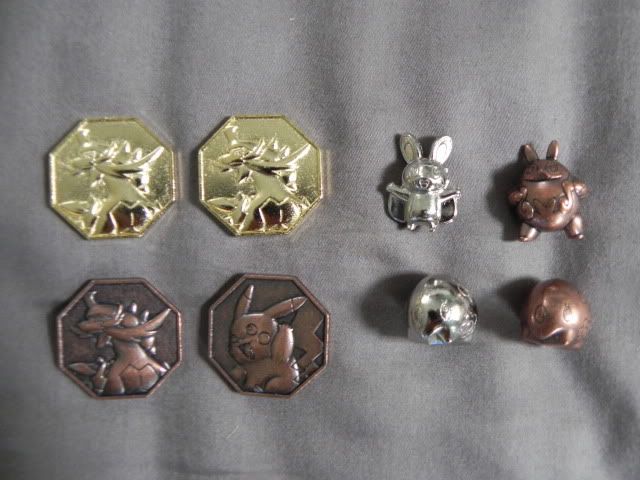 Rare BW Medal Figures - $5 each for figures, $3 each for coins

Samurott Coin Gold x2
Samurott Coin Bronze
Pikachu Coin Bronze
Emolga Silver
Pignite Bronze
Munna Silver
Munna Bronze




Pokemon Center Pressed "Pennies" - $3 each

Zekrom
Oshawott


Fronts: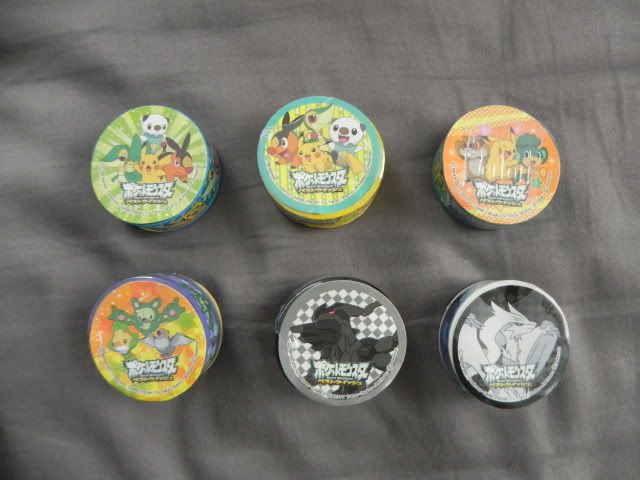 Backs: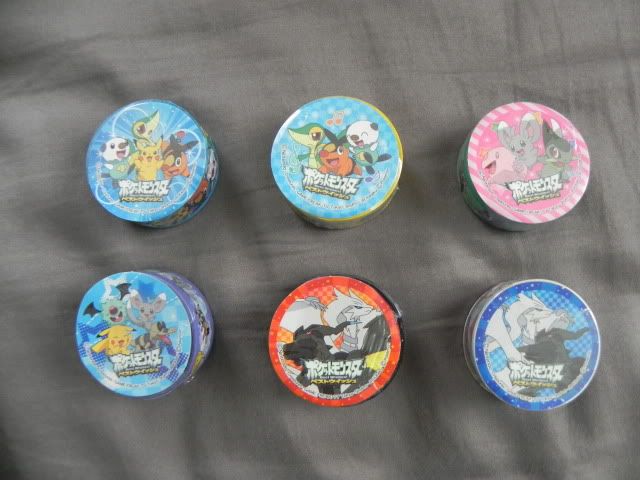 Sides: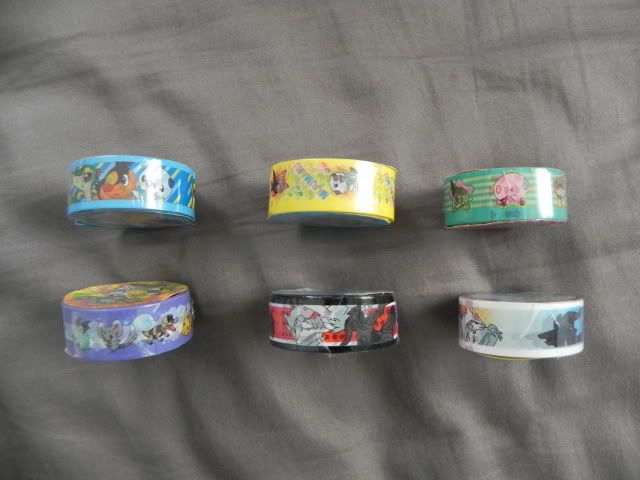 Pokemon Tape! Each roll of tape features the Pokemon shown on the front & back side of the tape - $4 each

Tape roll 1 - Tape roll 2 - Tape roll 3
Tape roll 4 - Tape roll 5 - Tape roll 6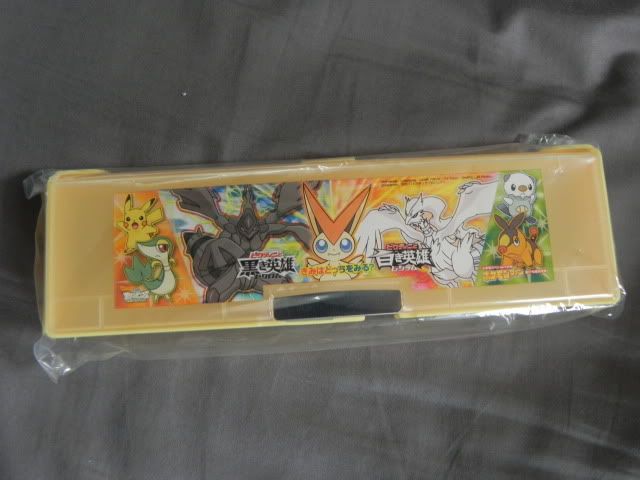 Victini with Zekrom, Reshiram, Pikachu, & BW Starters Pencil Box - $8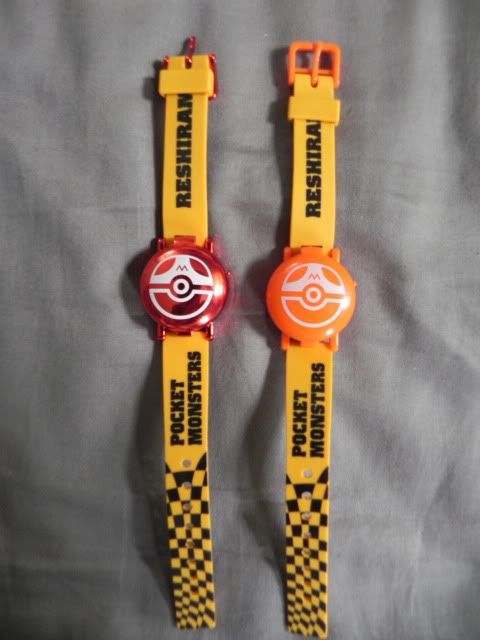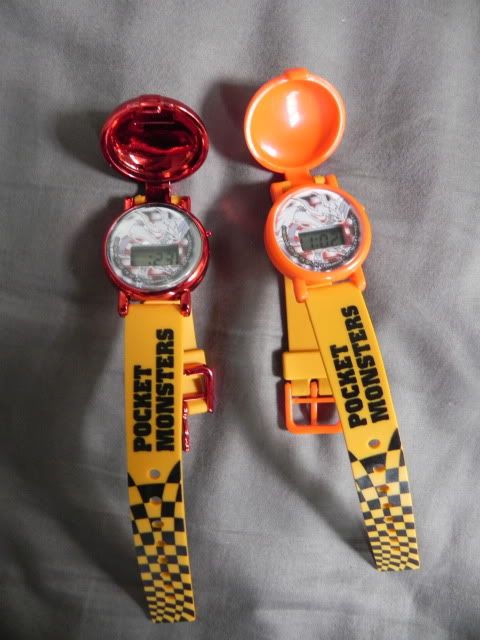 Reshiram Gashapon watches (fits adult wrists)

Special Red Metalic cover - $5
Regular Orange cover - $4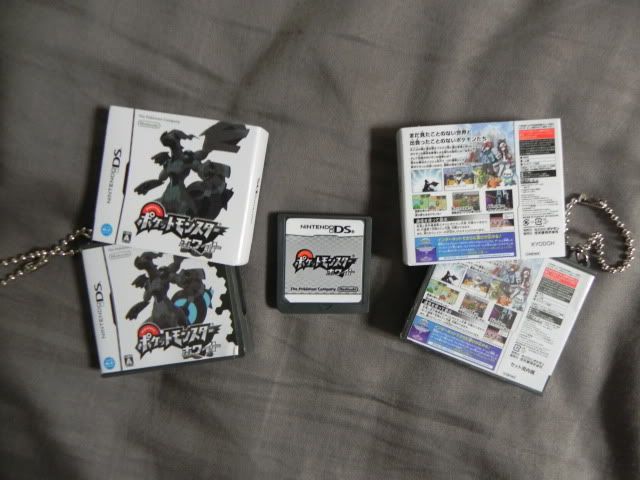 Pokemon JP White Version Gashapon Eraser - $5 each
The game cartridge you see is actually an eraser! Same size as an actual game cartridge. Comes with a cool small replica of japan game box and sleeve holder.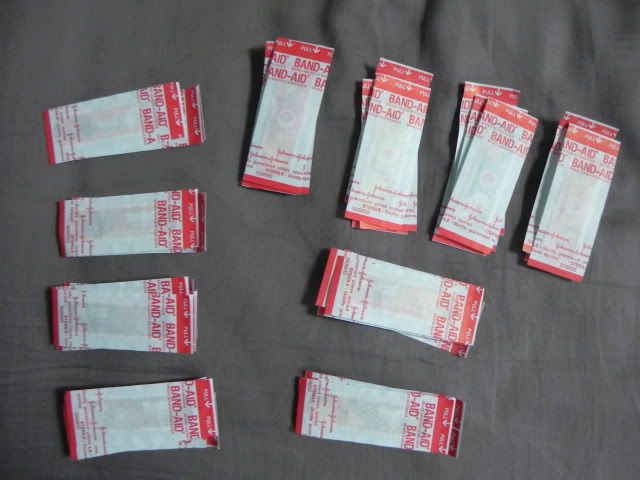 Pokemon Bandaids~ $0.50 each! Sorry it's hard to show what the bandaid looks like :( Styles include:

Zekrom & Reshiram
Zekrom only
Reshiram only
Zorua only
Zoroark only
Pikachu with BW Starters
Pikachu with Oshawott
Pikachu with Tepig
Pikachu with Snivy
Pikachu only on left side
Pikachu only on right side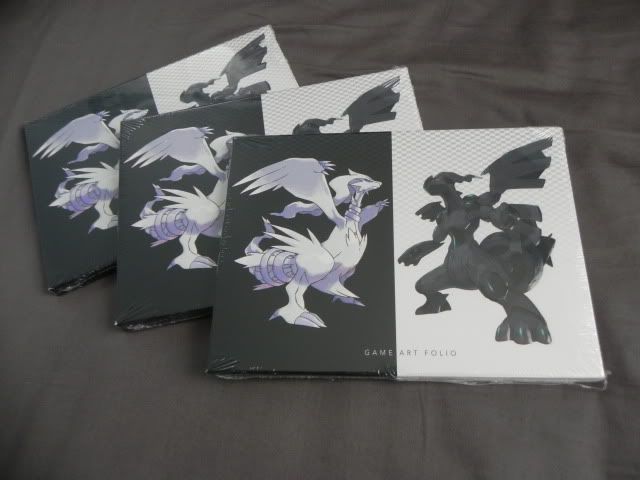 Pokemon Target exclusive Game Art Portfolios~ $15 each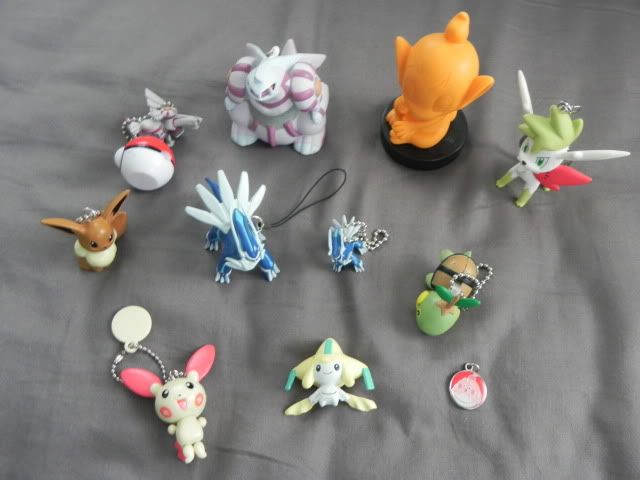 Misc. Pokemon straps and keychains!

Palkia Pokeball action keychain (you can rotate the pokeball to make Palkia move xD) - $3
DX Palkia Kid with keychain - $3
Large Chimchar eraser figure - $3
Large Skymin keychain - $4
Eevee keychain - $5
Large Dialga strap - $3
Dialga keychain - $2
Turtwig keychain with biting action! - $4
Plusle keychain with dangly limps - $4
Jirachi figure (has some scruffs on it) - $1
Happiny Charm - $1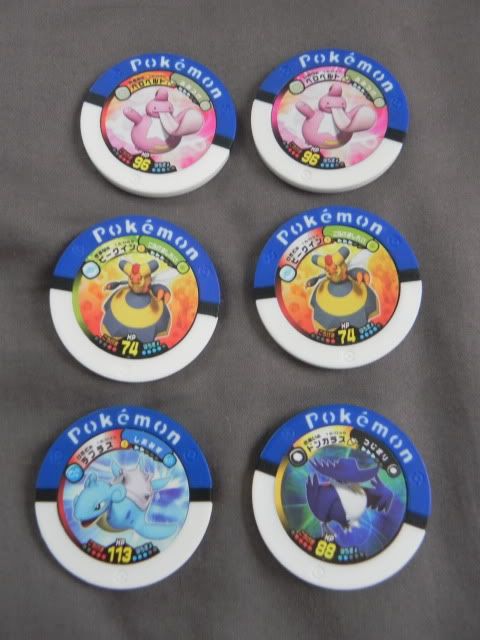 Pokemon Battrio coins! $2.50 each

Lickilicky Lickilicky
Vespiquen Vespiquen
Lapras Honchkrow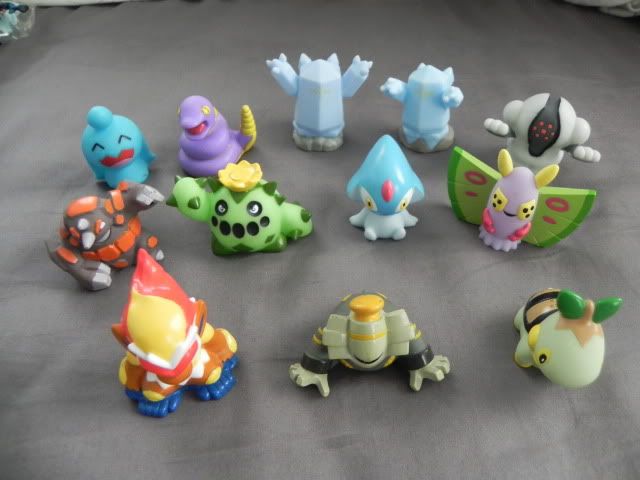 These kids are in excellent condition! $2 each

Sold: Rhyperior, Cacnea, Both Regice, Registeel, Turtwig, infernape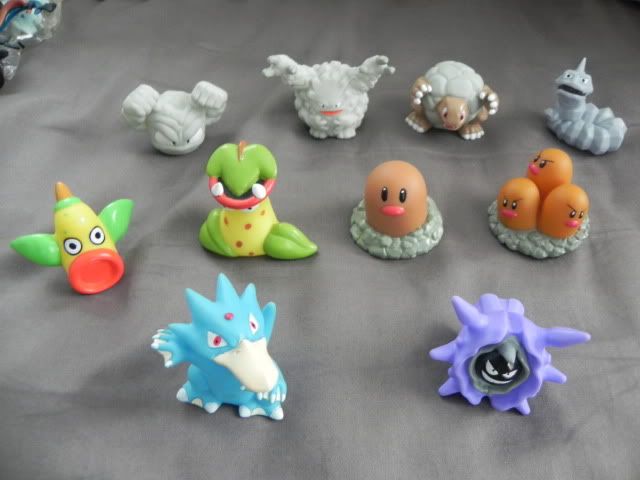 Some of the kids may have minor scruffs on them - $1 each

Sold: Geodude, Graveler, Golem, Onix, Diglett, Dugtrio, Golduck, Cloister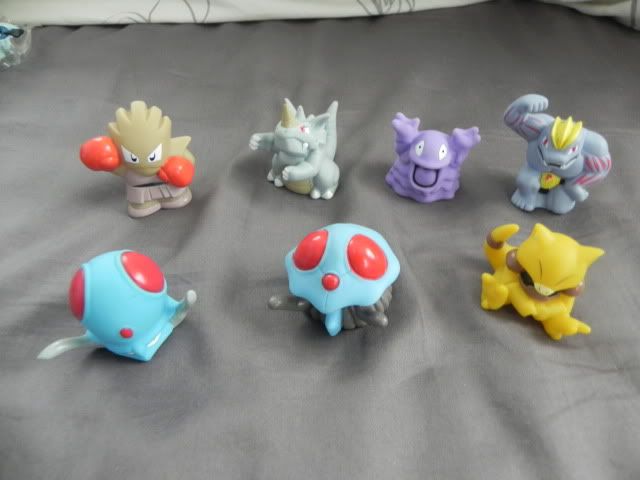 Some of the kids may have minor scruffs on them - $1 each

Sold: Rhydon, Hitmonchan,




Some of the kids may have minor scruffs on them - $1 each

Sold: Aipom, Sunflora, Hitmontop, Pichu, Elekid, Electrode, blissey attack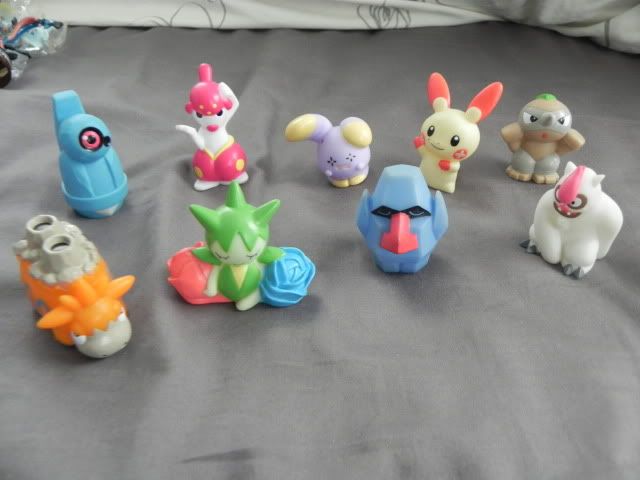 Some of these kids may have minor scruffs on them - $1 each

Sold: Nospass, Camelrupt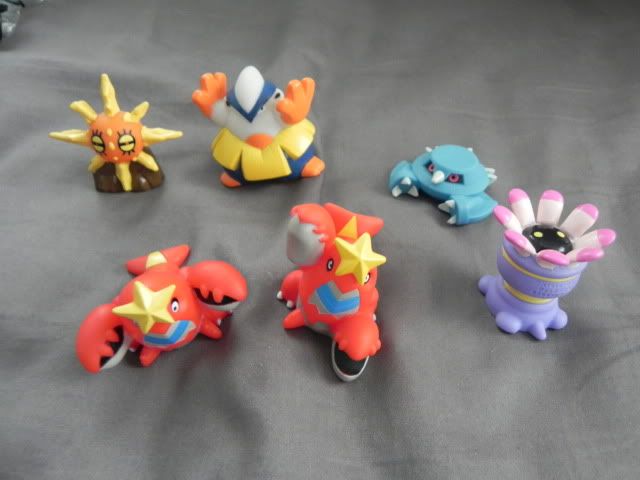 Some of these kids may have minor scruffs on them - $1

Sold: Solrock, Lileep, Metang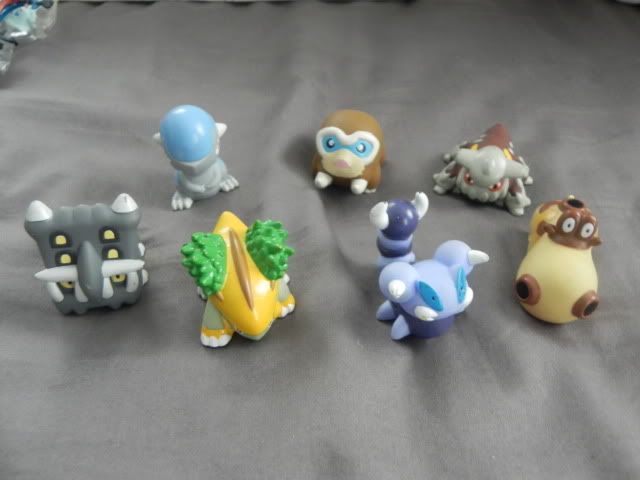 Some of these kids may have minor scruffs on them - $1 each

Sold: Hipoppotas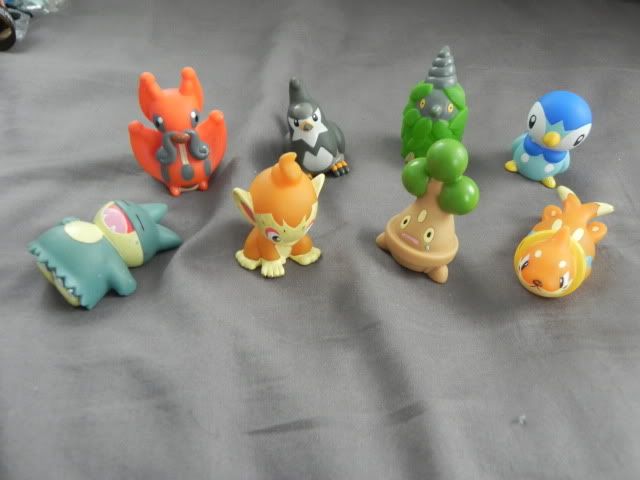 Some of these kids may have minor scruffs on them - $1 each

Sold: Buizel, Munchlax, Bonsly


And that's it! Thanks for looking through :D