Look at these guys, sitting on eBay waiting to be group auctioned...






Rules:

* All rules of the community apply.

* Bidding ends on Wednesday 6th July at 6pm/18.00 GMT

* ONLY BID if you're 100% sure you can pay for the item. Any deleted bids or retractions WILL result in negative feedback and banning of future GAs hosted by me.

* There will be 2 payments: #1 will be for the item/s & shipping to me; #2 will be for shipping from me to you - please note, I'm in the UK :)

* Payment by paypal is the only accepted method (no e-checks!)

* As per community rules, sniping is prohibited. There will be a 5 minute extension for any bids made within the last 5 minutes of the auction.

* All bids need to be made in 1.00 (or more) increments.

* Discounts are great, but in no way guaranteed. Please only bid what you can afford to pay.

* Please be able to pay ASAP after the auction's end (if won).

* Reply after the current bidder in each thread, otherwise your bid will not be counted.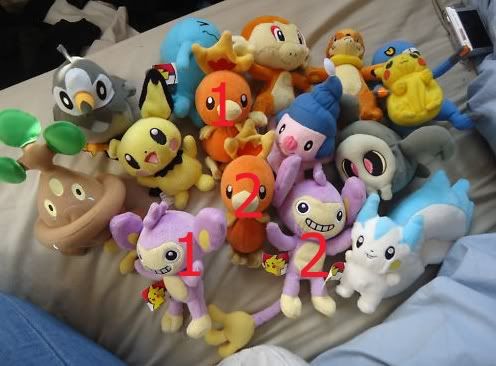 I'm not claiming anything, but I may throw in a bid or two!

Seller's description:

"HUGE POKEMON PLUSH SOFT TOY LOT
THEY ARE ALL IN LOVED CONDITION
some are dirty but honestly you'd not see it, it's me being nit picky, but its worth mentioning!
Come from a smoke and pet free home.
They all have their small tags, not the hang tags.
Lovely official pokemon plush from collection!"

ETA: this is
that_zorua's eBay lot :) if you have any questions on the plush etc. please leave them in the Questions/Comments/Concerns thread :D

Please wait while threads are put up before commenting :) THREADS UP, BID AWAY!