The seller of the Gothy Kids GA has come home from holiday, sorted out the mistake and will be sending them to me this week.
Payment 2 is needed for the Radioactive Minun Kids GA. Spreadsheet and info here: LINK

Today I have three Play by Play plush up for offer: 1/1 Lifesize Bulbasaur, Medium Bulbasaur and 10" Eevee!
I am open to broken down payment plans for the big Bulba, and trade suggestions on anything. I just need the space!


1/1 BULBASAUR - Offers started at $50 (Open to weekly payment plan)
Buy it Now - $200 (includes shipping)


DVD and other toys for scale: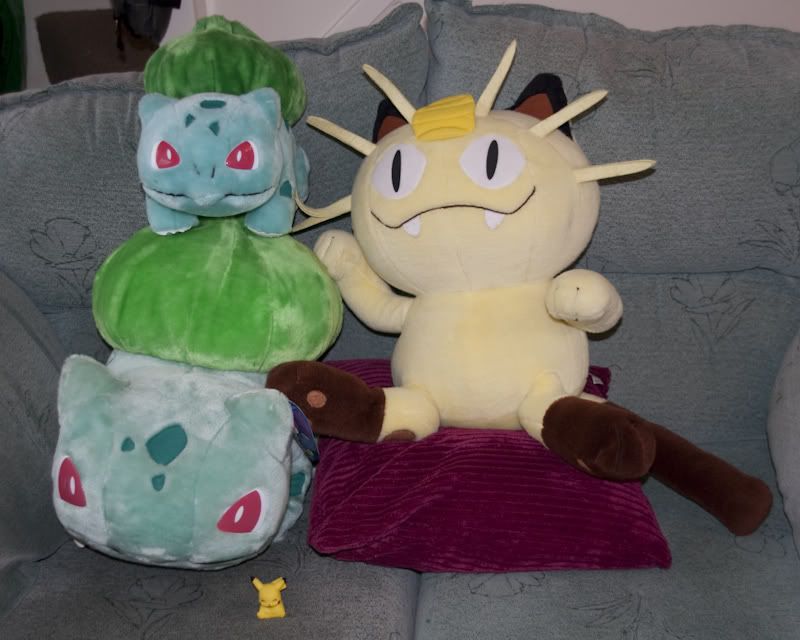 This fella is probably the nicest Bulbasaur I've ever seen. His colours are so rich, and he is very snuggly! I just have no room to display him in my house. :( He lives in my wardrobe wrapped in a blankie.
He has all tags and has never been in a washer. Tush tags are crisp and new, card tag is a folded and intact (what do you expect from a toy this old?). His fur is not rubbed, plucked or "bobbled" ( when it's been rubbed too much). I would describe him as quite clean, but he's got a little dusty over the years.

His toes are stuffed material - not just made out cut felt like smaller Play by Play toys. The patches are some kinda cotton material, and sewn on - not glued. His mouth has a hard support inside the tip that keeps his "beak" shape. He can peck things! :>

IMPORTANT:
The back toes need a light clean - I can do this for you, or leave it.
His left eye is slightly scuffed to the white base plastic. Careful use of a red marker pen would restore this, but tbh you can't really see it from a distance.
He's heavy. He weighs 1.7 kilograms before boxing up!
Postage would be about $30 to the tracked USA and slightly cheaper elsewhere.


EEVEE - Offers start at $15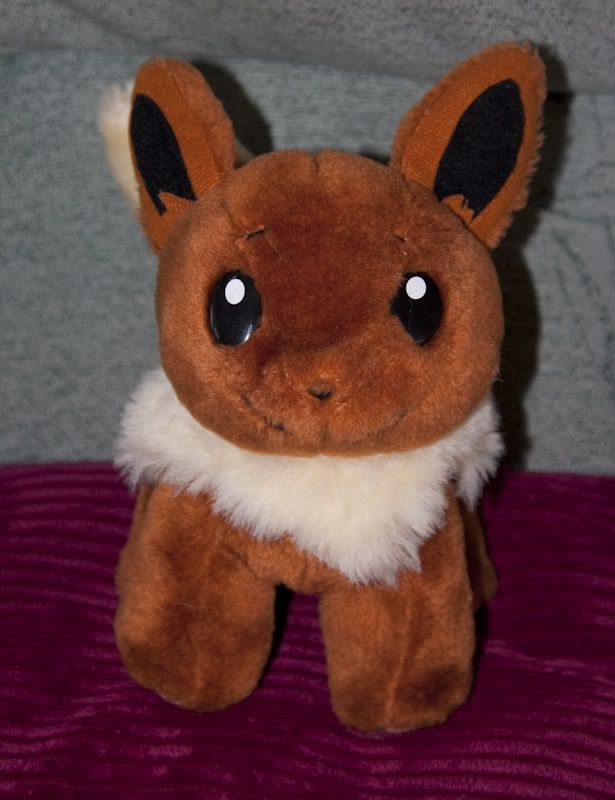 Eevee is soft, clean and fluffy. He has been washed once, but is no worse off for it. Tush tag only. He is quite big, and has little plastic disks in his pink paw pads.
Would be willing to trade him for an Eevee line Pokedoll or bootleg.
Otherwise offers start at $15

BULBASAUR - Offers start at $15


No less cuddly and cute than his bigger sibling, this Bulba is soft and squishy too. his fabrics are bright and clean, and his tush tag is in crisp new condition. I'm quite fond of this one.
He has a minor scuff on one eye, but it is very small.