Hey guys!!!! I am back from Sweden (I have visited my best friend from the internet <333) with a lot of new awesome stuff I have gotten from there! <333

But...........now really, imagine yourself with going with a few of your favorite plushies....
.......and then coming back with a big load of crap like this: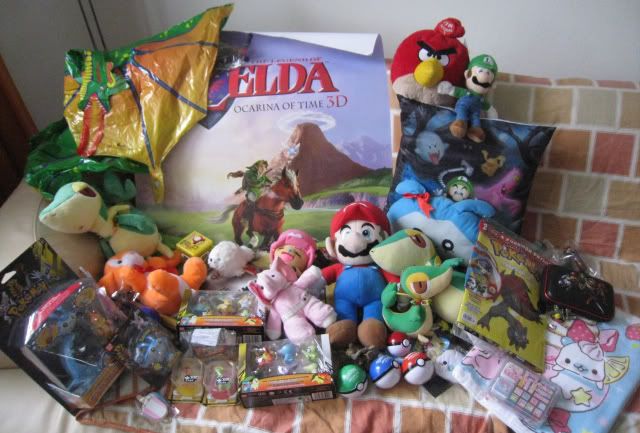 uummmm, yeah 8D;;;
Going to Toys R Us, to other toy stores, or fairs pays out a lot <3
So I thought I would share the things (only Pokemon though) I have gotten from there! <3
WHY YES!!! I really wanted a manta ray of course, some of you who know me know that I love irl manta rays. It made me so happy I was successful to get the one I wanted! So happy!!! My Mantyke kid seems to like him too!! <33333
So well, that is more or less it with the Pokemon things I have gotten :D
Now while I was away there, I have also gotten a bunch of packages, waiting for me to come home! <33333
And here is what I have gotten one by one:
Some gets from Hardrock Pokemon. I am trying to get every Whimsicott merchandise there is out there. Seriously, I ave fallen in love with that Pokemon! <3
Otherwise, I would have NEVER though that I would get myself some dex charms, since they tend to get so expensive.....I must have been extremely lucky to get the Charmander line...you can't even imagine my happiness about them!!! ;WWWWW;
And as always, I am trying to get as much manta rays merchandise as possible! I am just doing my best to get most of the merchandise! <3333
And even though I have the Snivy Dreamworld plush, I really wanted to have the charm with the Snivy holding the basket of fruit/berries...it's so immensely cute! <3333
And that's it for now! I am of course awaiting more packages to come! :D
And now for straight sale and quick auction! :D
I am putting up the new Eevolution kids (mint taken from package) for auction and other kids and the Typhlosion candy figure for quick sale! :)
RULES:
- I have gotten sales permission on 03/02/11 by dakajojo.
- All prices are in dollars.
- About shipping! I can either send you things from the Slovak Republic, or if you are willing to wait until August 9th, I can send them to you from the USA :)
- Prices do not include shipping! You will have to pay for packaging and shipping extra!
- You can suggest a different price or haggle, but we would have to discuss that.
- Please, I am not responsible when the mail gets lost. Though I can assure you that if you want it to be sent from Slovakia, they actually take shipping very serious and are fully reliable!
- I can ship anywhere in the world.
- let me know if you have any other questions! :)
STRAIGHT SALES:
Typhlosion candy figure - 5$ (this is the same price I have bought it for, just so you know)
Kid figures (mint, taken from package!) - 3$ each
Other kid figures (mint, taken from packaging) - 3$ each
AUCTION:
Espeon kid (new, taken out of package) - starts at 6$
Flareon (attack?) kid (new, taken from package) - starts at 6$
Leafeon (attack?) kid (new, taken from package) - starts at 7$
Jolteon (attack?) kid (new, taken from package) - starts at 6$
- This auction will be held until 2 AM EST on July 24th, which is this Sunday.
- Please bid in increments of 1$!
- No sniping or deleting your bids!!!
- All other auction rules apply! For shipping, look under the sales rules.
Thank you for looking guys! You are the best! :D