Another multi post! :D

First off, I've finished 4 more Littlest Pet Shop customs. They inlcude a Mareep, Shiny Pikachu, Minccino, and an Eevee. The first three were created the same way as the Meowth. The Eevee was created with a different clay and will be how I create these guys in the future, though I am testing a new paint on a Trecko that will be for my self which will hopefully be smoother! :)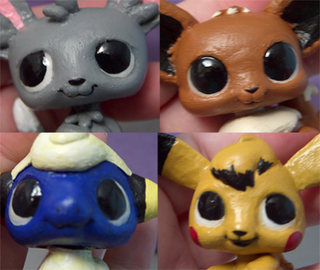 All the heads still wobble/bobble. Though those with sculpted ears tend to tip to the front or side. I think in the next batch I will build up the neck more like I have on the Mareep to avoid that. x3

Click the images to get to larger versions of them! :)







All but the Eevee start at 20$, and the Eevee starts at 25$. I'm adding 2 custom slots that will be completed in August which start at 20$.

Shipping will be from USA/98052 and each one is about 1-2oz, but packaging will add more. So I'd guess on 3-4 oz each for shipping so you can estimate how much it will be. :)

However with the custom slot any Pokemon that require a fully body sculpt will need to be over 45$. (This includes pokemon like Deoxys, Kyogre, Dialga, Reshiram, Haxorus.. etc.) Please inquire before bidding if you'd want a pokemon that might need a full sculpt. With full boxy sculpts, they will be sculpted in a chibi style with a LPS head added so it will have the same bobble head and big eyes. :)

Auctions end the 24th at 1pm PST! Not a long time but I don't like waiting a long time for an auction to end.

Granted sales permission by 07/02/11 by
dakajojo! You can find my feedback here. All
pkmncollectors's rules apply here of course. Those can be found here :)





Other things...
I've got a few new items in my sales. Including a talking bulbasaur and the starters preorder figure from D/P.
http://blackberrypie.livejournal.com/335674.html


I made a collection site! :D I was inspired by all of your collection site! I thought I'd update it everytime something new comes in and do a new collection picture each month to keep it up to date! :D
http://pkmntrainerpurple.webs.com/


Also a heads up that the Noxxbunny GA is ending TOMORROW at 1pm PST! Many items do not have bids and we're very close to the amount we neeed to win it Even if I raise my claim! So feel free to pop in and do some bidding! :D


http://pkmncollectors.livejournal.com/9752922.html


Please don't comment till I get the threads up for the auctions! I'll strike this out when I'm done! :) Go forth and comment! :D