Hello hello! After my sales post at the end of June, I meant to make a collection update [I even posted teaser photos and everything xD] However, between two vacations within a week of each other, as well as working my internship and part-time job, I've been running around like crazy! I haven't been online at all the past week, so after doing the obligatory lurking, here's the promised collection update!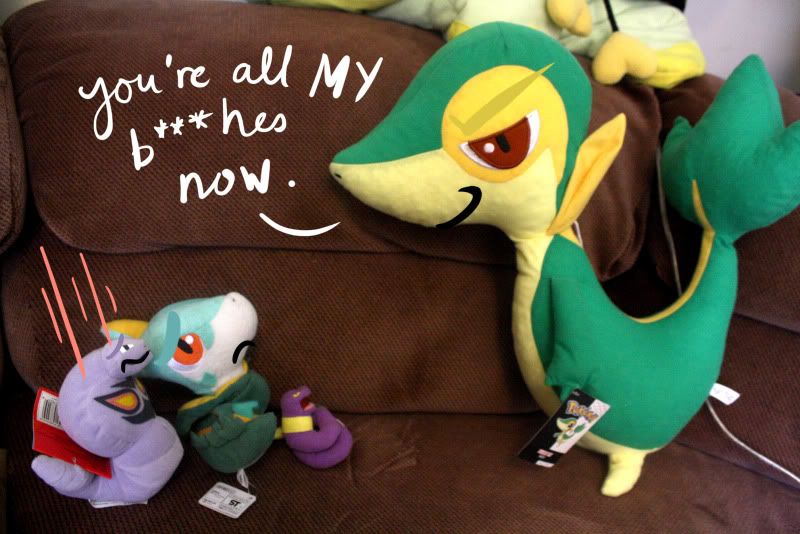 First off, this wonderful rare beauty: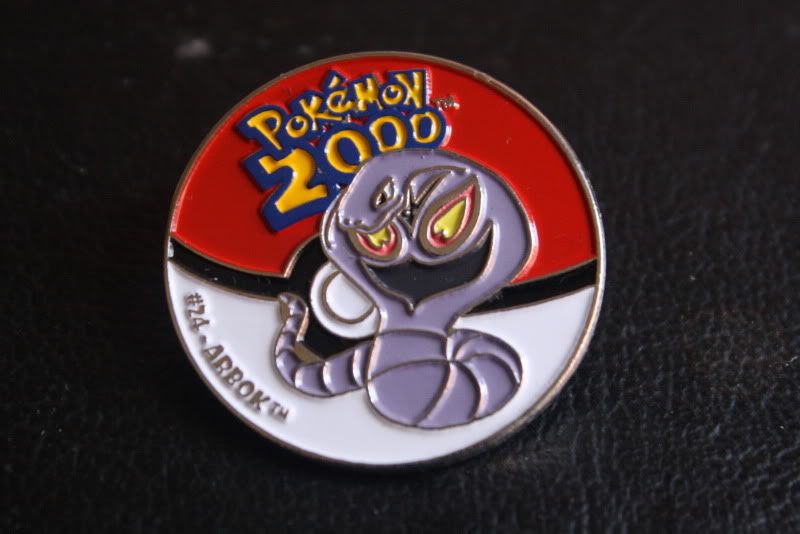 ARBOK POKEMON 2000 PIN!! FFFFFFFFFFFF!!! I've seen quite a number of these within the past year and a half, and always wondered if an Arbok was ever out there. Welp, indeed he is! I've never been so happy to come across a non-flat piece of snake merch. So wonderful and detailed and awesome in every way. Now to find his pre-evo counterpart!





Next, another hard to find shiny thingy! Arbok metal swing keychain [the one on the left, with the front view] I recently just obtained this guy a few weeks ago. He is now reunited with his profile view metal swing keychain brother!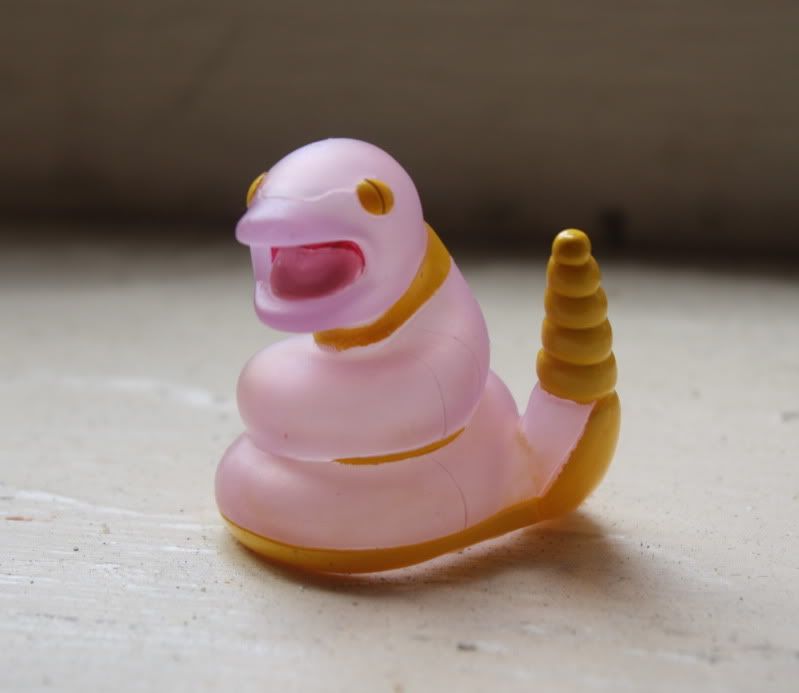 CLEAR EKANS KID~~~~~alsjdflkasdjflasdlaskjfdlkasd! Clear figures always make me squee. I don't know what it is about them. I even get excited when I see clear Kids of Pokemon I DON'T collect....hahaha. Clear Kid plus Pokesnake=OMG. Now to find the clear Arbok!!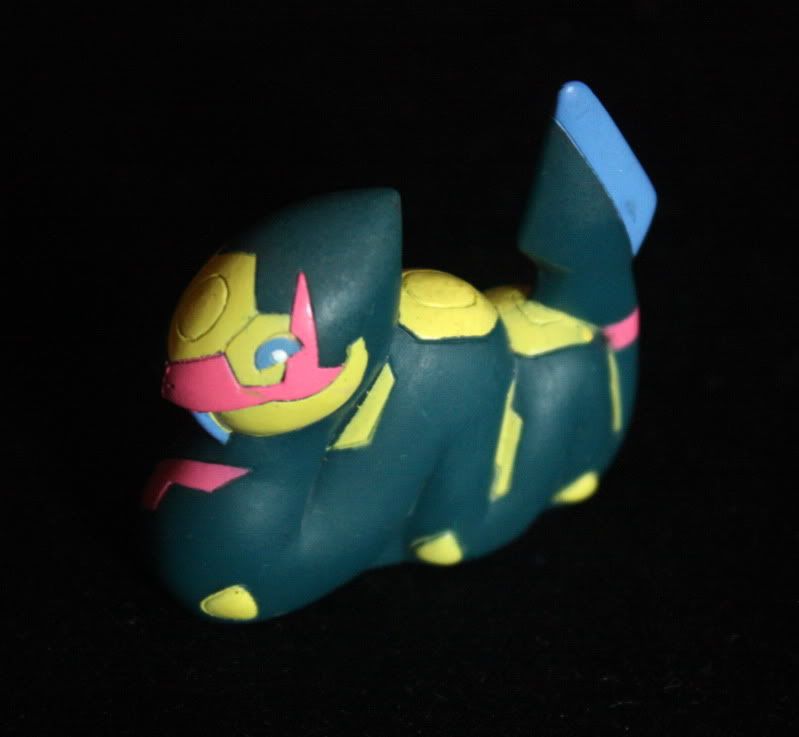 Aw yeah, shiny Seviper Kid! Won this lovely in an auction back in May/June-ish. I've seen a bunch of different shiny Kids up for auction or in group auctions, but never a Seviper. I think the yellow needs to be more green like the shiny Sevipers in the game, but if you look closely and compare it to a regular Seviper Kid at it in person, the hues are just slightly different. Either way, an exciting addition to the Sevipers!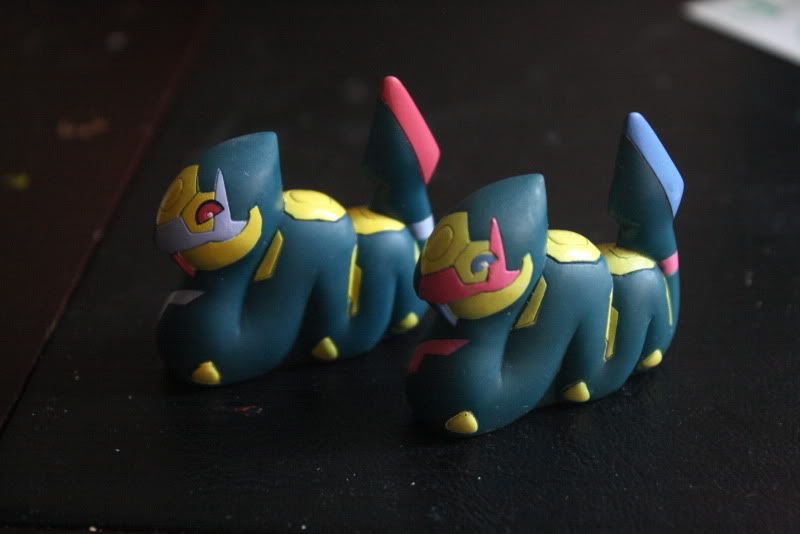 With his regular kid counterpart!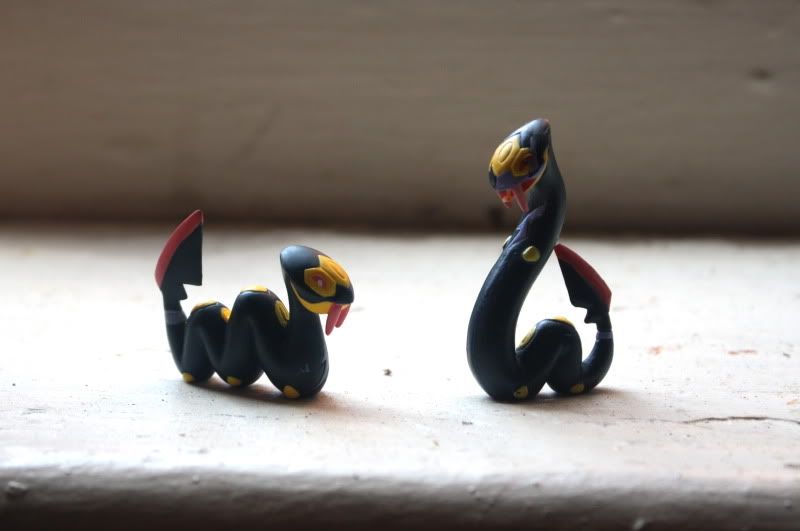 Regular and "Special" [?] Seviper Zukans, without their bases. I've had these guys for awhile, but I never photographed them xD The regular one on the left came with the Zangoose but he's buried in my pile of random Pokemon stuff. The one of the right, I found randomly in a lot and snagged him up for cheap.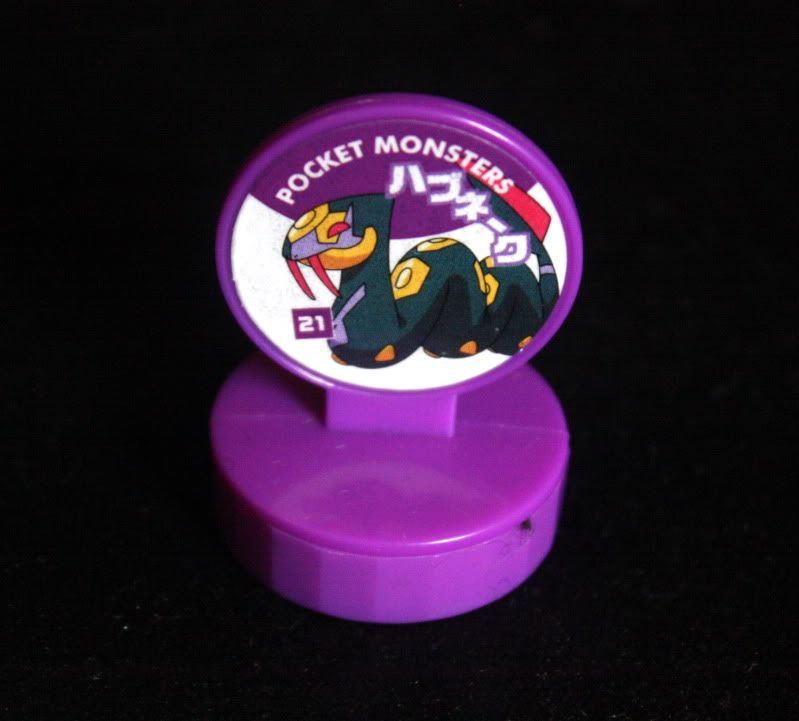 Seviper Retusden! I enjoy Retusdens so much. The AG ones are such a pain to find x___x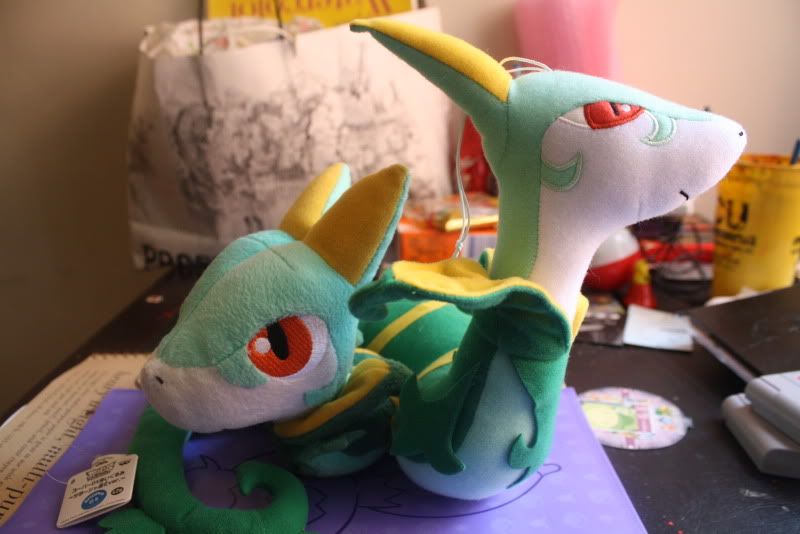 Serperior UFOs! Chibi UFO on the left, and a DX UFO on the right. The UFO on the left is my absolute favorite Serperior plush I own so far. He's SOOOO freaking cute! How can you not love this big headed, big eyed, swirly green snakey? He is currently my partner in crime when I go on adventures. We've shared many cuddles and awesome car rides so far~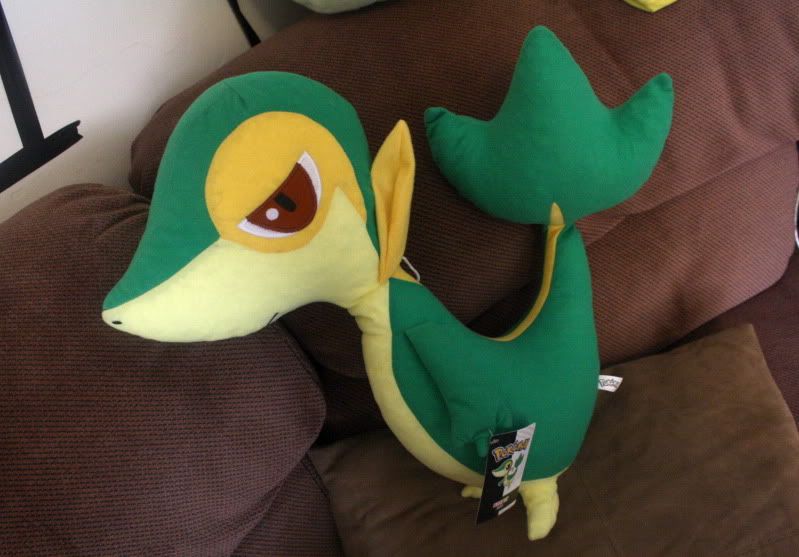 Toy Factory Snivy! aka, Derpy McDerpvy! This is actually my first Snivy thing in my collection, since I'm not a huge fan of Snivy or Servine. However, my 13 year old sister won this for me at Busch Gardens in Williamsburg this past week, and I couldn't turn it down. He's cute in his own derpy way, and also quite large!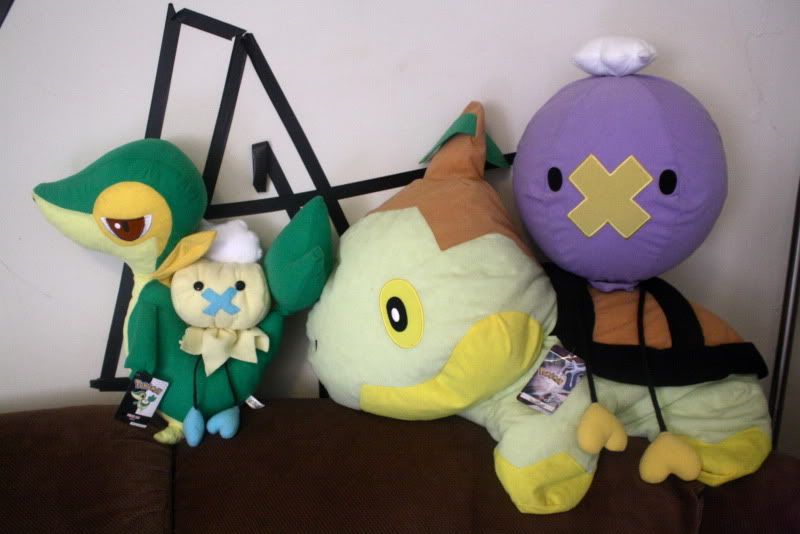 As you can see here ;D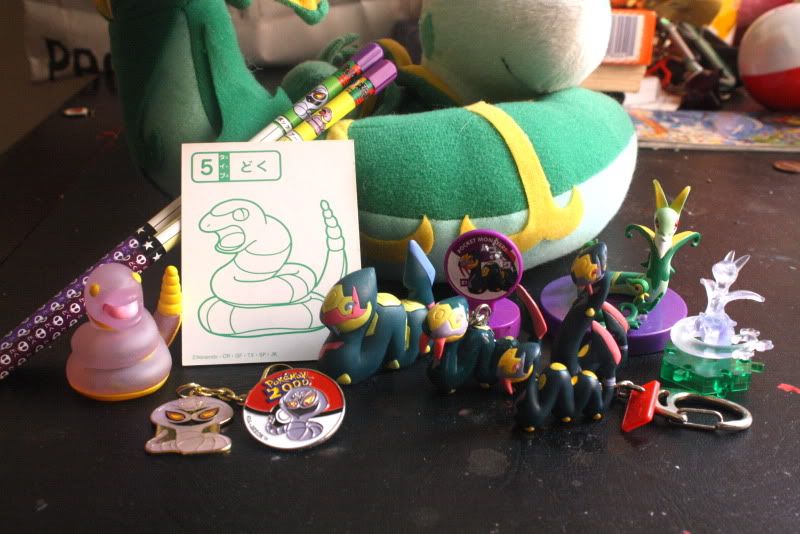 Here's a photo of all the other stuff I've obtained, and just pictured together. Arbok/Ekans pencils and a neato Ekans flash card on the left, Seviper Keychain in the middle, Snivy line zukan and Clear Serperior Chou Get on the right!




SETTEIETTIETTIETTIETTI!!!! Ohhh the settei. My darling
tyltalis sent me a plethora of snake ghosty settei recently, many thanks and love to you my fluff! <3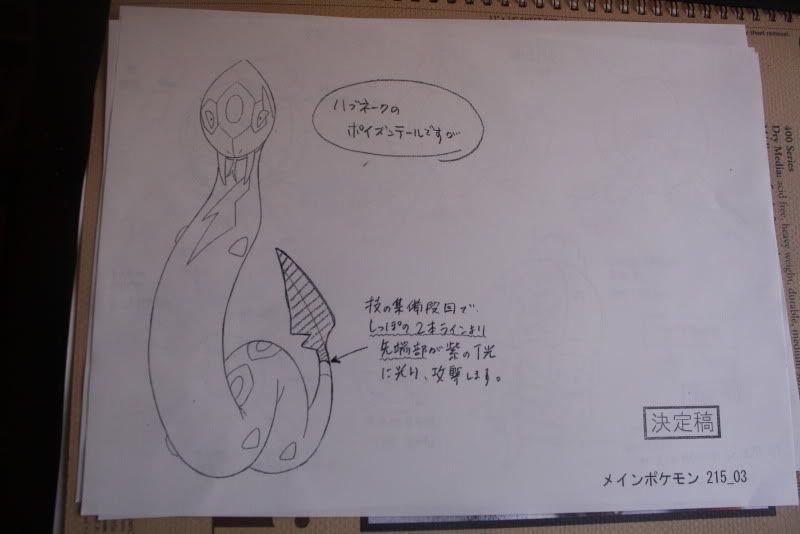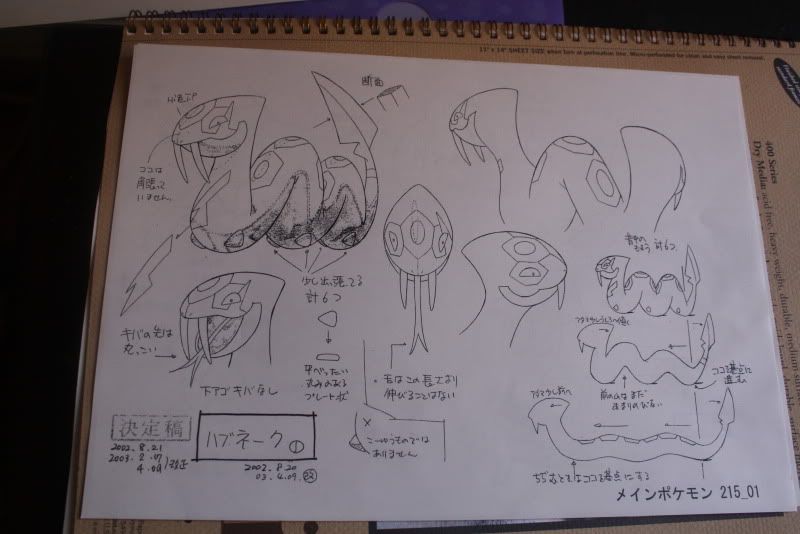 [my favorite settei sheet so far]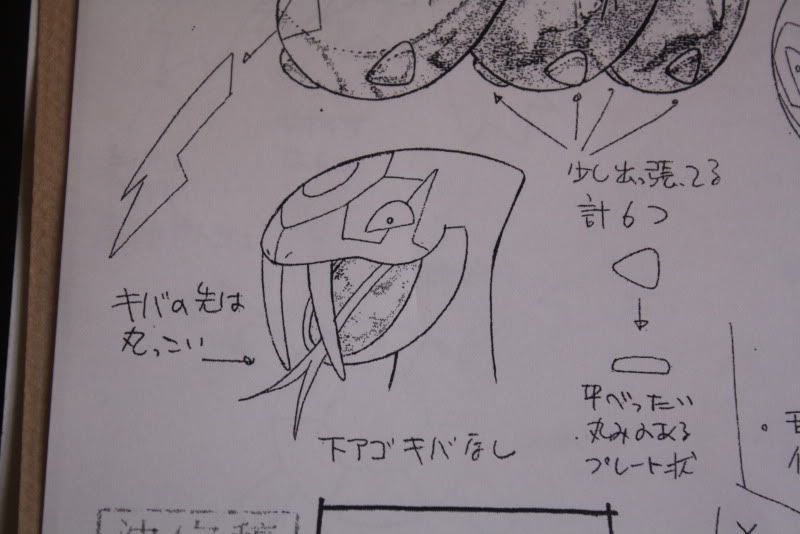 AWWW YEAHHH :D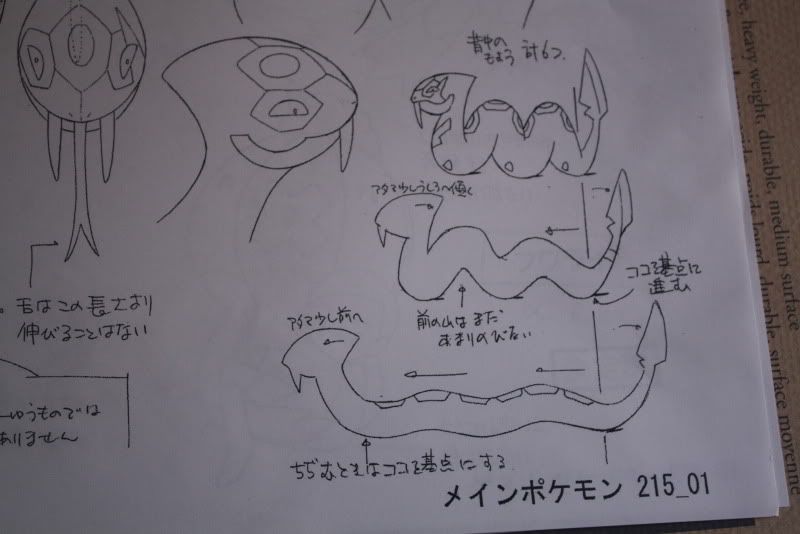 Look at this 'viper slither. Sooooo adorable <3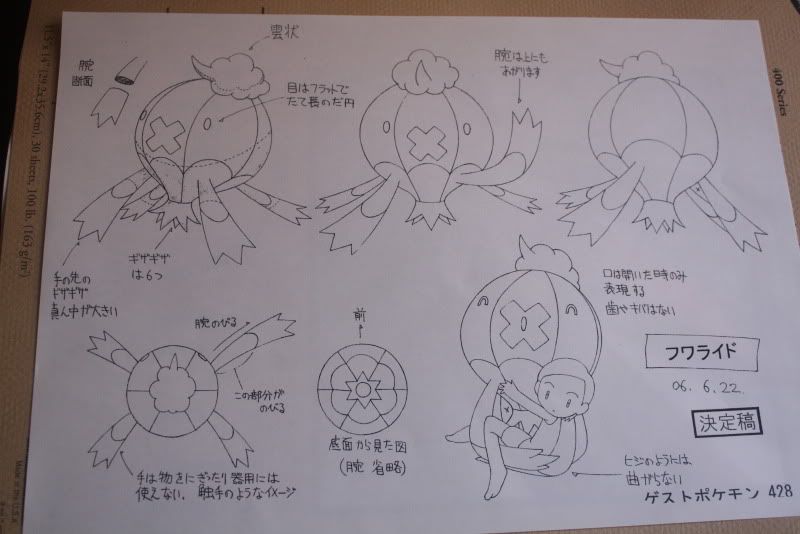 BLIMSSSS!!! [the most recent floon/blim merch I've received....haha]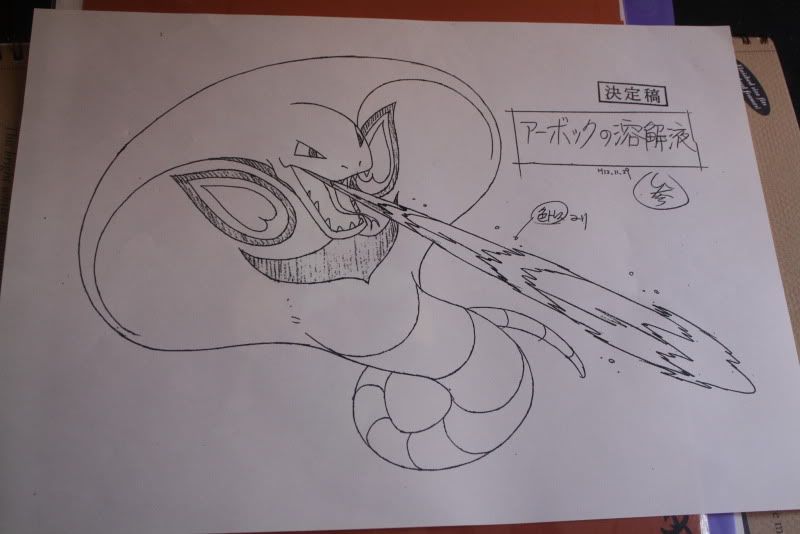 Dunno if I've ever posted this glorious settei sheet, I've had it for almost a year now, but here is an Arbok so he doesn't feel left out!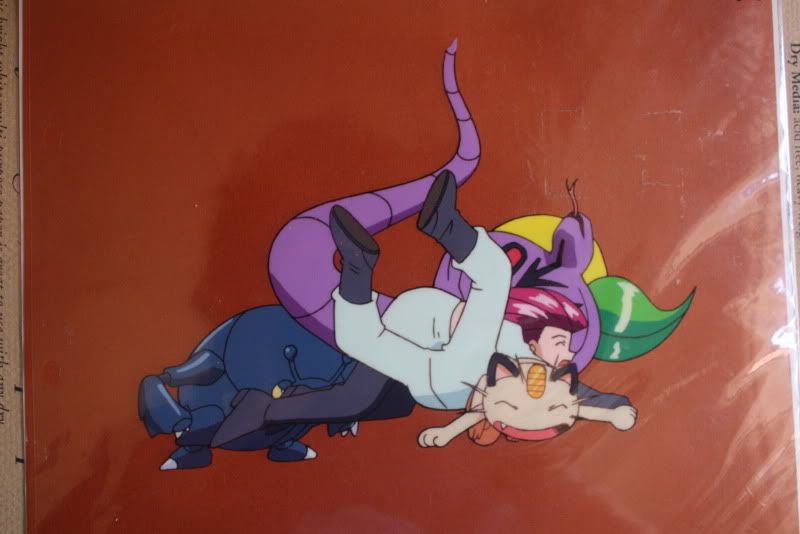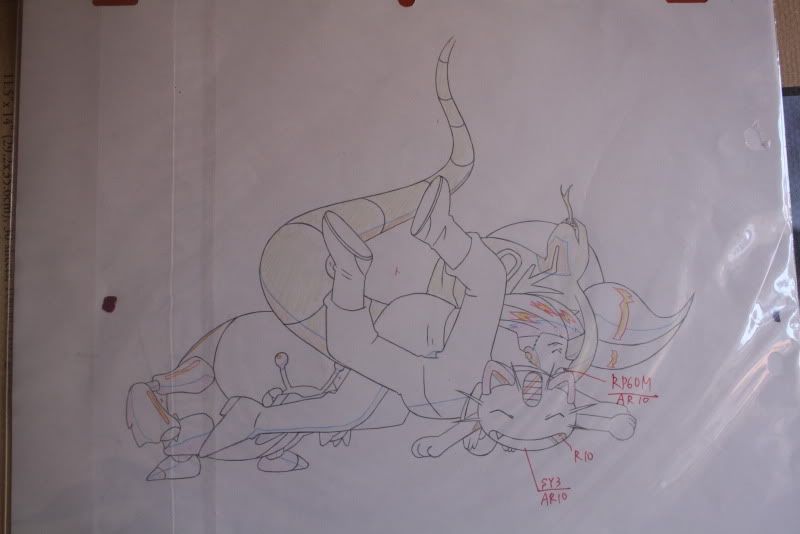 Team Rocket cel!!! This is also a piece I've had for a few months now, but I never made the proper update for it. Won it from Y!J back in January-ish and have kept it in its plastic covering ever since. I plan to get a nice frame for it and hang it on my wall. I've always wanted to own a cel with an Arbok on it; my next goal is to own a cel where you can actually see all of his dazzling face!


Onto the non-snakeys!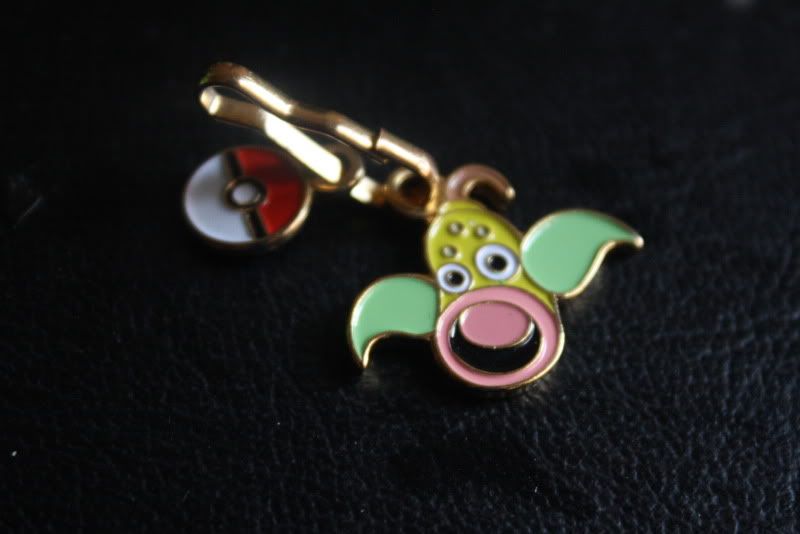 I've been slacking on my Weeps, but I try to snag some novel merchandise of the cute bell as much as I can. This is the most recent thing I've purchased, a zipper pull keychain! I think it's quite neat how there's a detailed back of Weepinbell, haha.




FLUFFFFFFFF. The second attack Altaria Kid on the left [spent WAYYY too much munz on this cutie], and the awesomely adorable bell on the right!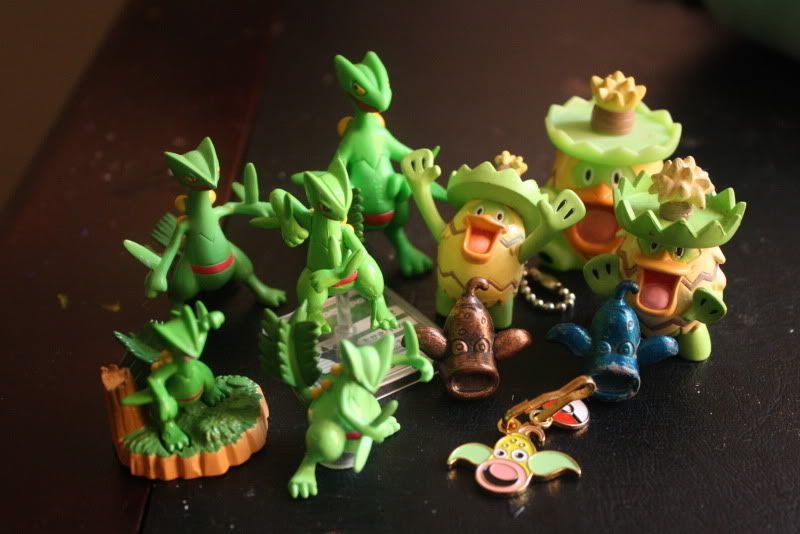 More grassy cutesies. Lots of Sceptiles [Chocoball figure, Tomy, European candy figure, Pokedex figure, Pencil Topper], Ludicolos [Keychain, Kid, Tomy], and a couple more Weeps! [two Metal Collection figures]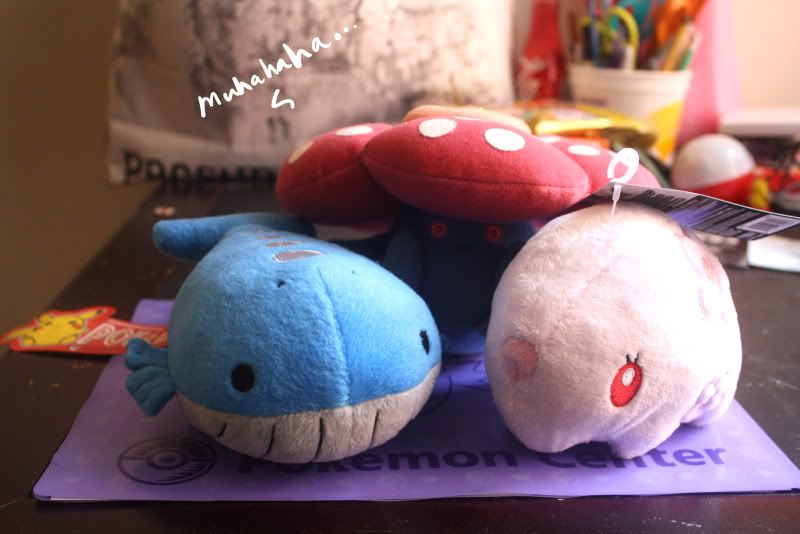 Also here are some other random plush: Wailord Pokedoll, Vileplume UFO, and Jakks Munna. All minty fresh and with tags! Beware of the creeper 'plume though...


Here's how I display everything now, after a tiny bit of re-arranging: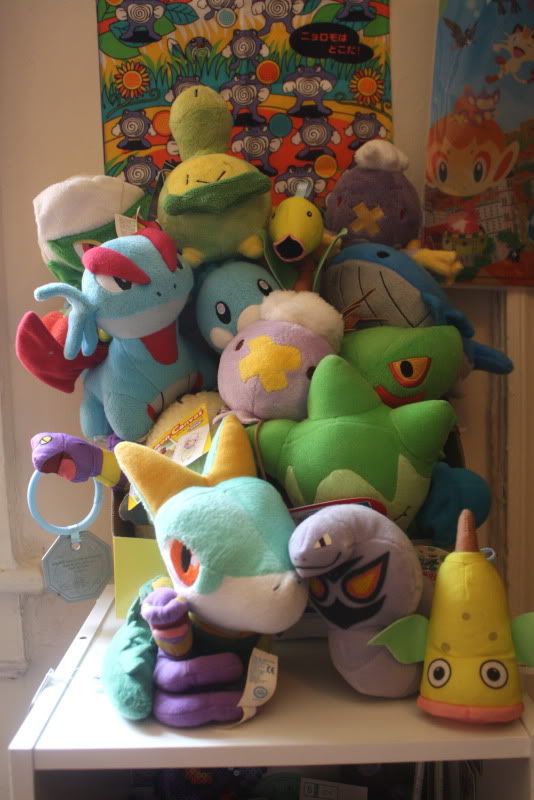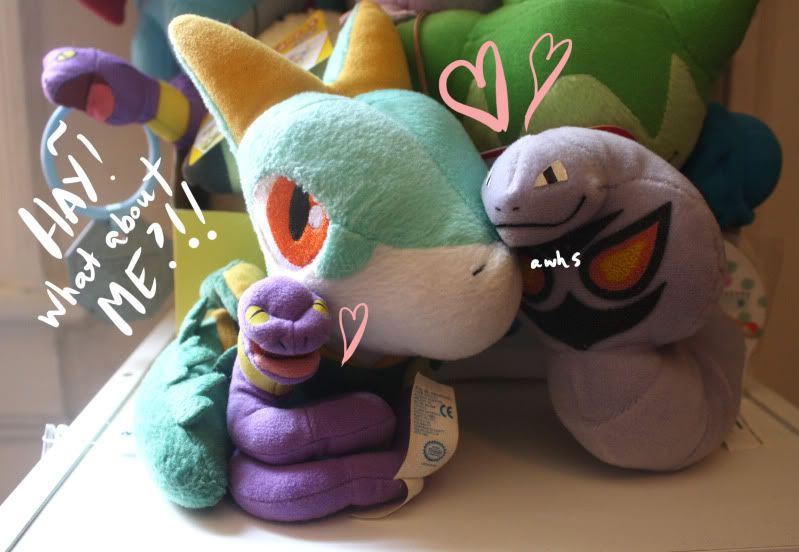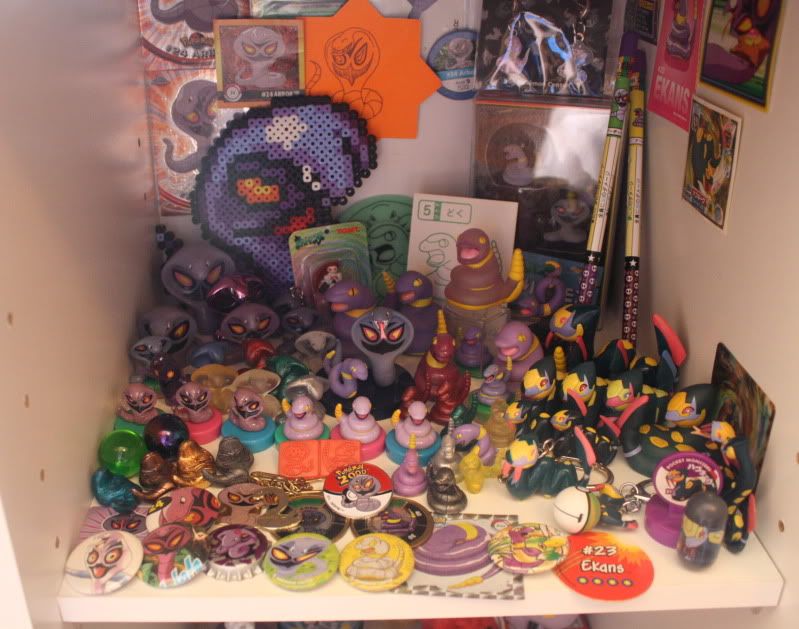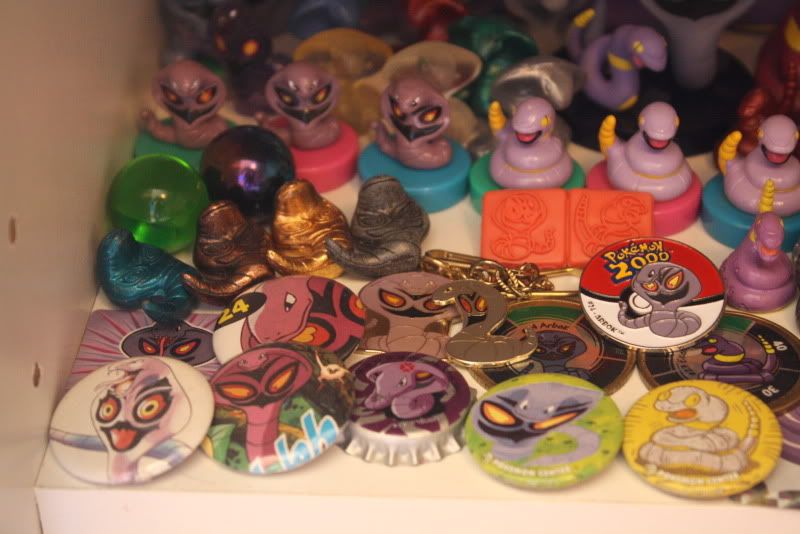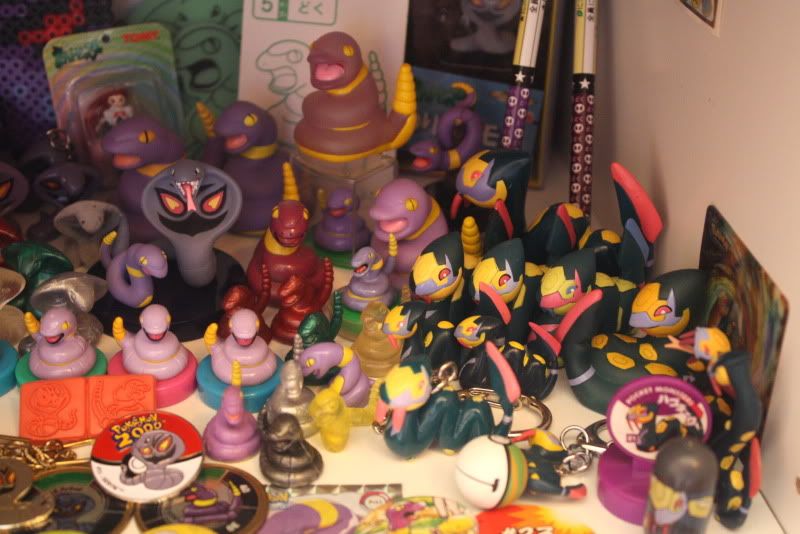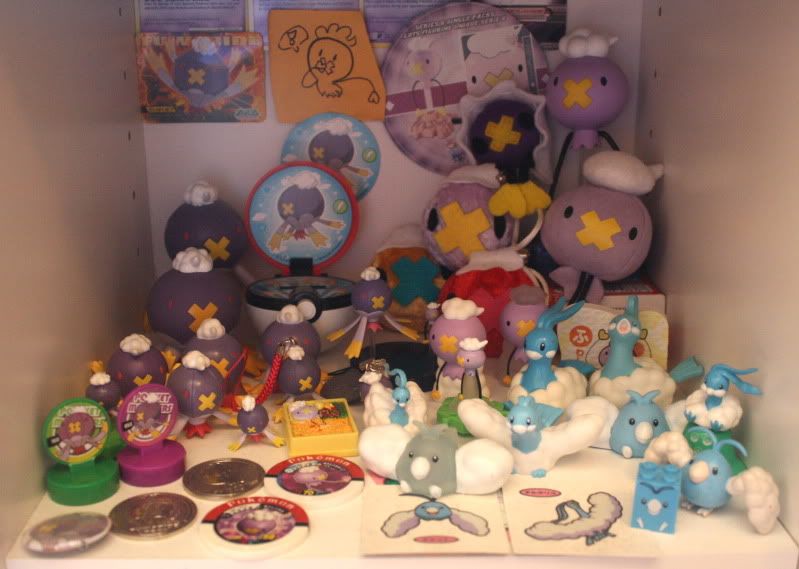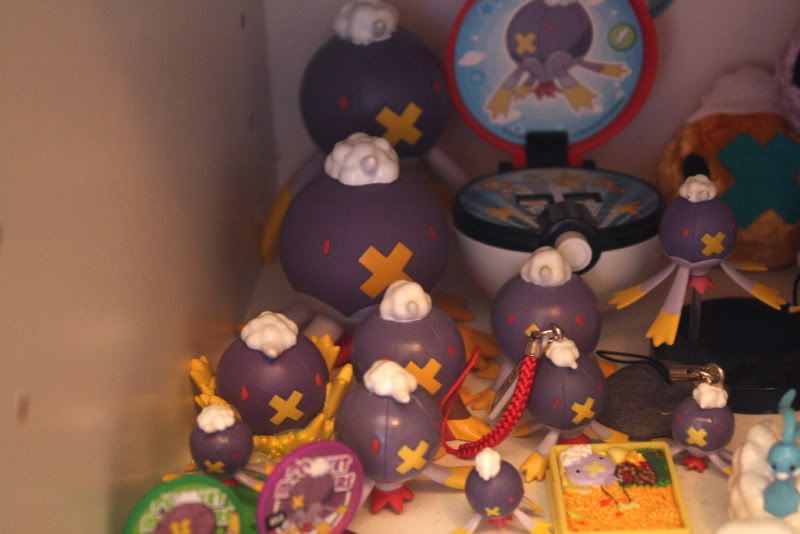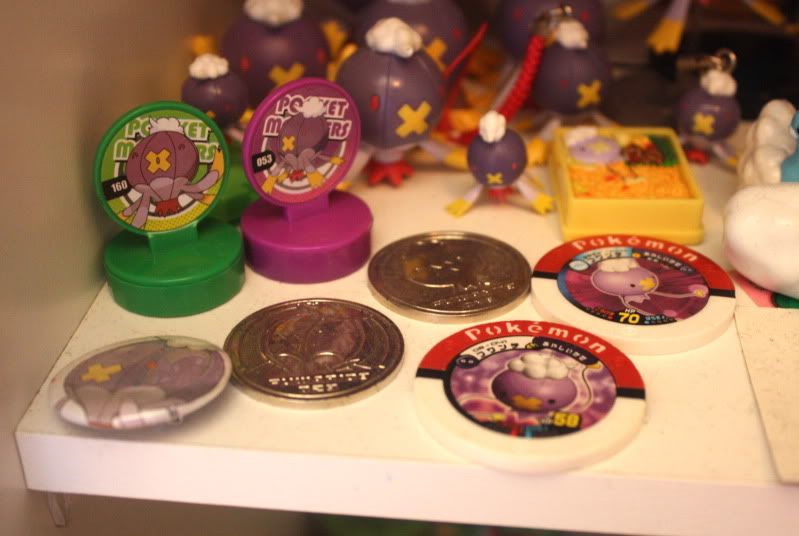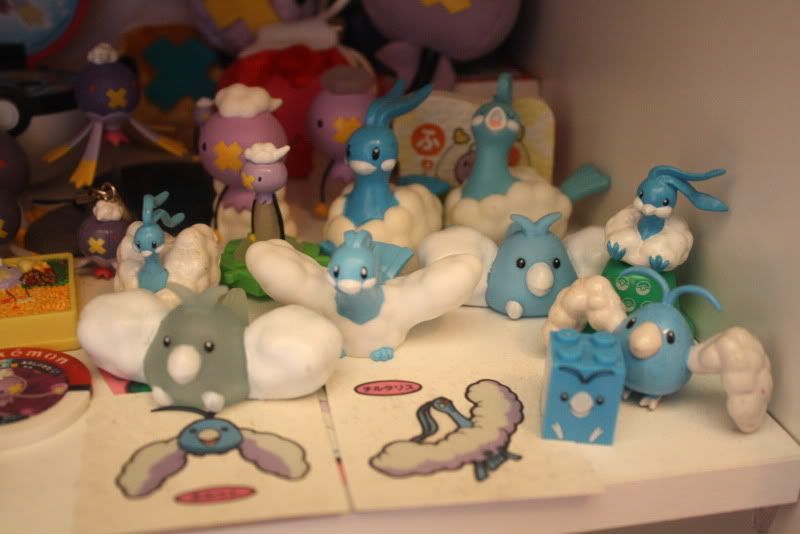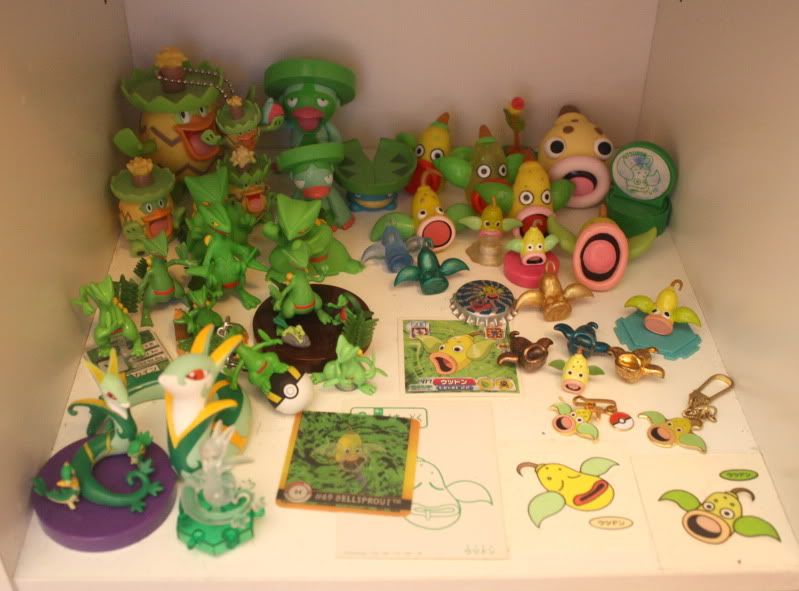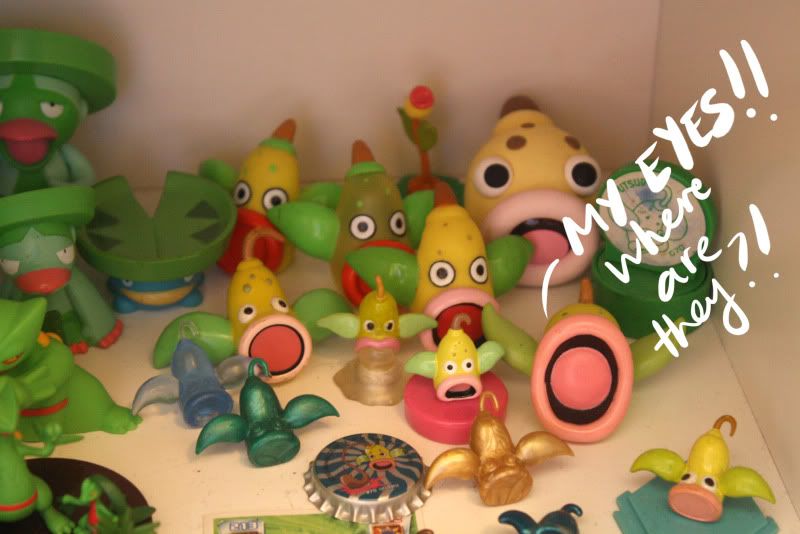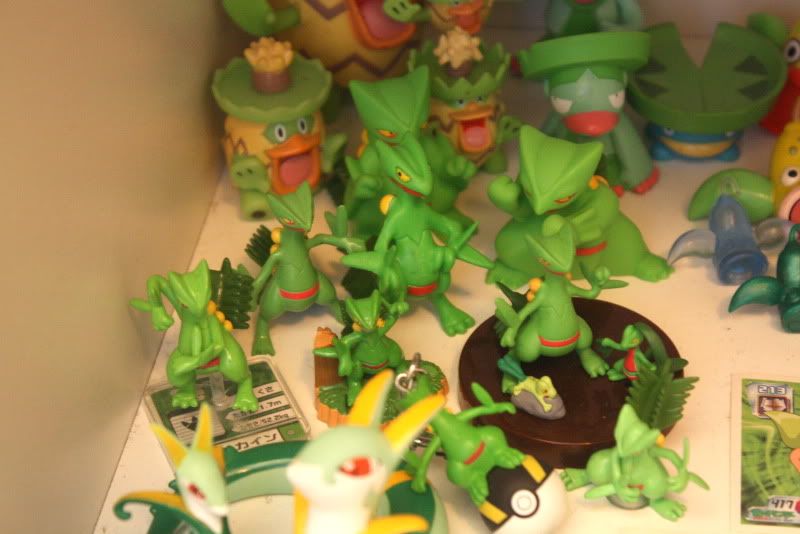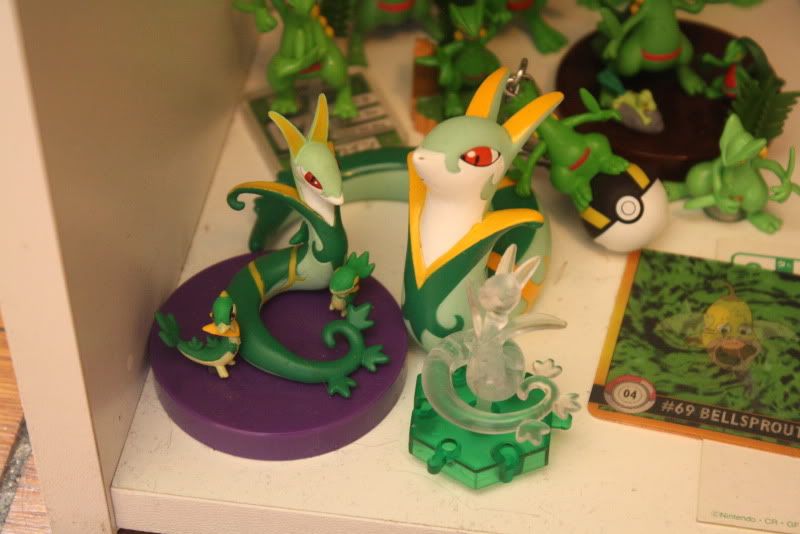 Also, on one of my vacations back in July, I went to Columbus, Ohio for an In the Groove 2 tournament at Fort Rapids Hotel/Waterpark Resort. Amongst many of the people who came there from all around the country [and in some cases, the world], our own
caffwin was there! She is the first out-of-state [as well as international] Pokemon Collector that I've met in person! It was a very awesome weekend indeed.

We were so excited to hang out with each other and chill with our other dancing game friends, that we totally forgot to take photos with our Pokemon plush. Yes, we did have Pokemon travel buddies with us, the first thing we did was show each other our Pokemon plush :D But the thought of taking photos with our plush just flew wayyy over my head from all the excitement. So, this photo below will have to suffice!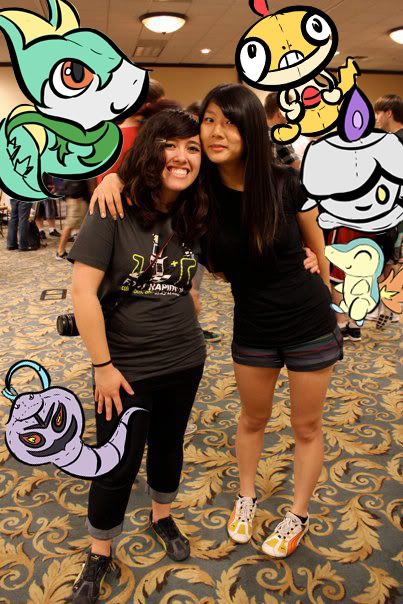 me on the left,
caffwin on the right <3

WANTS~! <3

I don't post wants very often, but since my birthday is on Tuesday, I figured I should post some things I'm pining for! :D




Clear Arbok Kid. I've been searching for one of these for over a year, it's the last clear snake kid I need! Any whereabouts would be awesome and I will love you forever!!




Arbok Seal Book. I actually just won one of these in an auction, but when it arrived to me, the envelope it arrived in was shredded and the seal book was missing from it. It's the first time that something I purchased went missing in the mail...and it sucks it happened with something so rare.



Seviper Metal figures. Never seen one of these for sale or auction! Would love to own some of these darlings <3

Other wants:
Ekans Pokemon 2000 Pin
Ekans Metal Swing Keychain
Arbok/Ekans Metal figures and Mini Models
Arbok/Ekans Silver Coins [I've seen circle and hexagon shaped ones]
Attack Seviper Kid [Regular version]
Serperior Chou Get [Regular]
Serperior Tomys [Regular and DX]
Drifloon Halloween Keychain Plush
I'm open to ALL non-flats of official merchandise I don't own of the above Pokemon! No flats, with the exception of pan stickers. <3




Obligatory website plug! Most everything in this update [I forgot to photograph a couple things xD] will be up there!

Thanks for looking! Have a nice night! <3