Hi :D I've been lurking here for a couple months but I haven't posted anything yet. I was going to a couple weeks ago, but I wanted to wait for some packages to arrive first :D And they did (and I'll have more on the way soon :3). I'm Kate, or gluevah, or glue, or whatever you want to call me, and I overuse emoticons. Of course, I love Pokemon. I have since I was a kid; Pokemon Yellow was my very first video game. I was about eight years old and fell in love with the gameplay and all the little creatures you could catch and raise. My love for Pokemon grew from there.
I'm not a serious collector at all XD I do have my favorite pokemon, but I only have items of two of them (and I made those items myself >.>). My favorite pokemon are Espeon, Tyranitar, Drifloon, and Bachuru (Bachuru is battling for my top favorite spot, it's just so cute OowoO). And I have a lot of other Pokemon that I really love, but my favorites list would be so long if I included them all. Most of the items I buy, I buy because they're cute. I also like to make plushes of pokemon I wouldn't be able to obtain otherwise (without paying a lot x.x). I'll stop rambling now and post pics so this intro is more interesting.

This was my collection before I got those packages.


The drifloon and the shiny dratini are both made by me. I've also got a bunch of cards I've collected over the years but I don't particularly want to take pictures of all of them, and I don't know if anyone would want to see them all anyway XD

And these are my recent gets :D


Cyndaquil from Crystaltiger1, and mew from a Nintendo World store run by heatrotomftw97 :3

Also, I made a plush recently that I'd like to share. I'd always wanted an espeon, and the official ones are out of my budget unfortunately (someday TTwTT). I commissioned my friend to make one but she never actually did >.> So I decided that I would make one myself :D I'm so pleased with the result, it's the first four-legged pokemon I've ever made. Here she is :D



Her jewel and eyes are both painted safety eyes that I sealed with glaze, so they shouldn't chip. :D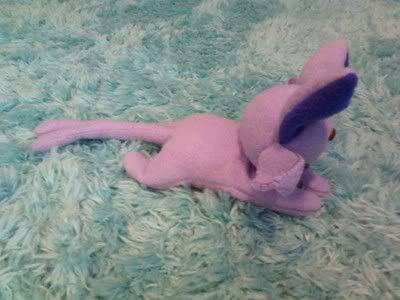 She's made of fleece, and weighted in her legs and tummy with seed beads (because I couldn't find those plastic pellets). From her front paws to back paws, she's 7 inches. Including her tail, she's 10 inches. Including her ears she's roughly five inches tall.

If I've made any mistakes in my post please let me know! :3